Archived News
Meeting a need
Wednesday, December 21, 2016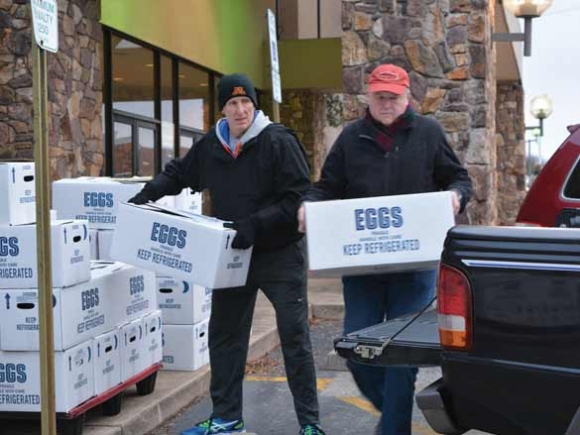 It's bittersweet.
"I really would hope that this program would expire," said Tom Knapko. "But, that hasn't been the case with increasing need for these baskets."
President of the Waynesville Rotary Club, Knapko is gearing up for the 20th year of their "Christmas Basket Program," which provides a basket full of food for less fortunate families around Haywood County. Combing forces with the Haywood Rotary and Waynesville-Sunrise Rotary, the organizations are a much-needed force to chip away at the hunger needs of our neighbors.
"We go out and deliver to all the hoots and hollers of Haywood County," Knapko said. "And you do find yourself at homes with dirt floors or no running water. And to see that these days, with maybe a $500,000 home just down the road, is eye-opening to say the least."
When Knapko and his wife moved to Haywood County from Fort Myers, Florida some 20 or so years ago, he presented the Christmas basket idea to the Waynesville Rotary Club.
"My rotary club back in Fort Myers had been doing the basket program for years," Knapko said. "And we figured it could be something of value that could fill a need in Haywood County."
The funds for the baskets come from year-round fundraisers by the Rotary Clubs, and also tax deductible donations from folks around the community. In its first year (1997), the program donated 100 baskets, with 504 baskets sent out in 2016. To date, the program has put together 7,056 baskets and raised $153,530 towards the initiative.
The names of the families are gathered from the club's highly successful backpack campaign, which provides weekly food packs to hungry children in Haywood County. Local social workers and school counselors also let the club know who is in need each holiday season.
From there, General Manager Jeff Henderson at Ingles Market in Waynesville puts together a volunteer team to gather and pack the baskets. Able to feed a family of four, each basket contains a variety of items, including canned ham, yams, greens, bread rolls, apples, corn and a pie.
"Christmas is about trying to give something to where a need is," Knapko said. "I don't want or need anything, and it's great when what we're doing is appreciated by those who need the aid."
Knapko encourages people to look into the Christmas food basket and backpack programs, and hopefully be able to make a donation or join the club and volunteer time to help around the community.
"The main thing right now is to keep the club large enough and excited enough to get the funds in and serve those families that need us," he said.