Archived News
Ellison releases new title
Wednesday, November 30, 2016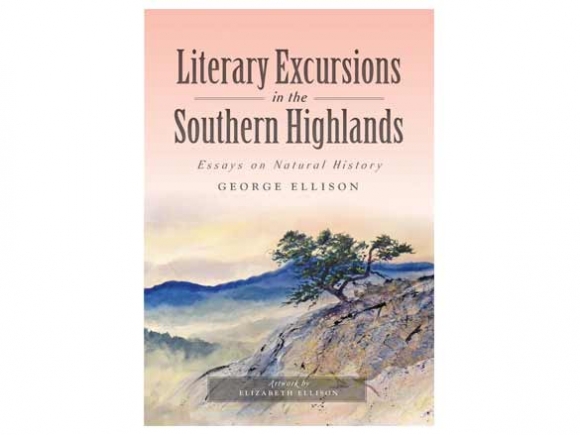 When George Ellison first started writing nature columns for the Asheville Citizen-Times back in 1986, it was with the assumption that, while he enjoyed such things, reader interest was likely limited and the column would be a short-lived venture. So, when the editor called him in to talk, Ellison was surprised to get not a polite goodbye but promotion to permanent status. The resulting column, "Nature Journal," is still published today.
He'd later add regular columns for The Smoky Mountain News and Chinquapin: The Newsletter of the Southern Appalachian Botanical Society to his docket, and with 30 years of column-writing under his belt he's now released a new book — Literary Excursions in the Southern Highlands — whose contents are drawn from those columns.
The book includes 50 essays covering everything from acorns to panthers, each accompanied by full-color artwork from his wife Elizabeth Ellison. They're not arranged in any particular order, Ellison writes in his "Note to the Reader," though "there are recurrent themes throughout that I will leave it to you to discern, if that sort of thing is your cup of tea."
Personal experience from a lifetime of outdoor living — much of it spent on the 50-acre property where he and Elizabeth live, surrounded on three sides by the Great Smoky Mountains National Park — figures heavily into the writing, as do the biological intricacies of organisms and their environment and the relationship of one to another. The book covers observations in nature ranging from Roanoke, Virginia south to Mount Oglethorpe in Georgia.
Much of the book is prose, though Ellison brings out original verse from time to time. Many of the pieces begin with an epigraph — a quote from some other writer that brings meaning to the piece following. Others conclude with a coda. And, at times, Ellison brings his readers' voices to the pages of the book, most notably in "The Panther Files," which discusses Ellison's thoughts on whether panthers, also called mountain lions or catamounts, still exist in the Smokies. A barrage of letters from readers reacting to one of his published columns on the topic brings dimension to the discussion.
"It adds other voices so it's not just me," he said.
Not that the critics seem to be all that critical of Ellison's particular voice. The book is "informative, entertaining and personal," full of "wit, humor and passion," wrote Clemson University biologist and author Timothy Spira. For "denizens of all things wild and natural," the book is "a vessel containing the essence of one of our region's most significant voices of place," Brent Martin, regional director for The Wilderness Society and author of many published nature-based poems and essays, wrote. Ellison's writings allow readers to "join the writer in a common experience of personal observation — or at least with a desire to experience firsthand what the observer notes," added Dan Pittillo, Ph.D., a biology professor emeritus at Western Carolina University and the founding editor of Chinquapin.
This is one of seven George Ellison titles published by History Press. His other books, all of which include artwork from Elizabeth, include Permanent Camp: Poems, Narratives and Renderings from the Smokies, High Vistas: An Anthology of Nature Writing From Western North Carolina and the Great Smoky Mountains, Blue Ridge Nature Journal: Reflections on the Blue Ridge Mountains in Essays and Art and Mountain Passages: Natural and Cultural History of Western North Carolina and the Great Smoky Mountains. His writing appears in many other places as well, including in the forward he wrote to the latest edition of Our Southern Highlanders by Horace Kephart.
And Ellison continues to produce. With Literary Excursions now on the shelves, he's co-authoring a Horace Kephart biography to be published by the Great Smoky Mountains Association.
Get the book
George Ellison will present his new book Literary Excursions in the Southern Highlands at 7 p.m. Thursday, Dec. 1, at the Macon County Public Library in Franklin.
The book is available for purchase in local bookstores throughout Western North Carolina.