Archived News
Local water supplies drying up: Paper mill may have to suspend production
Wednesday, November 16, 2016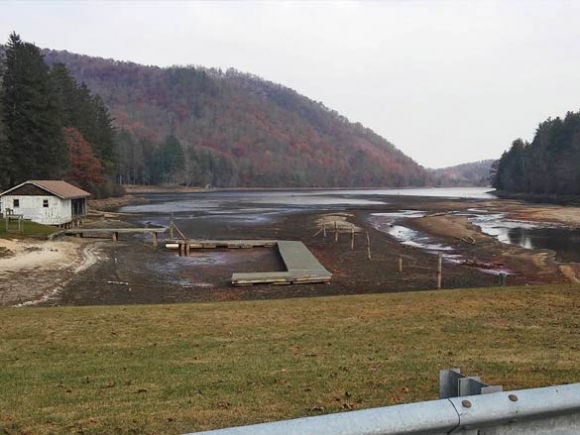 The severe drought plaguing Western North Carolina has taken its toll on the local water supply, and residents are being asked to conserve what they can.
Municipal water districts are calling on residents to reduce their water use, families' private wells are drying up and Evergreen Packaging may have to shut down operations temporarily if drought conditions continue.
The paper mill in Canton relies on the Pigeon River for adequate water flow needed to produce paper products, but the low water level is making that process more difficult. Evergreen notified the North Carolina Department of Environmental Quality on Nov. 14 that the mill may have to suspend operations if the drought persists — and all indicators say it will persist for another month at least.
"The severe drought the region is experiencing has caused the Pigeon River to drop to a level that may not provide adequate flow to allow the mill to operate," said Tim Heim, an environmental engineer for DEQ's Division on Water Resources.
Water restrictions
Maggie Valley Sanitary District sent a letter to customers saying that they must reduce their water usage by 10 percent compared to their last bill to combat the water shortage from Jonathan and Campbell creeks.
Residents are restricted from using drinking water outside for washing impervious surfaces, and water use for all testing and training purposes related to fire protection will be limited.
The sanitary district and local law enforcement will be enforcing the shortage response plan and violators can be reported to the sanitary district office. A warning will be issued to first-time violators while second-time violators will be issued a $250 citation.
Canton and Clyde have implemented Stage 1 of their Voluntary Water Conservation procedures, meaning all water users are encouraged to reduce their consumption and improve water-use efficiency because conditions could lead to a water shortage.
While it's not mandatory at this time, water customers are being asked to keep car washing and lawn and gardening watering to a minimum. Do not wash down outside areas, such as sidewalks, patios and parking lots, and do not leave faucets running while shaving, rinsing dishes, or brushing teeth.
Waynesville's water supply is still holding its own for now. Mayor Gavin Brown said voluntary conservation wouldn't be implemented until the reservoir gets down to 72 inches. At the current usage rate, it looks like Waynesville may hit that within the next week.
As downtown Franklin was filled with smoke from the raging wildfires last week, Franklin Mayor Bob Scott called on residents and visitors to practice voluntary water conservation.
Rob Hartsell, operator of the town's water treatment plant, said Cartoogechaye Creek, which supplies the town's water, is the lowest he has seen it in the 30 years he has worked for the town.
"Right now we are holding our own. But, in the event of a large fire we could easily begin depleting our water reserves," Scott said. "If the drought and the fire situation continues, the next step could be mandatory water conservation."
A mandatory situation would have a severe impact on residential and business users. Putting off car washing, not watering grass, and cutting back on other normal uses of town water is in the public's interest at this time, Scott added.
"Please realize this is not a normal situation and think about the ways you can cut back. Shorter showers, washing only full loads in washers, putting off pressure washing and putting off any use of water that is not totally necessary," Scott said.
Josh Ward, town manager of Bryson City, said the town hasn't issued any conservation requirements as of yet, but he feels the town may issue a voluntary conservation request to its customers soon.
"No warnings yet but we've discussed it," he said "Our levels are OK right now according to water plant operator."
The Tuckaseigee Water & Sewer Authority, which provides water to residents in Jackson County, began to implement phase one of its water shortage response plan on Oct. 31 by asking for all residents — not just TWASA customers — for a voluntary reduction.
"This drought is affecting many property owners who obtain their water from springs, wells or from other small public water systems," said TWASA Executive Director Dan Harbaugh. "It is important that no one wastes water for the good of all."
Jackson County is either currently classified as being under extreme drought or severe drought. The dry weather in the south of the county affects the three river basins that flow from that area, including the Tuckasegee, the Chattooga and the Horsepasture. "These cyclical droughts hit the high plateau area around Cashiers especially hard," Harbaugh said, which is one reason TWASA is looking into the feasibility of developing a public water system in Cashiers.
TWASA implements the voluntary reduction when a 20 percent reduction in normal river water levels occurs or if any other kind of event reduces the system's capacity by 20 percent. A mandatory reduction would only occur if the river reaches 40 percent below the normal levels.
Bottom of the well
Residents with private wells also have a reason to be concerned as the groundwater dries up. Sherry West of Waynesville said she could remember only one other time her family's natural spring well has ever been so low in the 50 years they've lived on Piney Mountain Road.
"Were getting a little bit but it's just been so low because it hasn't rained — a lot of people are without water," she said.
For right now, they're making it work and relying more on bottled water to conserve what's coming out of the spring.
Garron Bradish, environmental health supervisor for Haywood County, said his department offers a reduced permit fee for people who need to drill a new well because their current well dries up. While new well permits cost $375, the discounted permitting fee is $175.
"We've recently seen an increase in those applications," Bradish said. "The number for the year isn't abnormally high but out of those 107 applications, 13 were for dry wells and 10 of those 13 applications were submitted in October, so it's a little alarming."
Bradish thinks the residents having the most issues are those like West who are on spring water because spring bedrocks tend to fluctuate more than drilled wells.
"It takes a long time for rain water to hit and get below the bedrock to the wells so this could just be the beginning of the problem," he said.