Archived News
Habitat houses give people hope
Wednesday, August 24, 2016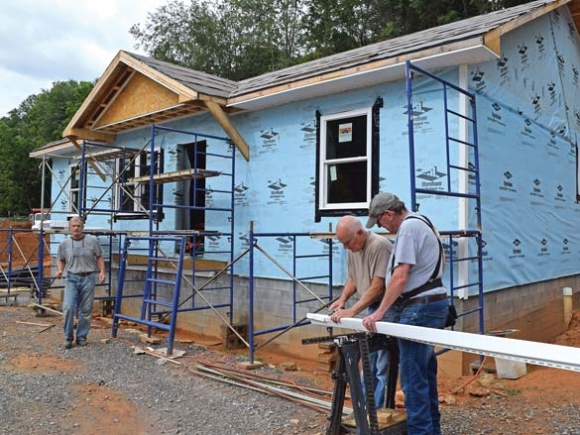 About five years ago, Suzanne Cianciulli and her son were living in a rundown mobile home rental while she tried to make ends meet working a retail job.
Now she has a career in her field of study, owns her own home and feels like her life is on the right track. While she has worked hard to get to where she is now, she says Haywood Habitat for Humanity was the catalyst behind her transformation.
"Now I just have a sense of stability and security — a sense of pride in ownership instead of renting," she said. "This is my home and every payment I make benefits our future."
Even though she watched her father Walt Fischer volunteer with Habitat for Humanity for several years, she never thought she might qualify for a home until he convinced her to apply.
"I guess I never thought I was lucky enough to receive something like that," she said. "But the entire journey from applying to moving in was a very enriching experience."
Habitat volunteers could spend all day sharing the success stories they've encountered, which is why they find building houses for others to be such a rewarding experience. Fischer has helped build 13 houses in Haywood County since he started to volunteer for Habitat in 2007. As luck would have it, he also got to help his daughter build her home.
"Getting a house had a major impact on her life," said Fischer. "Having your own house just changes your priorities."
Side by side, volunteers and future homeowners get to know each other as they lay the foundation, build the frame and finally put the final touches on their houses.
"When I see these people out in the community that without Habitat wouldn't have a house and they run up to me with a hug and a thank you, that's priceless," Fischer said. "At the end of the day, how could you not be happy? Everyone should have a shot at owning a home."
That's the ultimate goal of Habitat — to get people into safe, affordable and sustainable housing. Executive Director Jamye Sheppard said meeting that goal has become harder as the need for affordable housing in the region continues to increase.
Housing conditions in Haywood County
Not only is there a shortage of affordable houses, but Sheppard said many of the houses on the rental market that fall into the affordable category are not safe. When Habitat for Humanity visits applicants' rental homes, they see a lot of older structures in bad condition. She said the houses are in undesirable neighborhoods, have poor insulation, shoddy electrical systems, outdated septic systems and mold and mildew problems.
Families living in rentals are also prone to moving more frequently — either because the landlord increases the rent or wants to sell the house.
Sheppard has done a lot of research on how all those factors affect families, especially when children live in the home. She said kids living in unstable homes tend to act out in school, have more health issues, are more likely to drop out of school and more likely to get involved in the juvenile justice system.
"The stress level is high at the house and parents are on edge," she said. "In the winter they might have to decide, 'Do we heat this house or do we eat?' There's a lot of hard choices that need to be made in these households."
Sheppard said one of her Habitat families — a single mother with two children — had to move seven times in the last five years. While having a yard is something many people take for granted, that mother is thrilled to finally have a home where her children can safely play with their friends and ride bikes in the street.
According to the North Carolina Housing Coalition, 20 percent of N.C. residents are living in substandard housing. With a total population of 59,000, that's an estimated 12,000 people in Haywood County that don't have adequate housing.
"That's two out of 10 people in this small county," Sheppard said. "And we only have two agencies to meet that need — we don't need more agencies, but we all need to do what we can."
Sheppard and others have joined together on a countywide affordable housing task force to address the growing problem and hopefully find solutions.
To qualify for a habitat house
Habitat has specific guidelines for who can qualify for a home. If a single person makes below $30,000, they can qualify. A family of four can qualify if their annual income is less than $43,000.
While Section 8 housing provides for many people in the low-income bracket, Sheppard said most of her applicants are working professionals making $14 to $15 an hour.
"These are the kind of people in the middle that are falling through the cracks — they don't qualify for Section 8 housing but they can't qualify for a conventional loan either," Sheppard said. "There's a whole group of people out there working full time that don't qualify for anything."
Volunteers aren't the only ones contributing to Habitat houses — the future homeowner has a huge investment into their house. A single approved applicant must commit to 300 hours of sweat equity in the house and a couple must commit to 400 hours. Up to half of those volunteer hours can be done by the homeowner's friends and family.
Habitat homeowners also have to attend financial classes to prepare them for having a mortgage and maintaining a realistic budget. It's just one more way Habitat tries to set its clients up for success.
"Buying these homes and building equity helps them stabilize their family budget and create a nest egg," Sheppard said. "And we hope it also teaches their kids good habits."
But Habitat houses are not just for families. Sheppard is seeing an increase in single moms, single dads and single elderly applicants. Applicants don't have to have kids and don't have to be married to qualify for a home — they just have to meet the income and sweat equity requirements.
"We don't discriminate — we evaluate based on need, ability to pay and a willingness to partner with others," Sheppard said.
Applications are accepted in January and July. Potential applicants are asked to attend an informational meeting before they apply to make sure the program is a right fit for them. During the last round of applications, Sheppard said 13 families attended the meeting and five of those ended up submitting an application.
Walton Woods
Haywood Habitat is in the process of building its first neighborhood of houses in Waynesville.
Named for Haywood Habitat founder Walton Garrett, Walton Woods is located off of Davis Cove Road and will include eight Habitat homes when it's complete. The development was made possible by a 1.5-acre donation from Sarah Jane League. Since affordable land is so hard to come by these days, Sheppard said Habitat wanted to make the most of League's generous donation.
"It's more cost-effective to build in one spot so we're not trying to build singles anymore," she said. "And if we build a neighborhood to certain standards, we know the owners will look after each other and their property."
The homes in Walton Woods will be two- or three-bedroom homes with about 1,100 square feet of space. Each house will have its own driveway and patio area, and the street running through the middle will provide children with a safe place to play. The development will also have its own playground and homeowners association to provide a collective way to pay for maintenance.
Two houses are currently under construction and have families waiting to move in.
The plan is to build six more houses in Walton Woods, but volunteers can build only as fast as donations come in to the nonprofit organization. "My volunteers are building the houses faster than we can raise money," Sheppard said.
The Methodist churches in Haywood have come together to sponsor one of the homes and all the funds needed to complete the second home are nearly secured. Sheppard hopes to have both families moved into the homes by the end of the year. Habitat's resale store in Waynesville raises enough money to pay for a house every 18 months and the rest has to come from fundraising efforts. ReStore funding will be able to fund another home in Walton Woods come springtime. With other sponsorships coming in, Sheppard said the development was well on its way to completion.
"We could potentially be done in less than three years from now," she said.
Built strong
Despite misconceptions about Habitat houses, Sheppard assures that these homes are well built, energy efficient and as affordable as they can make them.
After 27 years and 46 houses built, Haywood Habitat staff and volunteers know how to build a sound home.
Habitat Construction Manager Ryan Newell said the houses are all constructed to pass a stringent energy efficiency test, which means the houses are well insulated and have state-of-the-art heating, cooling and water systems to cut down on utility costs.
Habitat continues to find more ways to cut down on maintenance costs for their homeowners, including switching to more durable flooring and using vinyl siding on the exterior. A quick pressure wash will leave it looking as good as new instead of having to repaint the house every few years.
"These are some of the tightest built homes in Haywood County," Newell said. "That helps minimize the monthly operating costs for the homeowner — the home is virtually maintenance free on the outside."
While volunteers do a majority of the work, Habitat subcontracts out for HVAC, plumbing and electrical work. Through national affiliate partnerships, Habitat is able to provide their homeowners with an energy-efficient washer and dryer, refrigerator and dishwasher.
Before joining the Habitat team in May, Newell was a general contractor building million-dollar custom homes. But now he's happy to be in a position where he can use his skills to help people in his community own a home.
"I know it sounds cliché but this is a chance for me to give back to the community," he said. "I've got a wonderful group of volunteers — the Women Build events are so much fun because the women are so full of energy and excited to be here."
How to help
Sheppard said all of the volunteers are dedicated and passionate about being a part of Habitat or they wouldn't do it.
"Homeowners get to know all the volunteers so it's such a nice community feeling and a network of support is created," she said. "It's a wonderful thing to see."
Women Build is a Habitat program in which women in the community are invited to volunteer at a home site. It is held in Haywood County every third Saturday of the month. No special skills are required to participate — training is provided and so is lunch. The next Women Build event will be at the Walton Woods site on Sept. 17.
If you can't volunteer, perhaps your church or organization would like to make a donation or even sponsor a house. Habitat has several different ways you can contribute to the cause.
For more information on volunteer opportunities, call 828.452.7960 or email This email address is being protected from spambots. You need JavaScript enabled to view it..