Rumble
Laura Messer and Yoga for the Wild
Wednesday, September 13, 2023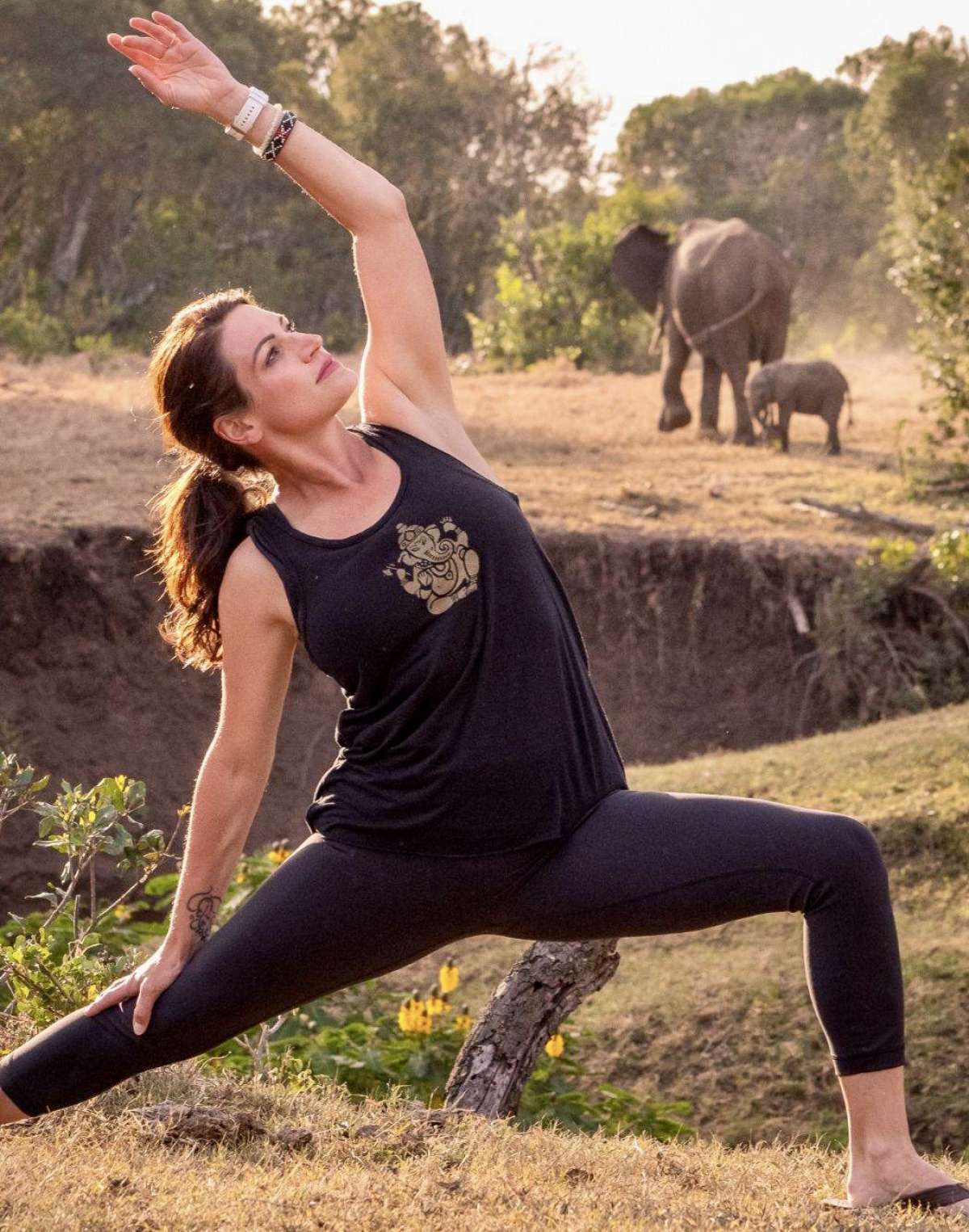 Laura Messer and I have been friends since elementary school. Some of our fondest memories of those years are being on an Odyssey of the Mind (OM) team together where we were given the gift of space and time to be creative. Recently when Laura and I chatted, we talked of a time when we did an OM project about Pompeii and how we traveled to West Asheville with our teacher to cut a significant amount of colored glass so we could make a massive mosaic of an erupting Mount Vesuvius. It's interesting how those types of hands-on, experiential activities stick with us so much more than sitting in classrooms doing worksheets or listening to lectures. If you're a teacher reading this, I think there's a lesson in that.
I'm proud to introduce Laura to the Rumble audience and share all the amazing things she's doing with her life and talents. Laura grew up in the Asheville area where she danced with the Land of Sky Ballet. She also spent a lot of free hours thinking about elephants, giraffes, rhinos and other animals. As a student at College of Charleston, she danced with Robert Ivey Ballet Company and graduated with a bachelor's degree in corporate communications. Through her years as a dancer, she was inspired by the power of breath and movement, so even as a busy woman in the medical sales world, she found time to consistently practice yoga and learn about the various styles.
In 2010, Laura was introduced to the David Sheldrick Wildlife Trust, a global wildlife conservation organization based in Nairobi, Kenya. This brought her love of elephants, rhinos and giraffes full circle and she began working with the organization and fostering animals. In 2016, she completed a 200-hour yoga teacher training with Linda Patterson at Integrative Yoga Therapy. Originally, she hadn't planned on teaching, but during the course of the training she imagined teaching yoga and educating her students about wildlife conservation at the same time. After much deliberation, resigned from her nearly 15 year corporate career to take a leap of faith and follow her passions. She is now owner of Zen Mission Yoga and CEO of Yoga for the Wild. Rumble sat down with Laura to hear the full, fascinating story.
Rumble: Tell us a little about your background and how you came to be passionate about yoga and wildlife conservation.
Laura: Both passions were actually formed during childhood. I grew up in Asheville and both of my parents were science teachers. So, I learned early on that taking care of our planet was extremely important. Additionally, I've been a huge animal lover since the day I was born. I often would bring home stray dogs or injured rabbits or squirrels. I'm not 100% sure how I became infatuated with African elephants and rhinos, perhaps it was after our visit to the San Diego Zoo when I was about 10-years-old, or maybe even after going to the circus and seeing the beauty of the elephants and the magnificence of rhinos in person. I definitely read many books about animals and all my favorite movies were about wild animals. Needless to say, it was a thing as far back as I can remember. As far as my passion for yoga, I was a ballet dancer growing up and transitioned more into modern and contemporary dance in college. In my classes, we would often do yoga as warm up or even as part of a routine. Then, as I got older and was working full time, I found that yoga was a way that I could continue to move. I love the fluidity of the practice and the connection of breath and body. It gives me a creative outlet, a feeling of strength and flexibility and a sense of peace, as dance did when I was young.
Rumble: I learned from your website that the idea for Yoga for the Wild formulated during the pandemic. Tell us more about that.
Laura: The idea of Yoga For The Wild actually came to me pre-pandemic, during my yoga teacher training. On the very last weekend of my 200-hour training. During a meditation, I had a very clear epiphany of sorts, combining wildlife conservation and education with the practice of yoga. I started to talk about it (as far-fetched as it sounded at the beginning) and reached out to the David Sheldrick WildlifeTrust. I suggested that I host a local fundraising yoga event to support their orphaned elephants. I already had a little seed of a dream that one day I could actually be in Africa leading yoga classes, but at the time, that seemed pretty unattainable. To my delight, they were keen on the idea, and I organized and hosted multiple Yoga For The Wild events in Greenville from 2016 - 2018.
Then when the pandemic hit, the tourism industry in Africa took a major hit, as did the conservation efforts tourism was enabling. Many areas were financially crushed. As fate would have it, I had developed a friendship with a like-minded, wildlife-loving yogi named Kathrine, aka Kat. I mentioned doing a version of these events virtually to Kat while chatting one day because she grew up in Zimbabwe and Kenya and is also extremely passionate about Africa's wild animals and places - in addition to also being a yoga teacher. We talked about how quarantine and travel lockdowns had created severe financial stress to the tourism-dependent conservation efforts in Kenya, and we decided we wanted to help! We worked with Ol Pejeta Conservancy, where the last two Northern White Rhinos on the entire planet live, to create these events and they would be the beneficiary of all the money we raised. Their on-the-ground rangers were part of the events and would give updates on the rhinos and other animals, even taking their cameras in with the rhinos so we could see them. One time we even got to meet the puppies who were new to their K9 ranger unit. It allowed for people from all over the world to feel connected to a place that many of them had never even visited. We were super surprised at how successful those classes were. In total we did six classes and raised nearly $10,000. People from at least 17 different countries joined in from all over the world in multiple time zones for the events. It was definitely one of the unexpected joys that came out of the pandemic. When Covid started to settle down, Kat and I decided we should begin planning the real deal - and that is how our first 2022 retreat got started. To our surprise we sold out in less than a week and were able to add a second retreat in the summer of 2022.
Rumble: What was your first retreat like?
Laura: If asked to put it in one word, it would be hard to do, but I would say either "magical" or "home". It was the most exhilarating, beautiful, poignant experience that I have ever had. For the first time in my life (and I'm crying as I think about this) I felt like I truly found my life's purpose. We brought together a diverse and unknown group of strangers from Europe and the United States, organized their travel to learn about conservation efforts and the crisis of extinction firsthand. Many were first time visitors to Kenya, but some were returning travelers. Witnessing them experience the beauty and pureness of Kenya was just... magical. Meeting the last two Northern White rhinos, who are considered functionally extinct, and hearing about everything that they've encountered is extremely emotional and hard to endure. But then, when you see a herd of wild elephants or a thriving pride of lions, it's just incredible. It's like all your emotions are elevated. It really leaves you speechless. I have never felt so alive, purposeful and humbled at the same time. Early morning yoga with the fiery, rising African sun and seeing elephants or giraffes come in for a drink of water just a few yards away is spine tingling! Yoga goes so beautifully with safaris and conservation in general, because taking the time to breathe in, absorb, and fully feel all of your surroundings is truly a gift. The natural circle of life could not be more clear than in the wilds of Africa- some is certainly hard to witness, but just being there has a way of seeping into one's core existence, just like... home.
Rumble: What are some of your biggest dreams for Yoga for the Wild?
Laura: We hope to expand Yoga For The Wild by visiting new locations in multiple countries, broadening the conservation programs we choose to work with and continuing to make significant donations to these organizations. To date, we've donated more than $35,000 from the last three retreats and the online events combined to the Ol Pejeta Conservancy. We want to spread our resources to additional efforts because conservation work is the key! So many of the animals in Africa are not only iconic, but have been on this planet ages longer than human beings. Unfortunately, their numbers and habitats are being decimated due to human greed. Giraffes, zebras, and many of the cats like lions, cheetahs, and leopards are being killed for their coats. Gorillas, chimpanzees, orangutans are being killed for body parts. Elephants for their ivory and rhinos for their horns - all because someone somewhere can pay a lot of money to have it- just to say they have it. Some cultures falsely think rhino horn in particular has medicinal qualities. Also, the growth of our human population has pushed these wild animals out of their natural habitats, leading to unfortuante human/wildlife conflict. I refuse to be part of the generation that stands by as we lose the wildlife which plays such a critical role in the entire ecosystem of the world. Or, at least, I won't allow it to happen without a fight. To answer your question, we hope to expand the retreats to places like Rwanda or Uganda for gorilla trekking or into other parts of the African Savanna- perhaps Namibia or Botswana. Next year we're taking our first step in this expansion and will be hosting a group in Zimbabwe. Our conservation focus there is going to be the African Painted Dogs, aka African Wild Dogs. Working alongside with BushLife Conservancy, we hope to be able to see these incredible K9s and learn about ways we can help support them and prevent their road further into extinction. Kat and I both have a huge place in our hearts for Kenya and the Northern White Rhinos in particular, so we will continue to return there as long as possible and hopefully add other adventures on to what we have started there.
Rumble: What is the best way for someone to learn about what you're doing and/or sign up for a retreat?
Laura: Please check out our website www.yogaforthewild.com. You can also look at my personal, more local website which is www.zenmissionyoga.com. On Instagram and Facebook, you can learn about retreat updates, private yoga lesson information, or just to stay in touch!