Rumble
Cultivate Garden Shop Opens in Frog Level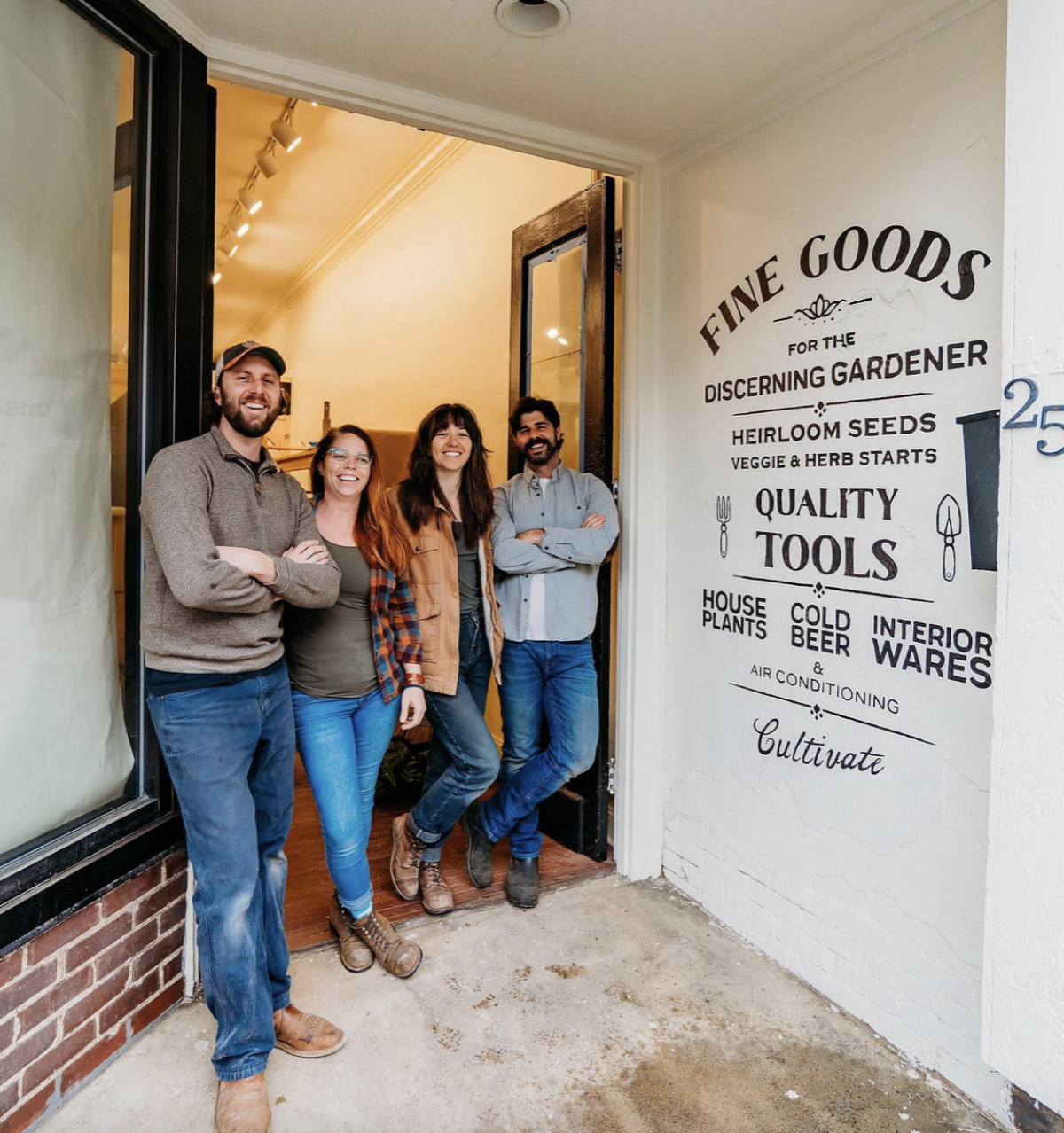 Cultivate Facebook Page
It seems the warmer weather is finally here to stay, and we can confidently plant flowers and vegetables without the worry of a hard freeze. If you're a fan of gardening or tending to plants and herbs, be sure to visit Cultivate Garden Shop located in the historic Frog Level district of Waynesville, N.C.
Cultivate is a joint venture between existing Waynesville entrepreneurs Spencer and Courtney Tetrault, owners of Axe and Awl Leatherworks and Blake and Amanda Yoder, owners of Gooseneck Farm and Coda Wood Studio.
Their product line includes everyday gardening staples like soils, seeds, and plant starts from local organic partners like Dirtcraft Living Soils and The Farm Connection. They also offer hard-to-find interior wares and specialized tools for the seasoned green thumb.
Cultivate has also partnered with the MoMA Design Store in New York City to bring unique gardening wares to the heart of Western North Carolina. In addition to the above items, the store stocks a diverse array of high-quality houseplants, including ficus, philodendron, bird of paradise, and other varieties from the commonly sought-after to the unique and exotic.
In addition to stocking gardening supplies, Cultivate also has a bar in the back of their space, serving cold beer and cold not-beer, where they plan to host local events and workshops for the local community. Their grand opening was held during this year's Whole Bloomin' Thing festival which took place on Saturday, May 13.
After their opening day, they offered this statement on their Facebook page:
A Grateful Reflection on Our Opening Day
As twilight gracefully descends upon our little shop, we pause to reflect on the remarkable journey of our inaugural day. We are profoundly grateful to the community of Waynesville and beyond that has embraced us wholeheartedly.
To each individual who graced our humble abode, we offer our sincerest gratitude. Your presence brought vibrancy and purpose to our space, fostering connections and nurturing a collective spirit of growth.
In this realm of botanical wonder, we aspire to guide you towards cultivating beauty and harmony within your personal sanctuaries. From rare specimens to meticulously crafted vessels, our offerings eagerly anticipate your return, ready to embark on a shared journey of exploration.
As daylight fades and shadows lengthen, we bid adieu to this momentous day, brimming with gratitude and a renewed sense of purpose. Tomorrow beckons with new beginnings and fresh discoveries, and we eagerly await the opportunity to welcome you once again.
But seriously, y'all rule.
- Cultivate
Cultivate Garden Shop is located at 250 Depot Street in Waynesville, North Carolina.
Learn more by visiting them online and on Facebook and Instagram.