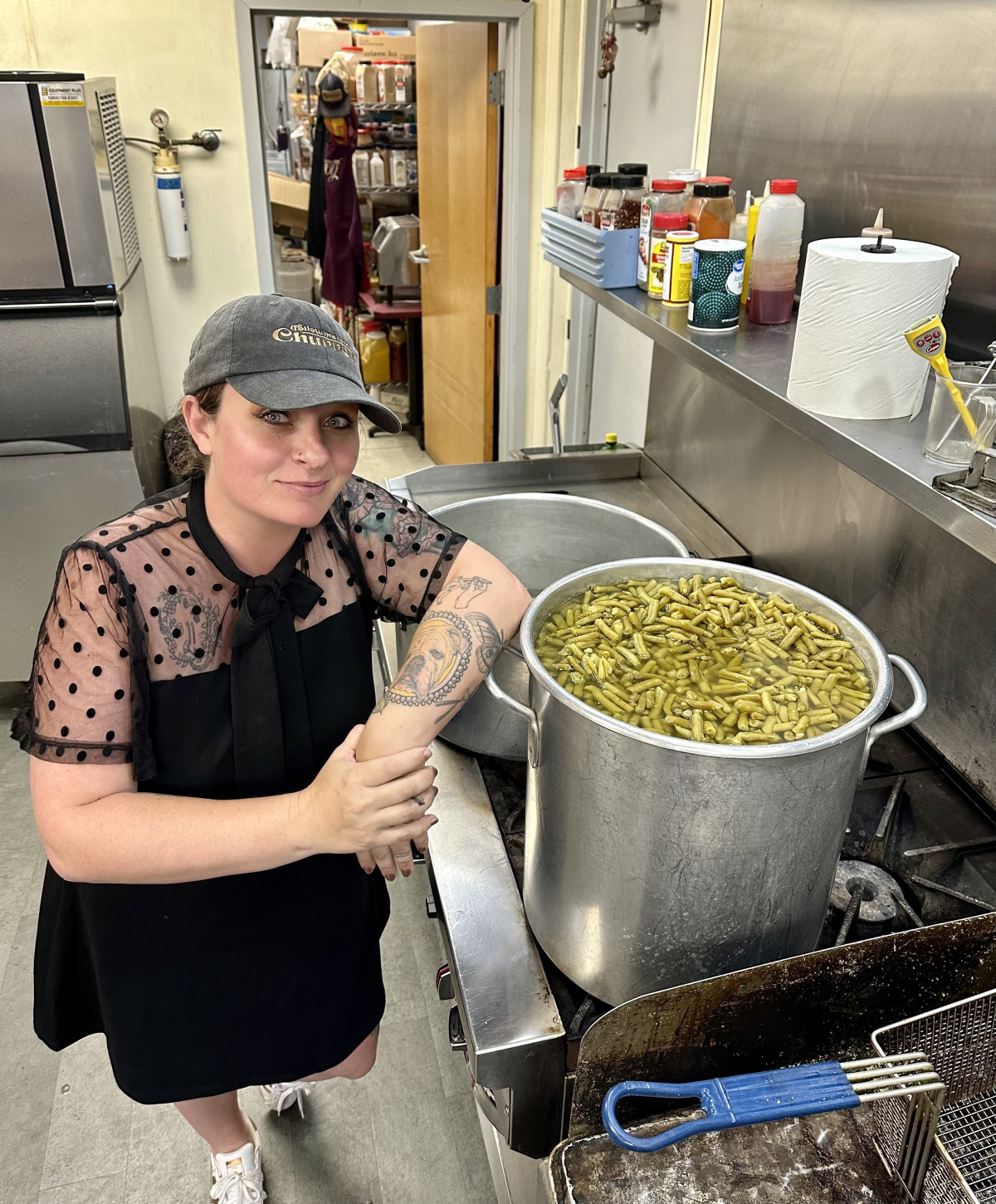 By Stefanee Sherman • Rumble Writer |Getting to work with, learn from and befriend incredible women has been an inspiration in my life. Ashton Nelson is one of those women.
Nelson is a ball of energy that never stops giving. I've never heard her tell someone "no'' when they need help. Even with something that sounds impossible, she finds a way to deliver. In her personal and professional life she always shows up, from meeting product deadlines to bringing you flowers and coffee on your worst days. One of the many impressive things Ashton does each year is serve as the chair for the Junior League Little Black Dress Initiative in which she sets up volunteer work and frundraising activities to feed the houseless community of Pitt County, North Carolina. She spends countless hours and a lot of energy setting this up and volunteering at the shelters and food banks through the week. She also instills this mentality in her kids who have some incredible goals for their future selves. I caught up with Ashton this past week, while she was simultaneously at a work conference and enjoying some well-deserved time at Disneyland, and asked her some questions about what her days look like!
I've known you for a few years, but if you're just introducing yourself, what would you want people to know about you?
I'm not sure I've ever thought about what I want people to know when introducing myself. I'm genuinely an open book with poor filtration and very little forethought. From these interactions, I think people immediately take away that I am passionate, open minded yet assertive and a doer, who often struggles with delegation. But I am working on that aspect of being a grown up! I am loud, opinionated and not everyone's cup of tea — but am confident and poised enough to not give a damn.
When and why did you join the junior league?
I joined the Junior League of Greenville, North Carolina in the summer of 2018. Truth be told, I joined as a part of a pact. I had a conversation with a close friend about how we wanted to do more for our community but didn't necessarily think we were what JLG was "looking for" in a member. So it was an "I'll do it if you do it" sort of pinky promise… and now we're both going on year five of being integral parts of the league. Let this be a true lesson of never judging a book by its cover. The countless impactful moments I would've missed out on by assuming this was just an excuse for moms to get out of the house on weeknights is astounding!
With four kids and a busy schedule, where do you find the time and energy for Junior League?
I often get asked about my time & investments in things I'm passionate about. If I'm being completely transparent - I don't know any other way of life. Maybe blame it on my ADHD & the intense ability to hyper-fixate? Maybe blame it on my insane competitive nature? If something isn't earmarked as a "win" I have a hard time stepping away. Maybe just blame it on the fact that I'm utterly insane? As I'm never truly sure if there is a positive or negative connotation to this question! Regardless, I don't foresee this changing because like Dr Seuss said, "Unless someone like you cares a whole awful lot, nothing is going to get better, it's not."
What are some of the community service projects currently going on with the junior league?
The Junior League of Greenville, North Carolina runs on a traditional school calendar — August to May. This being said, we spend the summer getting everyone situated into their new leadership roles and brainstorming for the next big impactful thing. We have a few service projects that have rolled over into the summer, like Backpack Buddies which provides healthy snacks and hygiene items for students in need while away from school, and support of Barbecue Bootcamp with Pitt County 4-H which provides youth with the knowledge and tools to grill on their own. These students leave with their own charcoal grill and all of the equipment needed to cook their own meals in a safe and healthy manner.
Why are you so passionate about giving back and giving your time?
I am passionate about giving back because at any point in my life, I could've been on the other side of this equation. Hell, I moved to Miami after flipping a coin. Heads Miami, Tails San Diego. Bought my one-way ticket on a Thursday night and left bright and early Sunday morning. I had a job interview on Monday (thanks to Craig's List), accepted on the spot and rented an apartment within walking distance from the office. I left North Carolina with $400 in my bank account. This trip could've gone south at a moment's notice — pun intended! I was successful in my grand adventures, but I fully understand how some aren't so lucky — or even how hard it is to get yourself out of some of these perpetual systems. I am in a position to help, so I will help whenever and wherever needed. I hope the person on the other side of the coin feels the same if I were to ever find myself in need of a warm meal and a genuine conversation.
You do some pretty incredible things, from traveling and volunteering to being a badass mom and businesswoman, what advice would you give your 15-year-old self?
You're right, I am incredibly lucky — traveling, volunteering, being a badass mom and businesswoman — I wouldn't trade it for the world. That's exactly what I would tell 15-year-old Ashton. Make the mistakes — they will give you life lessons that separate you from the pack intellectually. Make rash decisions — it gives you the ability to figure out your driving forces and the intentionality within you. It simultaneously removes the ability to be swayed by outside forces — they don't tend to be as quick as you. Stay unfiltered — it will get you in trouble, it will cause your mom to get more notes home from teachers than she would like, and it will cause you to lose "friends." But, it will teach you that testing boundaries isn't always done with mal intent and sometimes it's necessary. It will teach you how friendship should truly feel. It will ultimately separate you from many crowds. But most importantly, I would tell younger Ashton that it's ok to be wrong. Older Ashton is still learning this fact, even more so now that the next generation of little Ashtons are here. But it's OK. Feel it, openly converse about it, then move forward… or as Jay-Z says, "on to the next one."