Rumble
Cathey Bolton & the Health Benefits of Olive Oil
Thursday, September 22, 2022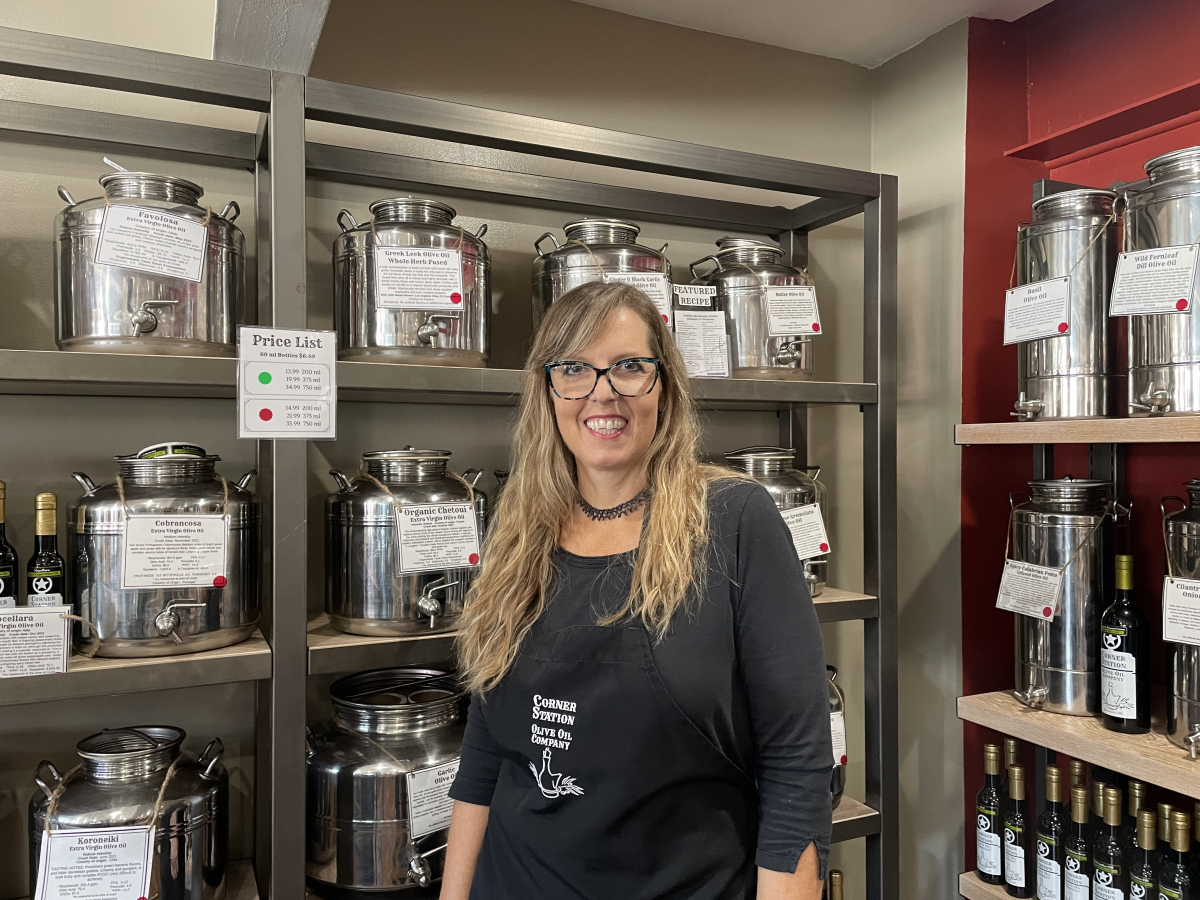 Whether it's creating beautiful handmade pottery, developing recipes for her restaurant or curating a vast selection of high-quality olive oils, Cathey Bolton is truly a talented artist, as well as a successful business person.
In 2018, Cathey and her mom, Katy Bolton, opened Corner Station Olive Oil Company to bring the world's finest and largest selection of olive oils, balsamic vinegar, specialty vinegar, spices, seasonings and rubs to Western North Carolina. The store is located in their family's service station that was built by Katy's grandfather almost 100 years ago. It sits alongside Cathey's pottery studio and Third Bay Filling Station Café.
Although we could write on many topics when it comes to Cathey this article focuses on Corner Station Olive Oil Company and how the quality of her oils far exceeds anything found in a regular grocery store and how the quality of the oils greatly impacts the wellness of an individual.
Benefits of olive oil
Packed with polyphenols: Polyphenols are powerhouse antioxidants we obtain through plant-based foods. They boost heart health and immunity, and the fresher, more organic the olive oil, the higher the polyphenols.
Reduces risk of certain cancers: Several recent studies suggest that a component called oleocanthal, found in certain extra-virgin olive oils, kill human cancer cells with no obvious effect on normal cells. A peppery taste in the back of the throat is a good indication the olive oil you're consuming is high in oleocanthal. Other cancer fighting properties in olive oil include oleic acid, hydroxytyrosol, phytosterols and squalene.
Supports positive mood: Several studies indicate that following a Mediterranean diet, which includes the consumption of high-quality olive oil, can help treat depression. Olive oil's beneficial fats support the central nervous system which can increase levels of mood-supporting neurotransmitters.
Supports a healthy gut: The polyphenols in olive oil act like prebiotics in the gut, and because of its healthy fat content, it enhances the digestive tract's nutrient absorption. Olive oil lubricates the gut, greatly helping with consistent elimination.
Helps balance blood sugar: Healthy fats are a key component when it comes to stabilizing blood sugar and preventing or managing type 2 diabetes. Contrary to what people once thought, olive oil does not contribute to weight gain. In fact, several studies have shown that it helped participants lose weight.
Anti-inflammatory properties: Olive oil is widely known for its anti-inflammatory properties. Monounsaturated fats have been shown to reduce levels of c-reactive protein, an inflammatory marker that's shown to be elevated in conditions such as rheumatoid arthritis. Further, oleocanthal has shown similar anti-inflammatory properties to ibuprofen.
Protects against heart disease: Olive oil is considered heart-healthy for many reasons. Oleic acid and various polyphenols are likely to thank for this health benefit of olive oil because they have an ability to reduce inflammation and oxidative stress, and modify cholesterol levels in the bloodstream.
After a recent visit to Cathey's store, I listened to several podcasts on olive oil and learned the majority of olive oil sold in commercial grocery stores is adulterated with other lower-quality oils and is made with less-than-fresh olives that have either already fallen from the tree or are past their picking stage. This is why connoisseurs suggest trying a generic, store-bought version with a small batch version. The taste difference is unbelievable.
Olive oil has been called the OG of oils. It's been around for thousands of years, not only as a staple for cooking but also for religious, cultural, cosmetic and health reasons. Also, if you're a foodie, like me, don't believe the myth that olive oil can't reach a high temperature. In fact, it actually has a moderate-to-high smoke point of 350 to 410 degrees fahrenheit, and the better the quality, the more even the smoke point.
If you're curious about moving to higher quality olive oil, Cathey and her staff are knowledgeable and well-versed on all things related to olive oil. You will also be able to taste test the products and allow your palette to experience its own delight. Corner Station Olive Company is located in downtown Waynesville at 136 Depot Street, or you can visit them online.