Rumble
UNCA Renamed Building After Cherokee Beloved Woman
Wednesday, December 08, 2021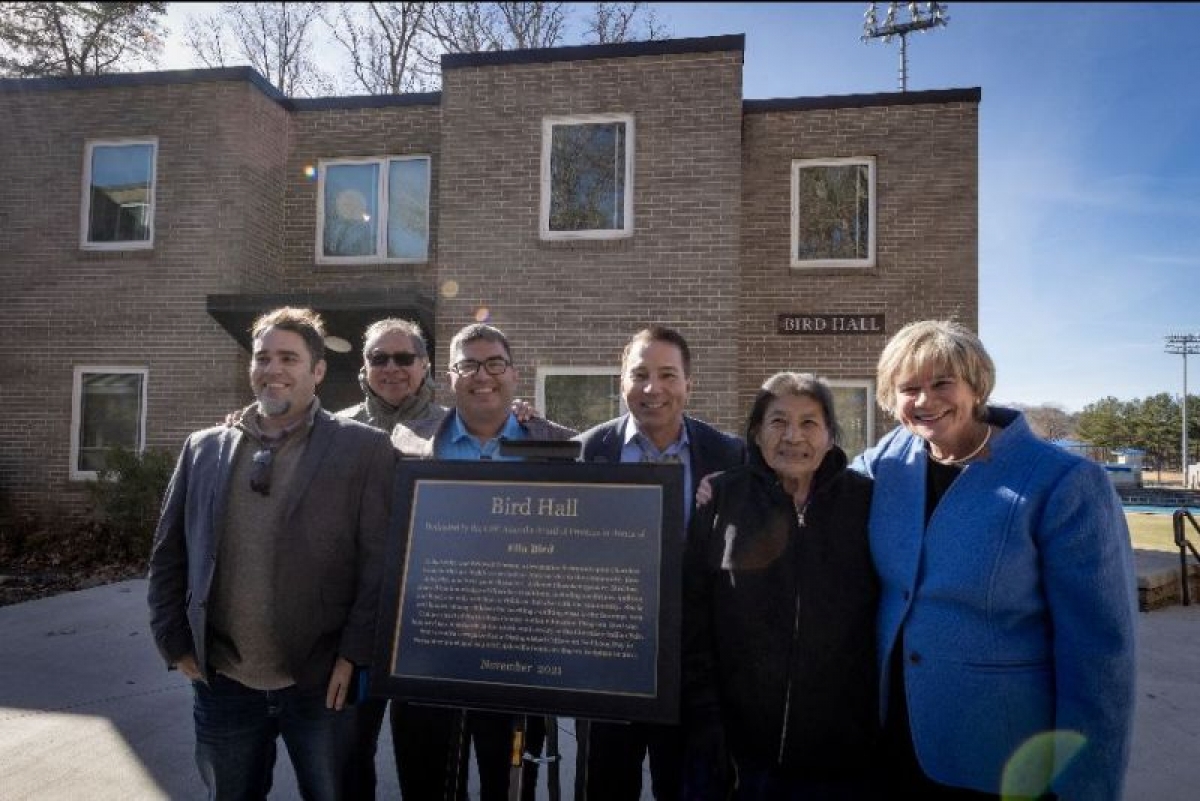 On the University of North Carolina Asheville campus, an established building now bears a new name. UNC Asheville's campus community, along with members of the Eastern Band of Cherokee Indians, gathered to celebrate the presentation of Bird Hall, named for Ella Bird, Beloved Woman of the Eastern Band of Cherokee Indians and 2017 UNC Asheville honorary degree recipient.
"Beloved Woman Ms. Ella Bird is the utmost deserving of this honor," says Principal Chief Richard Sneed of the Eastern Band of Cherokee Indians. "She embodies and personifies what it truly means to be a Cherokee elder. She shares her kindness, goodness, and grace with all who know her and everyone she meets. She is esteemed by her children, community, and tribe, and she is beloved by her people because she has consistently modeled what it means to be Aniyvwiya-The Principal People." He continues, "I would like to thank the University of North Carolina Asheville, Chancellor Cable, and all who had a hand in the renaming of this building to honor Ms. Ella Bird and the Cherokee people."
The naming of Bird Hall stems from a recommendation by UNC Asheville's Building Renaming Task Force with the support of Chief Sneed and the Tribal Council of the Eastern Band of Cherokee Indians (EBCI). Comprised of students, faculty, staff and alumni, the Task Force assembled in the 2020-21 academic year and was charged with executing a full review of all campus buildings and spaces. They were entrusted to make recommendations that align with UNC Asheville's mission and core values of inclusion, equity, and diversity while championing individuals who have demonstrated positive contributions to the University and the greater Asheville community at large. Buildings renamed after trailblazers Julia Ray, Wilma Dykeman, and Francine Delany were celebrated at a ceremony in early November.
"Today we honor one of four visionary leaders and advocates for whom our campus buildings have been renamed," said Chancellor Nancy J. Cable. "We are grateful for the opportunity to affirm our shared values of inclusion and deep respect for one another as we lift up the life and work of Miss Ella Bird, Beloved Woman."
Formerly known as Ashe Hall, Bird Hall has been renamed for Ella Bird tribal elder and Beloved Woman, a designation bestowed upon Cherokee women who are highly respected for their service to the community, integrity, and good character. A fluent Cherokee speaker, she has shared her knowledge of Cherokee traditions, including medicines, quilting, and food, with her 10 children and community. She is well known among children for teaching a quilting class in the Summer Arts Camp as part of the Graham County Indian Education Program. Bird was honored as a matriarch at the 100th anniversary of the Cherokee Indian Fair. She was also recognized as a Distinguished Citizen on Ned Long Day in November 2006 and as a UNC Asheville honorary degree recipient in 2017.