Archived Rumble
Memories and Lessons Learned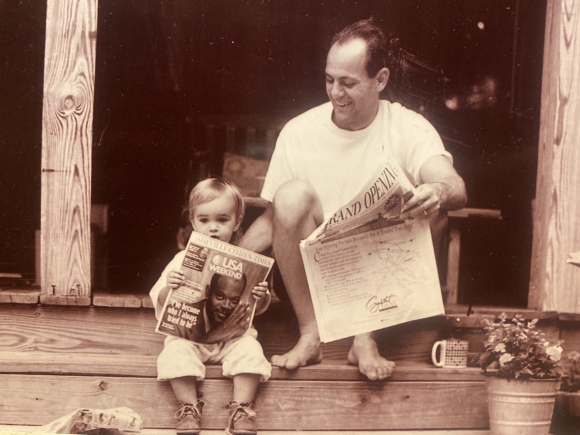 "Memory is never a precise duplicate of the original… It is a continuing act of creation." - Rosalind Cartwright
There are two books I have read recently that have made me dwell on the past, on memories and whether or not they are real, correct, or even my own.
In his book "The River of Consciousness," Oliver Sacks tells us that our earliest memories are often fabricated, made up later in life according to stories we've heard, pictures we've seen or recurring experiences we continued to have into childhood. For instance, going to church.
My earliest memory is standing near the front door to our house, looking outside and seeing my dad there on the front porch, reading a newspaper. Naturally, the infant version of me wanted to do exactly the same thing. I remember trying to waddle outside, my mother sitting me down, putting socks and brogans on my feet (shoes were something I hated then, and still detest today), sticking an insert in my hands and pushing me out the door.
I took my seat on the top porch step beside my dad, and immediately noticed some things awry. To begin with, he had no shoes on his feet. Why should I have to put these silly things on if he didn't? And our newspapers were different. Mine had pictures and colors and large fonts while his was composed almost completely of tiny words. I was nowhere near the age of reading, but I was old enough to know that if I was going to pretend, this wasn't going to cut it.
I remember a feeling of frustration. Why didn't my mom let me do what he was doing - be barefoot, outside, reading a real newspaper?
There is a photo of that morning. Of my bald, baby head next to scott's. There is no way for me to know whether or not I manufactured this memory, or if I really do remember looking at the difference in our papers. No way for me to know if my already mounting frustration was exacerbated still when mom popped out the front door with a camera, making the whole thing a photo opportunity instead of an ordinary moment that brought us all joy. (I know now how valuable it is to capture these moments, or I may not have this memory at all.)
When me and my siblings were young, we were vaguely aware of what dad did. I remember knowing from a very young age that election night always fell on a Tuesday in November. I remember this because my Mom almost always returned to Nicaragua in November, so we three kids were left with our incredibly hard working father. It was fantastic. We ate Little Ceasar's Pizza (he would even let us get the Crazy Bread), breakfast for dinner, or the ultimate: Tuna Fish Pasta. If you haven't heard of this ingenious creation, simply mix tri-colored rotini with Italian salad dressing, canned tuna and boiled egg. You can thank Scott McLeod later.
When dad was at his first office, we would spend election night there with him. We loved it. We'd bring sleeping bags and snacks and stay up later than normal. While we were giddy with the novelty of it all, he was busy preparing stories and waiting for late night results to come in so he could send the paper to press. The sense of excitement and energy surrounding election night has stuck with all of us as we've grown.
In her book Educated, Tara Westover recalls her childhood as a member of a survivalist Mormon family. Throughout the book she will tell a story, and then contradict this story with the account of someone else in the family, or reveal that upon asking, she found out people that were part of her the story in her memory weren't there at all. Westover's father suffered from bipolar disorder, and because he kept his family isolated from society and education, their reality was warped by his violently shifting mind and control tactics. They were gaslighted to the worst degree.
This book did make me wonder about my past, about things that really happened and things that were influenced or fabricated by my emotions surrounding events or later rememberings of them. But, it also made me deeply grateful for the person my father is and the foundation he has given me and my siblings for life.
The memories that I know are true are the ones I can feel, without tying them to a specific instance in time. Driving with dad in the black pickup truck listening to John Prine, Robert Earl Keen or Lucinda Williams. Getting in trouble at school for singing the racey lyrics of "In Spite of Ourselves" in first grade. Me and Megan dressing up in our tea party dresses to ride with dad to the dump on Saturday mornings and stop at the gas station for icees. Groggy mornings getting ready for school, hearing the soothing voices of NPR radio hosts over the living room surround sound speakers. Fried egg, mayonnaise and american cheese bagel sandwiches.
I remember thinking, during those truck rides listening to John Prine, that the lyrics "She's sitting on the back porch/ just shuckin that corn/ that girl's been grinnin since the day she was born/ she ain't a hurtin nobody/ she ain't a hurtin' no one" were about my sister. Somewhere down the line I think my dad said it. "Those words are about you Megan," I imagine him saying with a grin of real happiness, the kind that shows his teeth and makes his eyes squint up.
I remember hours long conversations around the dinner table as we grew, talking and debating the things we questioned, were curious or cared deeply about. Somehow dad never had too much work to cut those conversations short.
There are some things parents teach their children. Conversation in which they instruct right from wrong, or demonstrate how to, or go over why a certain act was wrong. My father taught us countless things. But the biggest lesson me and my siblings have taken from my father was not something he taught.
There is an intense feeling of unrestrained joy when I conjure memories of my father from childhood. When I think of the loss and the pain he's experienced in his life, it is breathtaking that those are the strongest of all the memories. In spite of everything, and because of everything, he showed me and my siblings that the most important thing in life is to enjoy it. That doesn't mean every day is a reckless party (although those have their place). To get the very most out of life you have to live intentionally. Take care of yourself and the people you love, feel the all ebbs and flows of emotion with depth and understanding, widen your mind and your perspective, challenge yourself, explore, find work that inspires something inside you, relish the ordinary moments of joy and excitement, and savor quality time with loved ones.
Those lessons are hard to teach. But, when you watch someone squeeze the most out of life every day, it is easy to learn.