Archived Rumble
Chickpea Salad
Wednesday, February 10, 2021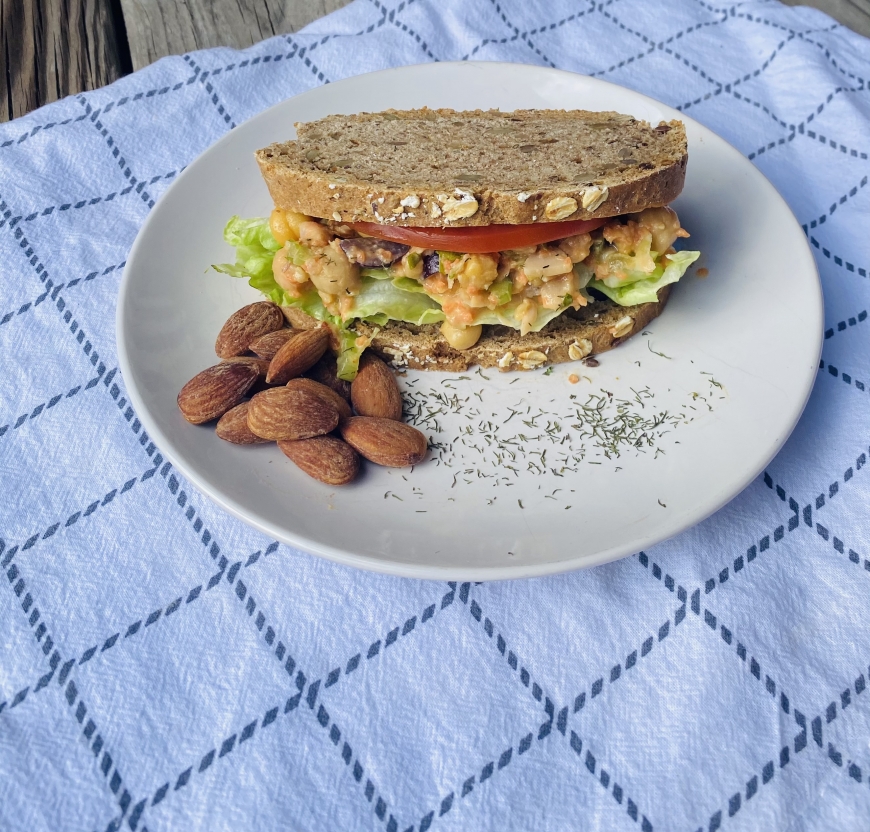 Today, Wednesday, Feb. 10, is one of those unseasonably warm winter days. The days that invoke a yearning for spring, a yearning for the feeling of walking outside without tension gripping your entire body. These unseasonably warm days will increase in frequency as we move toward the end of March, into the new season.
Ultimately, there will be a blackberry winter sometime after we round the corner into spring. But these days, when the sun shines warm, feed anticipation. These days can mean more than the actual warm seasons to come.
Yesterday, a seasonably frigid day in the mountains, my sister was enjoying sentiments similar to mine today. She sat outside basking in the high 50's weather of the piedmont, true spring weather for a mountain girl. As we spoke I could hear the excitement of impending spring in her voice.
When we were young, the warm seasons meant time spent outdoors, mom dragging us along on near daily hikes. She was our fearless leader into the wilderness of these mountains, throwing her three children, and whichever friends wanted to join into the minivan for adventure. Required gear: swimsuit, or else your clothes were getting wet.
The waterfalls were always my brother and sister's favorite part. I remember their logic, why would we hike somewhere without water, somewhere we can't swim? Makes sense. What is more exhilarating than cold mountain water surrounded by lush, green forest closing in from every direction?
My favorite part of our adventures was the picnic we brought along with us. Apples, cheese, crackers, canned tuna fish, chicken salad sandwiches with chips (the only time we were permitted potato chips), carrots, cucumbers, pita and hummus. Food that is at once refreshing and filling. I'm sure mom rarely had a bite on those picnics as we ravenously swiped cheese and apples just as quickly as she could slice them with her red Swiss Army Knife. Tupperware tops served as unsteady plates on a blanket squirming with hungry, wild kids. How could we help it? Food always tastes better when you're hiking, camping or doing anything outside.
On this unseasonably bright, warm February day I decided to make chickpea salad and dream about the warm seasons ahead - enjoy the anticipation.
Chickpea (or chicken) Salad
Ingredients:
3 cans chickpeas
2 tbsp. Mayonnaise
2 tbsp. Italian or other salad dressing
1 tbsp. relish
3 stalks celery (and any celery leaves)
1-2 carrots (full, not baby)
½ cup sliced almonds
¾ cup halved grapes
2 tsp. Dill weed
Salt and pepper to taste
Directions:
Put chickpeas into a bowl and mash partially. Or, put them in the food processor and pulse a few times. This step is optional but helps give the chickpeas a meaty texture.

Place carrots and celery (and leaves if using, celery leaves are full of celery flavor) into the food processor to mince. Combine with chickpeas.

Add almonds, grapes and relish to the chickpea mixture.

Stir in mayonnaise, italian dressing, and salt and pepper. Adjust mayo and dressing amount for desired texture.

Enjoy and anticipate the warmer days to come!