Archived Reading Room
Music from inside the Great Pyramid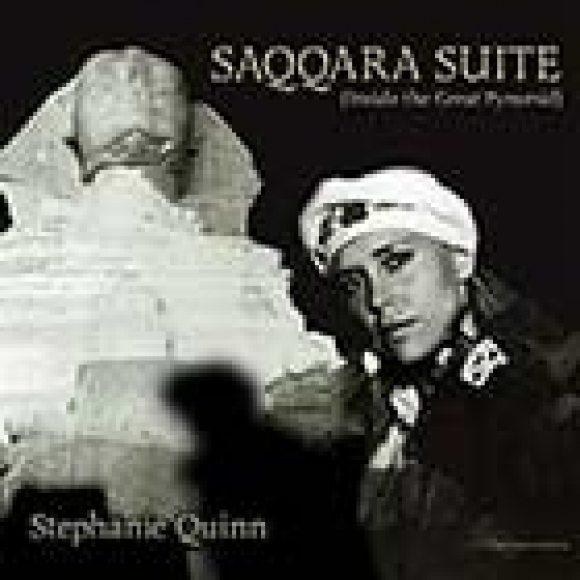 Looking for something unique and different? Then I've got something for you.
Stephanie Quinn, who is a musician and classical music composer and a former resident of Cullowhee now residing in Asheville, has just released a music CD that is unlike anything you're likely to have heard before. Mastered and restored by legendary music industry producer Tom Spahn in New York and housed in a professionally-designed package, Stephanie Quinn's debut Western North Carolina offering is stunning. So, where has this musician/artist Stephanie Quinn and this amazing recording been hiding?
In 1985 when jazz flutist Paul Horn released his unique album "Inside the Great Pyramid," I was one of that recording's biggest fans. But Stephanie Quinn has taken what Horn did back then and with "Saqqara Suite" has taken it to another level. The quality and resonance of her siren-like vocals and her violin improvisations combined with the reverb-like acoustics of the King's Chamber in the Great Pyramid in Giza is mesmerizing, hypnotic. With a jaw-dropping package cover image of Quinn standing beneath the Sphinx, if this recording had been released when she actually recorded this session back in 1987 (only two years after Horn's session in the pyramid), it would have secured her career and made her a New Age indie jazz superstar. Be that as it may, we're lucky to have it now and to experience the digital remix of this amazing "concert."
In the cover notes to this CD Quinn writes: "I met Fadel Gad, noted Egyptologist and archeologist, in 1986. He escorted me to the stone and steel entrance to the Great Pyramid and locked me inside for my safety. I then crawled through the tunnels to reach the King's Chamber. This is where I recorded the solo version of Saqqara Suite. The unique acoustics supported the musical expression of my feelings. I experienced a deep stillness that expanded beyond my body until I was playing the pyramid as my instrument."
Sometimes magic happens when one least expects it, and some kind of magic clearly happened in 1987 when Stephanie Quinn was sitting that day inside that ancient room in Egypt with all the parts and all the elements coming together and creating a haunting yet celebratory experience. Now, we, too, can have that experience due to the recent release of "Saqqara Suite."
If there is one bit of criticism I would add to all the accolades above, it would be a comment about the editing of the CD itself. Had I been the producer of this CD I'd have kept the recent locally-recorded ensemble pieces and the 1987 Great Pyramid solo pieces separate. Would have made two separate CDs. While the ensemble pieces here are first class, they are not truly compatible with the inside-the-pyramid tracks, which are clearly the stars of this CD. The solo tracks by themselves would have made a big splash in the music industry and in the eyes and ears of the public. But this one small oversight in terms of production and marketing aside, Stephanie Quinn has delivered to us a winner. Something as rare as a Hope Diamond in a world practically devoid of such gems.
Stephanie Quinn is a graduate of the Eastman School of Music, studied at Julliard, has performed with the Chicago Chamber Orchestra, the Spoleto Festival Orchestra in Spoleto, Italy, and at Carnegie Hall in New York City. She is a member of the Asheville Area Piano Forum, plays with the Asheville Symphony, Hendersonville Symphony, Brevard Philharmonic and is a voice, piano and violin teacher. She currently lives in Asheville. Hard copies and downloads of her CD can be purchased on CDBaby, iTunes and Amazon music. For more information see her website at www.stephaniequinn.com and she can be reached at This email address is being protected from spambots. You need JavaScript enabled to view it..
Leave a comment
1

comment
Please, you must know that Paul Horn's Inside the Great Pyramid was released in 1976, not in 1985.

Wednesday, 09/15/2021