Archived Reading Room
The life of Harry Crews makes for depressing reading
Wednesday, August 10, 2016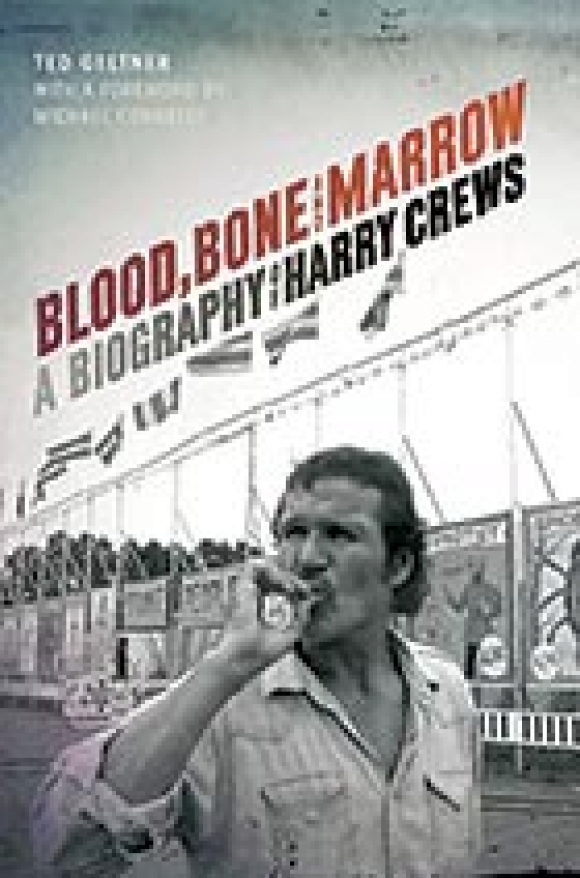 This may be the most depressing biography I have ever read. Although I frequently considered abandoning this painful trudge through one man's tragic descent into addiction and madness, something kept me reading.
Some of it was probably morbid curiosity. However, more than that, I have been one of that multitude that considered Harry Crews to be one of the South's most gifted voices. Like thousands of my peers who identified with Crews' grit background, I found myself responding with a sense of empathy to his personal plight.
Like Harry, I had been touched by polio as a child and, afterwards, I had felt the same sense of alienation: an outsider in my own family, at school and in my culture. If I lacked the courage or the talent to react the way Crews did to the injustices of life (with defiance and rage), at least I could let him do that for me.
With meticulous care, Ted Geltner has chronicled the rise and the prolonged, tragic decline and death of one of America's most remarkable writers. For whatever reason (and the author gives you a multitude of choices), Harry Crews chose to self-destruct at the age of 76. Despite his alcoholism and addiction to a variety of drugs, including cocaine, he remained the star of the University of Florida's Creative Writing Program until he chose to retire. Each year, multitudes of students attended his lectures and when he could no longer teach (disabled by illness and alcoholism), some of his most devoted followers actually gave his lectures for him.
They also bought his groceries and volunteered to drive him for both medical treatment or a search for drugs. A number of young women agreed to type his manuscripts, cook for him ... and, yes, others slept with him. His friends verified the fact that he was in constant pain during the last years of his life. It is noteworthy that, despite at least one serious suicide attempt, he continued to write until the week of his death in 2012.
Harry was born in Bacon County, Georgia, on June 7, 1935. He was fond of stating that the only books in his home were the Bible and the Sears catalogue (one of his most memorable recollections is about that catalogue which became a template for his imagination). His early childhood ordeals included a bout with polio and the injuries he acquired when he was accidentally plunged into a barrel of boiling water on hog-killing day.
In what many critics consider to be his greatest success, Crews created a remarkable autobiographical work, A Childhood: A Biography of a Place (1978). When Crews completed this book, he was already a successful writer with a dozen novels; however, the writing of A Childhood caused him such anguish it would be ten years before he would write another novel. Crews remained alienated from his brother, a "born again Christian" for most of his life,
Despite his weak leg, Crews managed to get into the Marines and when he completed his three-year stint, he took his G.I. bill and enrolled in the University of Florida in Gainesville. He had been obsessed with the idea of becoming a writer in the Marines and immediately enrolled in the Creative Writing program. With little to go by except the lurid detective novels of Mickey Spillane, he came under the influence of Andrew Lytell, a distinguished member of the literary movement called "The Fugitives." It soon became evident that Crews had nothing in common with his would-be mentor. Lytell was distressed by Harry's " visceral" approach to writing. In time Crews realized that he needed to go his own way and develop his own voice. It was one that was raw, bleeding and angry.
Harry's first novel, The Gospel Singer contained all of the themes that would become synonymous with his future novels: Bizarre settings, physically and mentally deformed characters and a dark, manic humor. However, the lynch mobs, freak shows and the sexual excesses of a depraved protagonist troubled the critics. Still, they fascinated by this "wild man" of Southern literature. Crews followed his first novel with Naked in Garden Hills (1969), which featured a 500-pound protagonist, a four-foot, ninety-pound jockey, a suicidal horse and a phosphate mine. For many readers, this surreal tale was perceived as a kind of morality play that defined a corrupt South. The book won rave comments from unlikely fans such as Harper Lee and Jean Stafford.
In conjunction with this unexpected success, Crews went through a series emotional traumas He had married his childhood sweetheart in 1960, but the accidental drowning of Patrick, his 3-year-old son in 1963, devastated him. While Harry was completing his master's degree, he applied for a fellowship at the University of Florida but was turned down. This rejection plagued Crews for the rest of his life, and he basically saw it as a kind of betrayal. He felt that he had been rejected by "the academics" and he spoke bitterly of the experience for the rest of his life. He ended up teaching English at a junior high school in Duvall County. However, after the success of his first two novels, he applied again for a fellowship at the University of Florida and got it.
Despite the fact that Crews' life continued to be plagued by financial frustrations, he continued to have success with his writing. Harry began to turn out novels at an amazing rate. Between 1968 and 1998, Crews not only published 19 books, he became a valued member of both the Bread Loaf Writers Conference and the Iowa Writers Workshop. Crews was sought after as a charismatic speaker and traveled throughout the United States at the request of writers such as John Ciardi, James Dickey, Larry Brown and Tim McLaurin.
Harry's most amazing success came with the discovery that he had a talent for journalistic pieces and interviews. When he did a legendary piece for Playboy on the Alaska pipeline published as "Going Down in Valdez," he quickly found himself writing for Esquire. He wrote an insightful article called "Carney," interviewed Robert Blake and Charles Bronson and created a regular column called "Grits" that delivered perceptive insights into subjects like rattlesnake festivals (which also ended up in a novel, A Feast of Snakes). Crews' interview of David Duke for an Esquire article is still considered a classic.
Crews flirted with the movies and created a memorable publicity event when he attended the Tyson-Spinks bout with Madonna and Sean Penn. (He was ushered into a front-row seat by Donald Trump). He encountered an all-girl band that bore his name, ended up with a role in a movie, "The Indian Runner," and agreed to stroll down foggy road, muttering about "bird spit" in a documentary, "Searching for the Wrong-Eyed Jesus." Harry saw his own novel, The Hawk is Dying, made into an unsuccessful film and was forced to agree with the critics that there was something in his writing that "resisted" film adaptation. Even so, he wrote a successful play, "Blood Issue" that dealt with his search for the identity of his own father. In true Crews style, it concluded with a shotgun blast.
However, Harry Crews was never a "best-selling writer." His fame rested on his cult following. He knew this and it was part of the despair that plagued him all of his life. In the end, Crews felt that he was always "an outsider."
This review has paid slight attention to Harry's violent lifestyle that sent him out at night looking for a fight. It seems enough to say that he always found one. However, as one of his best friends noted, "I never saw Harry win a fight." Exhausted and unable to leave his bed during the last week of his life, Harry Crews refused his medication on the day prior to his death, telling his nurse. "I need to get off this bus." Two days later, his only remaining son, Byron, poured his father's ashes into a stream called Hurricane in Bacon County and watched them drift away.
Blood, Bone and Marrow: a biography of Harry Crews by Ted Geltner. University of Georgia Press, 2016. 414 pages.