A&E Columns
This must be the place: 'The questions of a thousand dreams, what you do and what you see'
Wednesday, September 27, 2023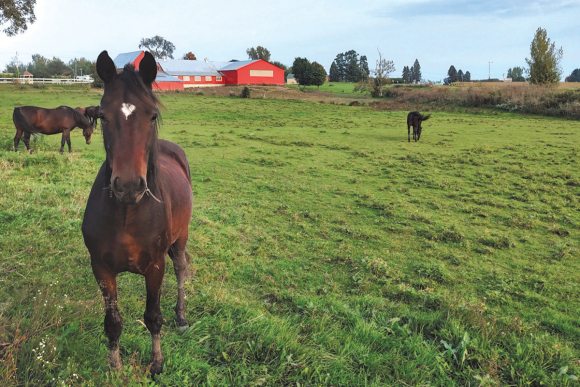 Horse farms are a North Country staple. Garret K. Woodward photo
It's never easy to go home. And I think it only seems to get harder, perhaps more abstract and blurry, as one gets older — further and farther between from the starting line, literally and figuratively. Case-in-point, I recently returned home to my native North Country.
It's late September. Summer is mostly gone in these parts. Mild daytime temperatures quickly fleeting. Chilly at night warranting a roaring woodstove at my parents' farmhouse in the rural farm country outside of Plattsburgh, New York. Like clockwork, the leaves are slowly transitioning color — shifting from luscious green hues to bursts of bright red, orange and yellow.
I come up here for the same two reasons I've come up here the last 11 or so years since I relocated to Haywood County and greater Western North Carolina — to remember the past without glorifying it and to see my aging parents as much as I can before the inevitable forces of time and ability appear to collect the dues.
This go-round, my girlfriend, Sarah, jumped into the old Tacoma for the 1,100-mile trek from my humble abode apartment in Waynesville to the farmhouse in the Champlain Valley of my youth. She's never been north of New York City or "The City" we folks in the Upstate refer to it as.
And it's been interesting to see my hometown and old stomping grounds through her eyes, her fascination and eventual follow-up questions while in transit from a favorite hike in the Adirondack Mountains to an old hometown dive bar held closely to my chest no matter the distance from its North Country threshold to one's North Carolina doorstep.
There's been wanderings and ponderings all along Memory Lane while on this current jaunt back to the Northern Tier. "Michigan" hot dogs (aka: sauce dogs) consumed in haste at Clare & Carl's, a dilapidated structure along Route 9 that my late grandmother worked at for many decades, slinging Texas Red Hots amid a weekend rush.
Happy hour beverages at The Monopole in downtown Plattsburgh, a two-story dive bar built in 1897 for that exact purpose of libation and fellowship. It's a place where the mirrors, stained glass, woodwork and bar counter are all entering the 126th year of existence. Behind the bar, my dear friend Shelby, a touchstone of sorts for the latest news from home or simply a hello to check-in once-in-a-while to see how I'm doing so far from all things familiar below the Mason-Dixon Line.
Trotting down the Bloomingdale Bog Trail on an otherwise quiet afternoon. Not a soul around for miles. Sarah decides to walk. I lace up the running shoes and head down the trail, once a railroad track for the logging industry. About a mile into the forest, silence surrounds you. A sporadic squirrel or black crow nearby. Ancient ponds awaiting the winter ice. Tall pine trees hang overhead and sway gently in the fall air, ready to reveal their secrets is you listen close enough.
On Monday, our last day on this go-round, it was decided to head across Lake Champlain to Burlington, Vermont. Less than an hour away. Take the long route up through my true hometown of Rouses Point, over the bridge to Vermont and down through the Champlain Islands to The Queen City — a place etched in my memory, fondly and vividly.
Before we hit the bridge, we decided to meander a little bit, which meant I wanted to swing by my childhood home on the corner of Smith and Sterling streets. It looks the exact same, this 1820 limestone farmhouse. But it seemed smaller than I remembered. Nice to see how well-kept the home is, sad to see the two big trees in the front yard chopped down, seemingly years ago since my parents sold it in 2007.
On the way out of Rouses Point we stopped at Latitude 45, a small watering hole on the northern shores of the lake, on the outskirts of town, buffering the bridge to Vermont. Stepping inside, it was the same handful of locals that'll be bellied up to the bar on any given afternoon. A couple of them recognize my face. We say hello and shake hands, trade a few memories and ask how my family is doing. We buy each other a drink before saying goodbye.
Heading over the bridge, the sign said "Welcome to Vermont." The sun was setting behind us. Fueling up at the gas station, I asked Sarah if she'd rather drive around the Northern Tier a little bit and enjoy the sunset along the nearby Lake Shore Road, maybe forego dinner in Burlington for another time. She smiled in agreement.
Heading south on the Lake Shore Road, I'd look over from time-to-time at Lake Champlain, the red ball of fire in the sky dropping down countless glistening diamonds of wonder and awe upon the still waters of the North Country. Sarah kept mentioning how beautiful it was. I shook my head in solidarity. It was. And so was this moment, too.
Not long after, we found ourselves standing on the shoreline of the lake at Saint Anne's Shrine, a place of Catholic worship founded in 1666 as a fort and chapel by the French. About 60 years earlier, famed explorer Samuel de Champlain rolled through the same spot, hunting and fishing and eventually moving on with his exploits.
The sun disappeared behind the silhouettes of the Adirondack Mountains on the horizon. Time to turn around, to head back up the Lake Shore Road, back across the bridge to Rouses Point, back to the farmhouse in the rural countryside outside of Plattsburgh, eventually back down Interstate 87, 88, 81, 26 and 40 to that humble abode apartment in downtown Waynesville. Until next time, eh?
Life is beautiful, grasp for it, y'all.
Leave a comment
2

comments
Thanks.. from the aging parent. Ha!!!

Tuesday, 10/03/2023

Your homeplace isn't far from mine in Carthage!

Monday, 10/02/2023