Archived Outdoors
To forestall a flood: Statewide mapping effort aims to prevent future floods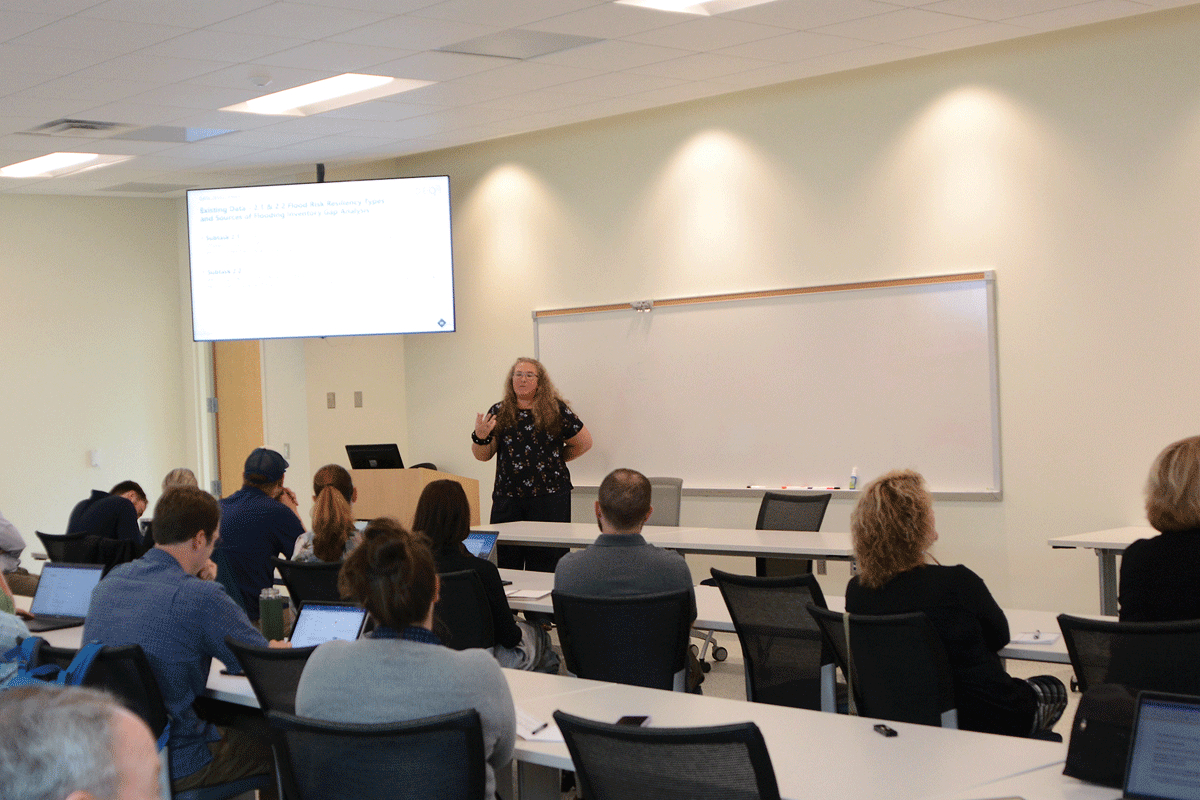 Hope Morgan speaks to a group of elected officials, municipal staff, nonprofit leaders and planners during a June 22 flood prevention meeting at Haywood Community College. Holly Kays photo
With less than two years gone since Tropical Storm Fred destroyed lives and property along the Pigeon River in Haywood County, flood resiliency remains top of mind for local leaders.
A robust showing at a meeting organized by the N.C. Department of Environmental Quality to discuss the launch of a statewide flood planning effort testified to its importance.
"By far this is the largest turnout we've had," said Nathan Slaughter of ESP Associates, a subcontractor on the project, to the approximately 30 local elected officials, municipal staff, nonprofit leaders and planners gathered at Haywood Community College June 22.
The meeting was one of more than a dozen the DEQ has organized this year in response to a 2021 state law requiring the department's Division of Mitigation Services to develop a statewide flood resiliency blueprint . The blueprint will address "major watersheds impacted by flooding" and "form the backbone" of a statewide flood planning process.
"One of the purposes of this blueprint project is to help understand which projects are going to give the most benefit to the state," said project lead Elizabeth Christenson, senior policy advisor for DEQ. "I hear a lot of examples from people about stormwater controls, about storage, about relocation or buyouts. We just don't really have a great method to evaluate one against the other."
The August 2021 floodwaters left smashed homes and cars along U.S. 276 in Cruso. File photo
Creating a blueprint
The blueprint project is the latest step in North Carolina's decades-long effort to improve its flood prevention capabilities. When flooding hit the state in 1999, said David Key, director of water resources and GIS For ESP Associates, leaders realized that North Carolina's floodplain mapping was old, incomplete and didn't match the lay of the land. A "massive" 10-year program invested in data and models, he said. During the 2010s, the focus shifted to deciding what to do about those hazards.
Then came Hurricane Matthew, Hurricane Florence and Tropical Storm Fred.
"I believe we've got an opportunity to turn that into mitigation," Key said.
Once complete, the N.C. Flood Resiliency Blueprint will take the form of an online tool allowing users to visualize flood hazards, select mitigation strategies and understand how these choices will impact the community. This will allow elected leaders, planners and state agencies to prioritize and implement flood resilience strategies.
But the project is still in its early stages.
The Division is currently in the process of determining what factors it should consider and what approach it should take in developing the draft blueprint. Community input will help the Division design the plan's framework and foresee any issues with the data, and with how that data is used, that could prevent the plan from working as intended. It intends to publish the draft blueprint by the end of the year, along with an action strategy for the Neuse River Basin that it is developing as a pilot watershed plan.
In 2024, work will begin on plans for five other river basins: White Oak, Tar-Pamlico, Cape Fear, Lumber and the French Broad, which includes most of Haywood, Buncombe, Madison, Yancey, Henderson, Transylvania and Mitchell counties, as well as a small portion of Avery County. No planning is scheduled for the Little Tennessee and Hiawasee river basins, which cover the westernmost part of the state, but these basins may be included later as funds permit.
Homes throughout the Cruso area were left destroyed after the floodwaters receded in August 2021. Scott McLeod photo
Different in the mountains
The local planning process is still a ways from its official launch, but those gathered June 22 were quick to tell the DEQ employees and contractors leading the meeting how flood prevention in the mountains might look different than it does along the coast.
Data is a big part of it. North Carolina is a "data rich state," Key told the group — but those riches are spread unevenly, participants said. Haywood Waterways Association Executive Director Preston Jacobsen said that a flood mitigation project his organization is spearheading has proven costly due to a lack of existing data in those areas.
"To me in my mind, we're struggling with the regulatory structure without data," agreed Assistant County Manager Kris Boyd, adding, "If we can't work directly from what we've been given and expect it to be correct, how can we go to mitigation measures?"
"It's definitely a gap," acknowledged Hope Morgan, GIS specialist for AECOM, lead contractor on the blueprint project.
Haywood County Commission Chairman Kevin Ensley, who is a land surveyor by trade, expressed hope that mitigation strategies in the final plan wouldn't lean too hard into land buyouts and depopulation of floodplain areas. Aggressive buying out of flood prone land would "devastate" the tax base, exacerbate the housing crisis and burden county government with maintenance responsibilities, he said. Ensley expressed support for strategies that would allow land to stay in private hands while rebuilding structures in a manner that allows for quicker cleanup and recovery when the next flood does come.
"In the mountains, that's what we need to kind of focus on," he said. "Because we can't go out of the flood plain and have nice, flat land."
"That goes to the tolerance," Morgan responded. "What is the tolerance of your area, knowing that in the mountains the only flat place there is, is in the floodplain. So really understanding what the tolerance for your community is and what the needs of those communities are."
'Rain's coming'
Unlike many other flood-related programs, the blueprint project is aimed at preventing future flooding rather than simply preventing repeats of disasters that have already unfolded.
The chance to prevent disasters that have yet to happen is extremely valuable, Ensley said. He pointed out one area that he believes to be vulnerable to impacts from severe flooding — the Waynesville/Hazelwood area along Richland Creek. That area has not seen a major flood in recent memory, but if one came, "it's going to devastate the housing community, and we already have an issue with that," Ensley said.
The plan also aims to look at big-picture mitigation measures, rather than focusing on property-specific actions. These include analyzing where water is flowing to and from, and where it pools. Mitigation could include green infrastructure like wetlands, water retention and parks, but it could also be administrative.
"Part of this is, are there policies or recommendations that need to be made," Morgan said. "Are there other plans that need to be done?"
Another prevention-based issue to keep in mind, Ensley said, is pinning down ownership of and access to privately owned roads and bridges. Following Tropical Storm Fred, responders often had difficulty getting access to private lands for cleanup efforts or determining who owned orphaned bridges and roads.
"We were able to pretty rapidly start picking up debris [during Fred]," said Jim Fox of the climate resilience planning firm Fernleaf. "But that was one of the slower parts, was to figure out ownership."
If an existing ownership inventory were ready to go, that could speed things up in the future, he said.
Commissioner Tommy Long pointed to the need to consider what's happening on federally owned lands upstream as well, citing eyewitness accounts of a "huge logjam" under U.S. 276 during the rains from Fred.
"When it broke loose, they literally said there was a 6-foot wall of water came through on Sharp Mountain Road," Long said. "One guy stood and watched his house float off his foundation and went down, and it was a direct result all that water going at one time."
The water left behind boulders "bigger than Volkswagens" in the streambed, he said, which continue to sit there, blocking the river's original path.
Long spoke against federal rules preventing active forest management in designated wilderness areas like the Middle Prong and Shining Rock Wilderness Areas located upstream from Cruso and Canton. If there were a way for volunteers to go cut up fallen trees on those lands — especially the hemlock trees that have died in large numbers due to the invasive hemlock wooly adelgid — risk to downstream communities would be lower, he said.
"We need to be thinking about these things when it's dry," he said. "Because rain's coming."
As the river rose Aug. 17, 2021, the water roared through Cruso an angry, chocolaty brown. Sunburst Trout photo
Team effort required
Getting the job done will require communication and cooperation from groups across the region. Because the to-do list is long, ensuring that nearby communities aren't duplicating their efforts is imperative, those present agreed. Jacobsen suggested holding a regional meeting to analyze where those overlaps lay, an idea others in the room seemed to support.
Once complete, the blueprint and subsequent river basin plan will merely outline risks and mitigation options — it won't provide funding to carry them out. It will be up to local governments and organizations to pursue the grant money needed to make it happen.
Especially for small towns already operating on a shoestring budget, that could prove challenging.
"I think it's really important that you recognize the challenges we face as municipalities when it comes to managing those projects and applying for grants, because it's enough to run a local office," said Canton Alderwoman Kristina Proctor.
State funding to help communities that can't afford grant writers and administrators would be a big help, Ensley added.
"I've never seen so much funding going out into mitigation and resilience, and that's a great thing," Slaughter said. "But it's also an extreme challenge to people that have to apply for funding, understand what the funding source is, and get it done."