Archived News
Millworkers pay emotional farewell in Canton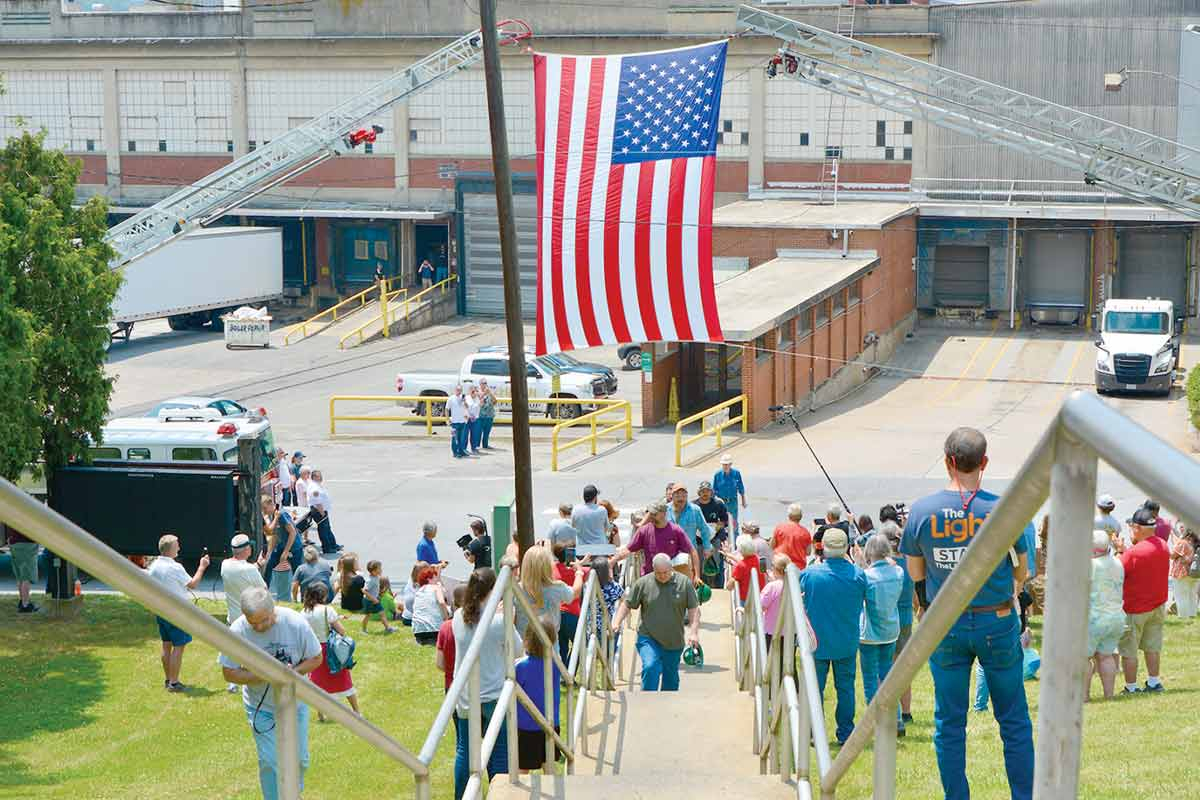 Shift workers leave Pactiv Evergreen's Canton paper mill for the final time.
Cory Vaillancourt photo
It was a day few thought would ever come to pass. Even after Pactiv Evergreen announced it would close its 115-year-old paper mill in Canton, some still held out hope that something could be done to save the mill, its jobs and the comfortable middle-class way of life it provided its workers. On June 8, the last of them left the mill for the final time.
"This is gone forever," said Justin Medford, choking back tears. "I mean, it'll be a park, it'll be a bicycle track or be some crap that don't matter."
Earlier that morning, Medford was sitting on his porch with his wife Karen, sipping a cup of coffee. The steam had stopped rising from the mill's twin smokestacks nearly two weeks earlier, no longer visible from the Medfords' Stamey Cove home. As Justin prepared to leave for work, his wife said the burly, blue-collar millworker broke down and cried like a baby.
Medford finished his final shift and walked out of "the chute" — a long, covered brick tunnel leading to the parking lot — around 2:30 p.m. that day. Passing between two fire department ladder trucks suspending a giant American flag softly swaying in the summer wind, Medford was among the first of the last.
He now steps into an uncertain world; after 25 years working for the company at the Waynesville plant, he left for two years but returned to work at the Canton mill for the last five. The company's severance policy gives one week's pay for each consecutive year of service, so in five weeks, he'll be on his own.
"I'm apprehensive, 57 years old and starting over again," he said. "I'm keeping my head up. I still believe in this country, and I still believe that there's a place for people like me."

Perhaps as much as the money, he'll miss his friends.
"The only time that I have seen camaraderie like this is when I spent four years in the Navy," he said. "This is the closest that I've seen, the last five years that I've spent working at the Canton mill."

He's not the only one.
"My foremen and my co-workers, they're the best that I've ever had," said Dean Gibson, a member of L shift who was supposed to start work at 5 p.m. that day and work overnight until about 4 a.m.
Management let L shift go home after only an hour, with a full day's pay. Gibson said all he and his comrades had done for the past few weeks was walk around the cavernous mill, anyway.
"I love them," he said. "I'm gonna miss them. Everyone got along. We had good times when it was time to laugh and we cried when it was time to cry. We were a family and having that broken up, that's what makes it so devastating."

Like Medford, Gibson now faces an uncertain world, made all the more so by his checkered past.
Gibson worked at the mill for a few years in the 1990s until his arrest and conviction for drug trafficking. After being locked up for 17 years, Gibson saw his life sentence overturned, and he was released. The mill took him back nearly two years ago.
"They sure did," Gibson said. "And I'm very thankful for that."

The mill has been an important part of Gibson's redemption arc.
"When I came out, when I got to the halfway house, I could have took 30 days and laid down and waited to ease my way back into society, you know, taking a transition period," he said. "But I went to work within 72 hours getting out of prison and I've been working ever since."

For a convicted felon, jobs aren't always easy to find, but Gibson said he's been looking for a new one since the announcement was made, and understands that when he finds it, it will likely be outside of Haywood County.
He'll only receive one week of severance pay and hopes the gas he'll need to drive to that new job doesn't take too much of a bite out of his paychecks.
As for the future of Canton itself, Gibson hopes the town and the county can attract more of the good-paying union jobs that provided an average income nearly triple the county's median.
"We have to get out there and make ourselves known," he said. "Haywood County has a lot of good, hard workers, and our town officials should be out here courting some of these companies that's looking to build somewhere and let them know what type of people we have here. This place has always been rich with good, hard workers. And it's been proven, I mean, this mill wouldn't have stood 115 years if the workers weren't dedicated."

Ray Queen is one of them. Queen worked at the mill for about two years until a layoff in 1961 sidelined him for a time, but once he came back, he went on to work there for more than 57 years.
He described the mood in the mill as lonesome, and perhaps had already started to miss the place before he'd even left it.
"A lot of people is excited to be getting out, but then they're still sad that they're leaving, leaving all their friends down here," he said.
Queen faces a much more certain world than Medford and Gibson. At 82 years old, Queen finished his last shift about four hours before Gibson was scheduled to start his. Spry and jovial, Queen joked about how he'd spend his time.
"It's gonna be rough," he laughed. "I mean, I'll have to get up and go fishing, have to get up and take the old dog out and let him ride in the truck. It's gonna be terrible."