Archived Outdoors
Celebrating a century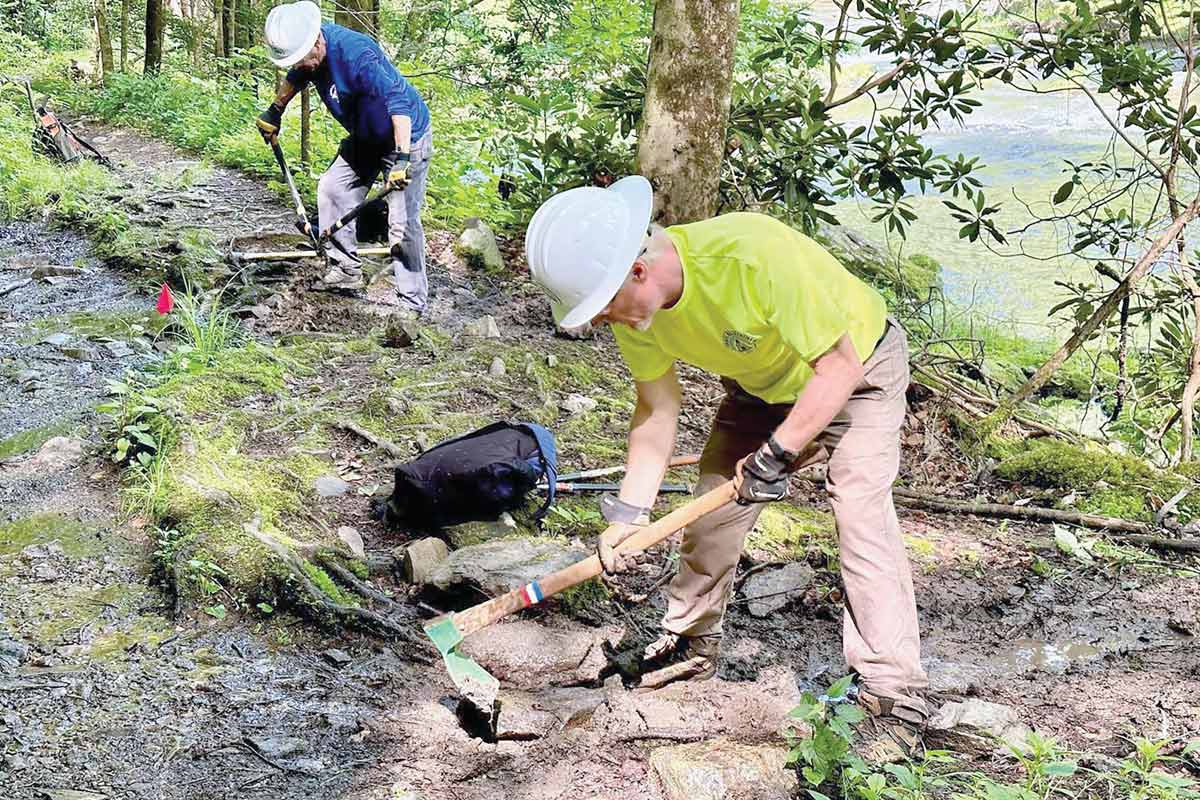 Carolina Mountain Club volunteers work on a trail along Big Laurel Creek near Hot Springs during a June 4 workday. CMC photo
Book details Carolina Mountain Club's 100-year history
Coming to the end of a year that included not only the onset of an unprecedented global pandemic but also the publication of her book on the history of Dupont State Recreational Forest, Danny Bernstein was just pausing to take a breath when she realized an important anniversary sat not far over the horizon. In 2023, Carolina Mountain Club would celebrate its 100th birthday. Somebody, she decided, had to chronicle its story.
"Once I knew nobody else was doing it," she said, "I kind of got in gear."
The result is "Carolina Mountain Club: One Hundred Years," a 195-page book published in April. The book tells the story of an Asheville-based organization that now boasts about 1,200 members, offering five hikes each week and organizing 10 weekly trail maintenance crews.
Southern story, northern roots
Counterintuitively, the story of this 100-year-old Southern hiking club starts in Boston in 1876. That's the year that the Appalachian Mountain Club was formed by a group of outdoor enthusiasts, many of whom from Ivy League universities. Enticed by stories of the 6,000-foot mountains down south, they set out to start a southern chapter. Headquartered in Asheville, the new chapter launched in 1920.
But the Southern Chapter of the Appalachian Mountain Club didn't last long. The club collected annual dues of $8, equivalent to about $125 today, and most of that money left to fund trail projects up north. The southern group decided to separate from the AMC, and on July 16, 1923, the Carolina Mountain Club was formed.
Danny Bernstein. David Huff photo
The split was amicable, and the influence of AMC bequeathed a culture that still influences CMC today, Bernstein said.
"Given that they were dealing with educated women [with AMC], women were accepted exactly the same as men," she said. "I'm not sure that would have happened if it had been a homegrown club here."
Secondly, AMC had a system of rules for how to lead a hike, many of which CMC still observes. For instance, hike leaders must scout the trail before the day of the hike, and while hiking there must be a designated person in the front and back of the group. To include people without access to cars, the hikers always meet at a central location and carpool to the trailhead.
"It was a pretty good start for CMC," Bernstein said.
Tracking down history
Bernstein, like nearly everyone else alive today, wasn't around in 1923, so writing the book involved a combination of library research and interviews with CMC members in possession of the longest memories. Navigating sometimes cumbersome pandemic-era rules, Bernstein spent a lot of time in the library at University of North Carolina at Asheville, whose special collections includes an archive of CMC papers.
She also talked to people, starting with the oldest first. This decision quickly brought her to Lew Blodgett, who turned 100 at the end of May — making him just about seven weeks older than CMC itself. Blodgett joined CMC in 1972, so while he's the oldest member, his is not the oldest membership. But he had saved "every scrap of paper" about CMC since joining, which he gave to Bernstein.
"He was a wealth of information, and so was his stuff," Bernstein said.
From her research emerged the story of a club that has adapted with the times without losing sight of its core mission — advocating for trails, and helping more people to enjoy them.
Even during World War II, when gas rations made travel difficult, CMC members kept enjoying the mountains. They just had to be more strategic about it. Incredibly, public transportation that existed at the time made it possible for them to access a plethora of remote trailheads without using personal vehicles.
"The most amazing one was Arch Nichols, one of the guys who was very instrumental in [preserving] Max Patch," she said. "He worked for the Forest Service here. He worked for the Forest Service here his whole career. And so he was drafted. And on leave he and a couple of buddies took a bus or a couple of buses from here into the [Great Smoky Mountains National] Park, where they could climb Clingmans Dome," she said. "Don't try that today."
Toward the present
Trail building and maintenance have also been part of CMC's mandate since the very early days of its existence. Two years after CMC was created, the Appalachian Trail Conservancy formed in support of Benton MacKaye's vision of a wilderness trail stretching from Georgia to Maine. In January 1931, the ATC established the Carolina Appalachian Trail Club as the official maintainer of the trail through nearly all of North Carolina and Tennessee. But by the end of the year, the two clubs had merged under the CMC name.
A CMC sawyer removes a downed tree on a trail A CMC sawyer removes a downed tree on a trail along Big Laurel Creek near Hot Springs June 4. CMC photo
Since then, new A.T. maintaining clubs have come into existence, leaving CMC with responsibility for a more manageable 94-mile stretch of the 2,200-mile A.T. But the club has taken on new challenges as well, building and maintaining a variety of trails in the area and playing an instrumental role in the development of the 1,175-mile Mountains-to-Sea Trail. The club is charged with maintaining 130 miles of that route.
In addition to crews, CMC uses a "section maintainer concept," which Bernstein believes it may have pioneered. Section maintainers "adopt" a 2- or 3-mile section of trail and are asked to go out once each season, four times per year, to do basic maintenance and report any larger problems for the trail crews to tackle.
Perhaps one of the biggest accomplishments in the club's history is the conservation of Max Patch, a beloved bald on the North Carolina/Tennessee line near Hot Springs. It's now part of the Pisgah National Forest and hosts a stretch of the A.T., but in the early 1980s, its owners were looking to develop the land or build an indoor ski resort on it. CMC campaigned hard to get the U.S. Forest Service to buy it instead. The 392-acre property officially joined the Pisgah National Forest on July 9, 1983.
This conservation project took place in an era before land trusts were common. Back then, Bernstein said, CMC was much more involved with land conservation efforts than it is now.
"I realized we don't do that anymore," she said. "We do help others, but really now it's the conservancies that do that. They're the ones who negotiate with the government and the owners to buy land they're trying to protect."
That doesn't mean CMC isn't involved with conservation and stewardship efforts. Its representatives were active during the decadelong process to create a revised Pisgah-Nantahala Forest Plan, and when overuse and misuse at Max Patch was damaging this beloved place in 2020, it was CMC, together with the Appalachian Trail Conservancy and U.S. Forest Service, that developed a plan of action. This year, the club received an award from the Public Lands Association for its efforts (See story on page 33).
Bernstein hopes her book will commemorate the efforts of those who carried CMC from 1923 to 2023 and serve as a resource for those who will shepherd it through the next 100 years. She expects that the people sitting in her place a century from now will still love trails, still need trails and have even more hiking options at their disposal than CMC members do now.
"If you were sitting here 50 years ago, plus or minus a little, you would not have thought about the MST and how it has gone from an idea to, especially in the mountains, a wonderful trail," she said.
It stands to reason, she said, that trails not yet thought of today will be reality in the decades to come. And more trails means more camaraderie, because at its heart CMC is a club that's as much about the relationships developed along the way than it is the trail itself.
"You don't need to know anybody to come with us," she said. "You don't need an introduction. You don't need your husband to come with you. Just come. And people do."
Get the book
Bernstein will present her book "Carolina Mountain Club: One Hundred Years" at 6 p.m. Tuesday, June 20, at Pack Library in Asheville.
Learn more at buncombecounty.org/governing/depts/library/branch-locations/pack-memorial.aspx.
The book retails for $19.95 and is available online from Friends of the Mountains-to-Sea Trail at stores.portmerch.com/mountainstoseatrail or at various retail stores in Asheville, including Malaprop's Bookstore, REI, Mast General Store and Second Gear.
Wish CMC a happy birthday
The Carolina Mountain Club will celebrate its 100th birthday 1-5 p.m. Sunday, July 16, at the N.C. Arboretum in Asheville.
This free, family-friendly party will feature more than 20 booths from local nonprofit partners, guided hikes, kids' activities, live music and food trucks and ice cream. Entrance to the arboretum will be free for those attending the party.
Learn more about the event or find a hiking schedule at carolinamountainclub.org.