Archived News
Waynesville will consider establishing a social district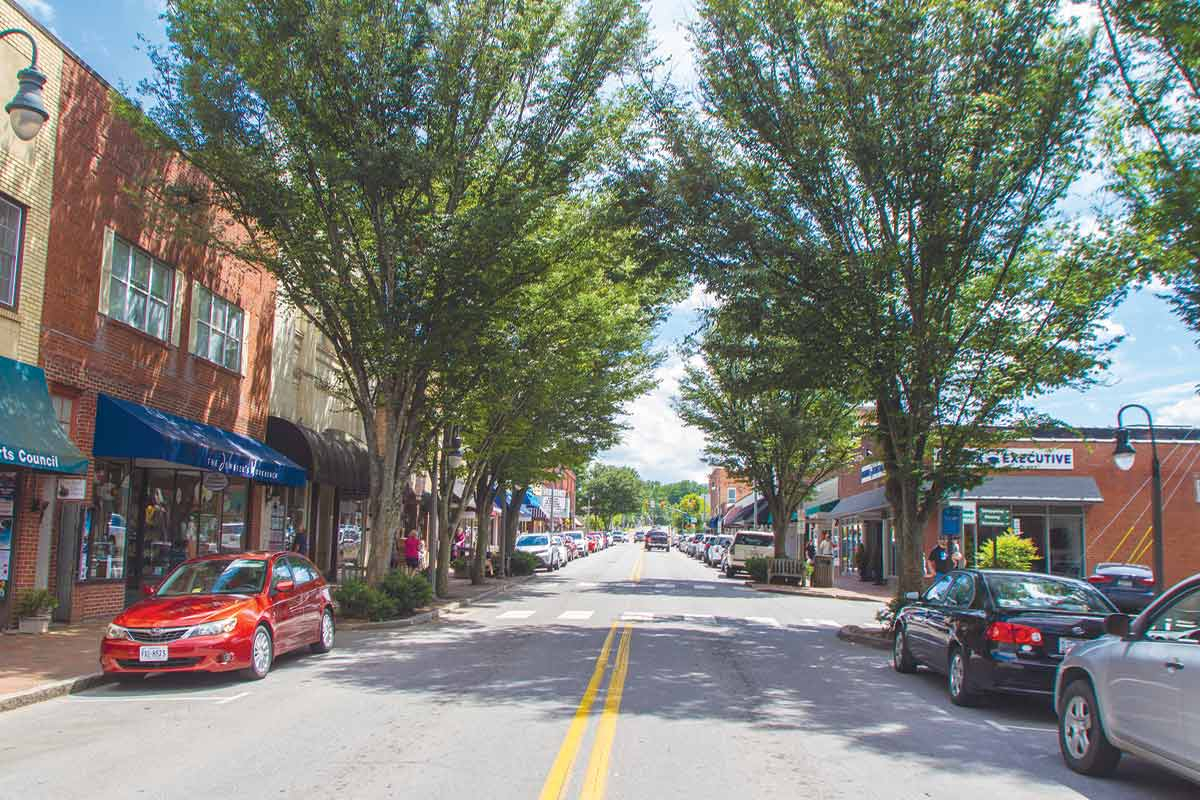 If adopted by Town Council, Waynesville's Main Street would be the heart of the town's social district.
File photo
After more than a year of consideration, the Downtown Waynesville Commission has voted unanimously to recommend the establishment of a social district along and adjacent to the Main Street corridor.
In early 2022, council members Anthony Sutton and Julia Freeman advocated for the creation of such a district — not only for downtown, but also for Frog Level and Hazelwood — after action by the North Carolina General Assembly made the on-street consumption of alcohol within defined areas under controlled circumstances legal for municipalities or counties that vote to allow it.
The place to start, the DWC decided, was with the Waynesville district.
The DWC's May 22 recommendation will go to the Town Council sometime in June, where council members can either approve, modify or ignore the preliminary stipulations set forth by the DWC.
"We're only making a recommendation," said Beth Gilmore, director of the DWC. "There's going to be public comment, and the town can do what they want."

That recommendation was based on a survey of 100 downtown property owners, business owners, employees and residents.
Overall, 90% of respondents were in favor of the idea, although the survey was heavily influenced by the 47 employees who took it. Only six employees said they didn't want to deal with the district, joining three of 25 business owners and a lone property owner.
No downtown residents oppose the plan, according to the survey.
Employees also drove the survey's conclusion that the district should be in effect year-round, rather than only being in effect on certain days, or only for special events.
During deliberations, DWC board members expressed concern that enforcement would become more confusing and difficult if the district was only in operation for certain days, for special events or for varying hours.
Five residents supported the year-round plan, two wanted certain days and times and just one advocated for events-only. A total of 65% of survey respondents supported the year-round plan.
"I'm surprised the numbers are so high for 'all the time,'" said Alex McKay, a DWC board member.
The DWC came to a similar conclusion about the district's hours of operation, opting to recommend 10 a.m. to 10 p.m. every day.
The proposed physical district, which per legislation must be clearly labeled, includes all of Main Street from Pigeon Street to Walnut Street, including Church, Miller and Depot streets up to Montgomery Street, which is not included in the district.
The district would also include Wall Street, from East Street to Wells Events Way.
It's not clear if the Masonic Temple, which includes the popular Scotsman pub, is in the district since it's on the south side of Church Street. The Scotsman is the only such business adjacent to social district boundaries that's in question; other such district-adjacent locations, like town hall and the Historic Haywood County Courthouse, obviously don't serve alcohol.
Business owners retain the right to prohibit alcohol — or any other food and drink — from their businesses, at their own discretion.
The DWC will also be responsible for complying with another statutory requirement, the labeling of beverage containers. Alcohol purchased from one bar or restaurant can't be taken into another, so cups must be labeled with not only the name of the social district, but the place where the drink was purchased.
Self-adhesive stickers will be used at first, but reusable cups may be branded and sold later, to cut down on single-use plastic waste. In Sylva's social district, reusable cups are sold to customers for $10.
Sylva moved quickly to establish its own social district last year, and has been viewed by many as a test case in Western North Carolina.
On Sept. 14, after several months in operation, Sylva's social district was changed to include more days, and more hours.
Sylva Police Chief Chris Hatton told The Smoky Mountain News at the time that there had been no problems associated with the social district.
"We've checked statistics for this time frame compared to last year's same time frame and there's no increase in police calls. We checked everything, including traffic accidents in the district," Hatton said.