Archived Opinion
Django was a wanderer, a free spirit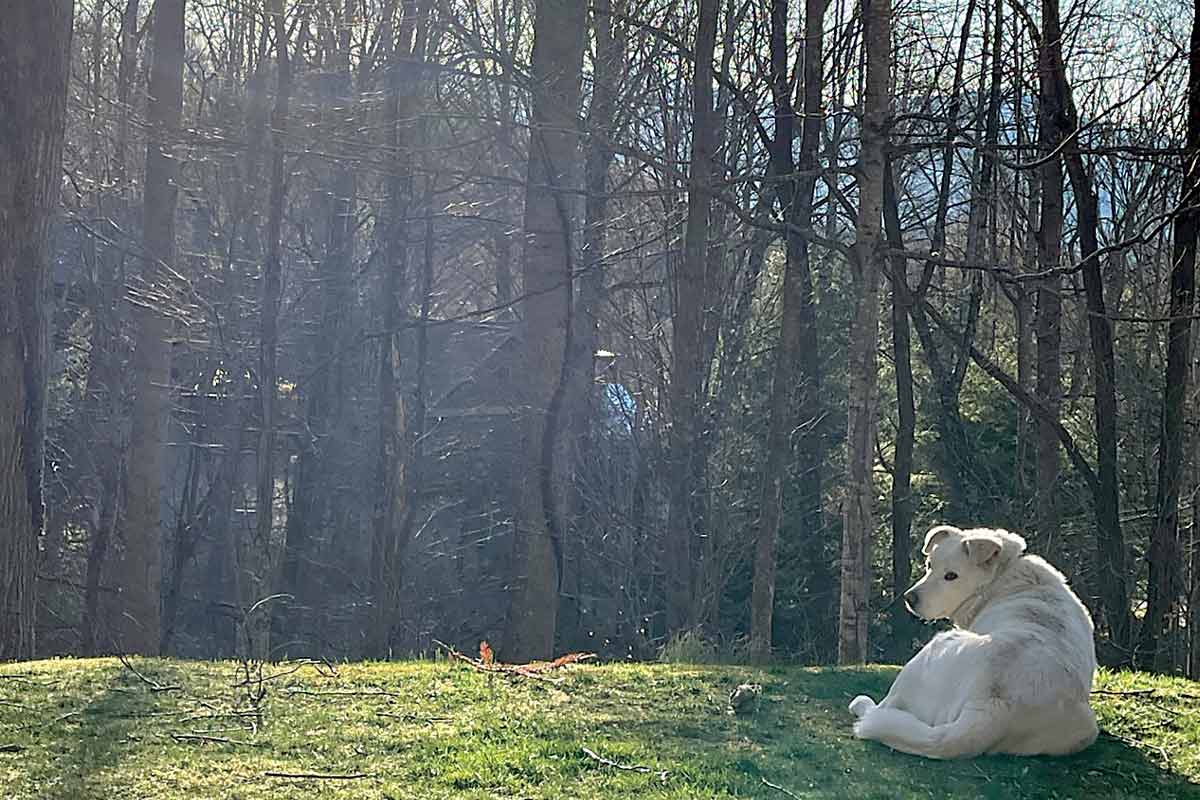 This morning was one of those times when Django being gone hit home, when I got a little emotional thinking of the 11 years he was part of our family. I was up early, took a walk around Lake Junaluska, and if he was still here Django would have been excited to take that walk with me, would have been smiling the entire ride to the lake in the bed of the truck, would have needed help getting in and out due to age and creaky joints. He walked that lake hundreds of times with my wife Lori and I.
I won't grieve for my dog like I would for a person who passes from this earth, but it's grieving all the same.
Django came into our life when we needed him. Our middle child, Hannah, was about to graduate from high school and move to Boone for college. That meant our youngest, Liam, would be alone with mom and dad for the next three years. Lori said we should find a dog. Not that a pet could replace a sister, but we figured a dog might make the next few years more fun for Liam.
Just a few days later, one of the guys I work with said a dog had just "shown up" at his house in Cullowhee and was hanging around. He photographed the dog, made posters, put them up around the area and asked neighbors if someone was missing a dog. In a small community like Cullowhee, one would think a beautiful dog like this would be missed. No one claimed him, and his origin remained a mystery his entire life.
Drew already had dogs, so he started looking for a home for this blond beast who looked like a lab-husky mix, one eye milky blue and the other brown, about 50 pounds then as an adolescent but who would eventually top out at 85. A few days later we brought him home.
We didn't name him right away. Later that summer, Hannah attended the Swannanoa Gathering of musicians and was exposed to the music of the French Romani guitarist Django Reinhardt. She suggested the name, and it stuck. Little did we know then that calling this dog by the name of someone known for wandering from place to place would be so appropriate for the life he would lead. Perhaps things happen for a reason.
Django was not a cuddly dog who needed our attention. He could lay around and let you pet him and he loved roughhousing in the yard, jumping and zigzagging. His one "trained" trick was catching balls or toys or frisbees in mid-air, but he didn't deign to play fetch, wouldn't listen and bring those back to whomever he was playing with. Not his style. He could be aloof, often ignoring your commands even though you know he heard them, and he knew what you were asking. Didn't matter. If he had plans of his own, he was off to attend to them.
Django would disappear at times. We live up Ratcliff Cove just outside of Waynesville. One time a neighbor who lives at the top of the mountain called and said she thought she saw our Django with another dog running along the ridgeline. My son and I drove around the neighborhood but there was no sight of Django. We then drove around to Bethel, drove up one of those roads across from Bethel Middle School and came across a pack of about 10 dirty, scruffy looking dogs. Our boy was covered in mud and cow shit and was almost totally black, nearly unrecognizable, leading the pack through an open field near some houses. We corralled him, guessing he had covered about 5 or 6 miles as the crow flies from our house.
He would often go missing. By my reckoning he got picked up by the authorities — Haywood Animal Control — 4 or 5 times, having to spend time in lockup until we could go get him. He was never contrite. He seemed comfortable in the knowledge that galavanting around might lead to problems and that the risk was worth it.

But we couldn't pen him. Liam and I built an enclosure when Django was young, and it's still there. As soon as we put him in, he started wailing, a painful crying that we couldn't take. If you've seen the "Free Willy" movie about the killer whale kept in a small tank, think of the sound of his crying. That was Django every time we put him in that damn thing.
We didn't have the heart to do it, so we didn't, much to the dismay of those who think all dogs should only stay on the property of their owners. I apologize to those folks, but Django just didn't listen when we tried to explain that. I always tell people that he wasn't our dog, that he instead lived with us and had many other families and homes that were an important part of his life. He was a wanderer, a free spirit, and he made friends easily.
Django spent his entire life unpenned and loved. In truth, he could be irascible, ornery, and he was often dirty and smelly. Over the years he ended the life of many raccoons, possums and groundhogs that ventured into his territory (otherwise known as our yard), and often those escapades occurred late at night and were witnessed only by me, barefoot, barely dressed and with a flashlight, trying to get him to shut up his howling.
He loved watching sunsets from his perch in our yard, insisted on sleeping outside in frigid temperatures, and greedily lapped up the fresh mountain spring water that feeds the small creeks near our home. He would come in and get rubbed while I watched sports late night on TV. He would get protective and a little angry when anyone hugged or even touched my wife.
Simply put, a great dog. I miss him.
(Scott McLeod be reached at This email address is being protected from spambots. You need JavaScript enabled to view it..)