Archived Outdoors
One thousand peonies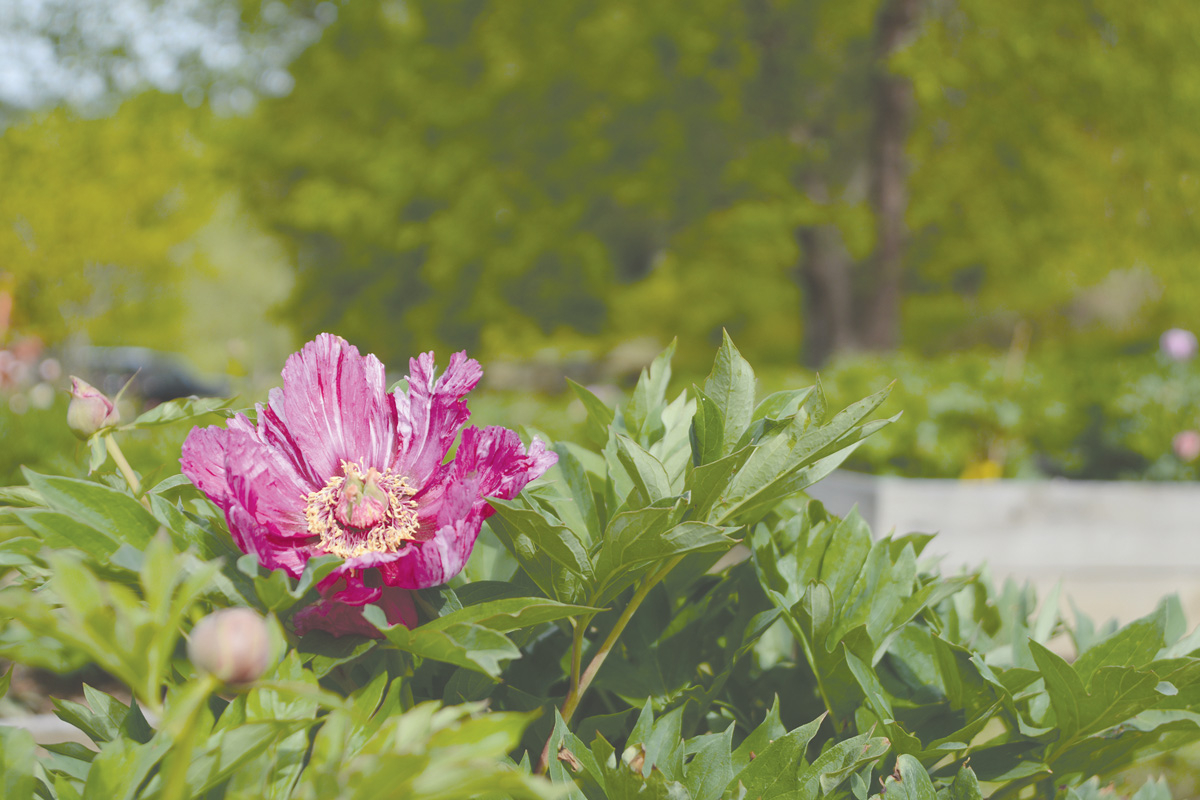 A peony flower opens in the morning light at Wildcat Ridge Farm. Holly Kays photo
Each May, Crabtree couple invites the public to drink in field of blooms
Ricardo Fernandez Battini and his wife Suzanne Fernandez spent a stormy night in September 2004 holed up in their home along the Pigeon River in Crabtree, listening. Hurricane Ivan was dumping buckets on soil already saturated from Hurricane Frances' arrival the week before, and the river was angry.
"[It was] horrible. Scary," Ricardo said. "Especially at night when you hear the noise, hear the cracking."
In the morning, their 30-acre farm was unrecognizable. Only three trees growing along the river survived. The water ripped away 200 gallons of in-ground propane tanks. Replacing the torn ground would require 40 truckloads of soil. And, most heartbreakingly, the flood carried away the 300-square-foot greenhouse where Ricardo had tended his prize-winning orchids for the past 15 years.
But a few of the peonies planted on the property survived. The Fernandezes couldn't stand the thought of rebuilding 15 years of orchid cultivation, so they took their cue from the land's most resilient flowers — they decided to become peony farmers.
'The most spectacular flower'
After the flood, the Fernandezes made it a point to add new peony plants every year, making them comfortable in raised beds within a stone's throw of the river that almost ruined them in 2004. In 2015, they had a big enough display to start sharing it with the world, hosting the first annual Festival of Peonies in Bloom.
Today, the peony patch at the Fernandez' Wildcat Ridge Farm contains 95 varieties of the showy blooms, and more than 1,000 individual plants — the largest collection of planted peonies in the state. During the festival each May, the peony beds are open for visitors throughout the month, anytime between 10 a.m. and 4 p.m. People come to wander among the raised beds, breathe in the perfumed air, enjoy a bag lunch at one of the riverside picnic tables and peruse the stable of potted peonies for sale.
"We try to keep this as a place for people to appreciate what God created, the most spectacular flower, the most desirable flower in the world," Ricardo said. "It's nice to see people coming. It's not just the point of you need to come and buy. Just walk around and enjoy it. Smell the beauty."
The beauty lasts all month long. The variety of peonies at the farm includes early bloomers that flower in the first week of May, mid-bloomers and late bloomers. Ricardo expects the garden to hit its peak over the next week.
In addition to traditional herbaceous peonies, the Fernandezes also tend intersectional peonies, which are a hybrid between the herbaceous variety and the shrub-like tree peony. These plants have bigger flowers and more varied colors than their herbaceous cousins. They're also more difficult to divide — cutting an herbaceous peony root is like cutting a potato, but cutting an intersectional peony root is like cutting through locust wood, Ricardo said.
Suzanne has a particular love for peonies, savoring their enormous blooms and seemingly limitless variety of colors. She also loves their practicality.
"They're really easy to grow," she said. "They don't have any insect problems. The ants and the ladybugs on them in the early spring are all part of their ecosystem. They eat the sticky substance on the bud, and then it signals the plant to bloom. The deer don't like them, which is a good thing. So as long as you have full sun and well-drained soil, you're going to have a plant for hundreds of years."
When well-tended, peonies can live for centuries. For the healthiest plants, Ricardo recommends giving them a fertilizer containing 10% each of nitrogen, phosphorus and potassium when the shoots first come up and a blooming fertilizer later as they prepare to flower.
Despite peonies being easy to grow, some people still manage to abuse them. Peonies love the weather in Western North Carolina, Ricardo said, but not the thick clay soil found in most parts of it. Raised beds and clay pots make the best homes for peonies, because underneath most garden beds lurks a slick of clay that acts like a pan, capturing water and holding it close to the peony's moisture-sensitive roots. Ricardo runs a "peony rescue" operation on the side, doctoring neglected or unhappy peonies from brown thumb gardeners.
"I get all these neglected poor peonies, that they look really bad," he said. "The roots are black and basically drowned in water because of the clay, and then I work on it, give them a fungicide bath and give it back to the owner."
Looking toward the store of potted peonies awaiting purchase this May, Ricardo makes it clear that he hopes a gentler fate awaits these plants. He divides and harvests them in such a way that their root development is "incredible" by the time they go up for sale. He wants them to have long and healthy lives after leaving Wildcat Ridge.
"You're taking my live babies, so I want pictures," he says, a half-serious joke.
Practicing reinvention
Suzanne Fernandez (left) and Ricardo Fernandez Battini sit among the peonies with their dog Bella. Holly Kays photo
After the flood, Ricardo and Suzanne began adding new peony plants each year, slowly building up the display as they rebuilt their lives.
"We needed to start all over again from zero," he said.
While rehabilitating a farm that looked "like a bomb exploded," they were busy keeping their restaurant in Waynesville afloat. The Fernandezes owned Lomo Grill from 1994 to 2010, when it became Frog's Leap Public House. As one of the region's first farm-to-table restaurants, the business depended on produce the couple grew on their farm, making the years following the flood especially challenging.
"But we survived," Suzanne said. "It took us a couple years to get it all back growing again."
It was hard, but the Fernandezes are used to reinvention. Born in Argentina, Ricardo was a gymnast and a swimmer, at 18 becoming his country's national springboard diving champion. He arrived in the United States at age 20, coaching girls' gymnastics and then becoming aquatic director for a YMCA in New Jersey. From there, he started coaching nationwide for the YMCA, later moving to Boca Raton, Florida, to become a judge for the International Swimming Hall of Fame Aquatic Center in Fort Lauderdale.
When an injury ended his coaching career, he and Suzanne pressed into their love of food, becoming buyers agents for clients looking to export products to Brazil, Argentina and Chile. They later focused on importing from South American countries — first produce, and later wine. In the 1990s, it was time for another change, and they moved to Western North Carolina.
For a plant and food lover like Ricardo, it was a good move. WNC's four-season climate supports a diversity of plants, and Ricardo took a Master Gardener course to learn how to best help his "babies" thrive. He continues fine-tuning that knowledge with each passing peony season.
In the next week, peak bloom is likely to hit Wildcat Ridge Farm. Holly Kays photo
Today, Wildcat Ridge Farm is in its third incarnation, as farm-to-table produce gave way to orchids, which gave way to peonies. The Fernandezes also have other irons in the fire. Since 2015, they have led food and wine tours through Ricardo's home country of Argentina a couple times a year, and in 2018 they built Haywood County's first yurt, which visitors can rent on Airbnb.
But peony season is the highlight of the year. May is the "magic month," when everything blooms, and the property is full of people. It's a favorite stop for people who once grew peonies but no longer can after moving into a condo or retirement home. Vans from area garden clubs often sit in the parking lot. Parents bring their children, and artists their brushes. Picnic tables invite people to bring a bag lunch and hang out, listening to the river and smelling the flowers.
Tending 1,000 peonies is a lot of work, but gazing over that scene each year makes it all worthwhile. Even when the flowers aren't blooming, the peony garden brings Ricardo joy, because babying plants is what he loves to do.
"I believe that you need to have the passion in what you're doing, and if you have the passion, you will excel," Ricardo said. "It doesn't matter what you do. Everybody will say, 'Wow.'"
See peonies in bloom
The garden contains 95 peony varieties. Holly Kays photo
The Festival of Peonies in Bloom is in full swing at Wildcat Ridge Farm in Crabtree. A garden featuring 95 varieties of peonies is open to the public 10 a.m. to 4 p.m. through May 31.
Herbaceous and intersectional peony plants, and peony flowers are available for sale — just bring a bucket.
The farm is located at 3553 Panther Creek Road in the Crabtree area of Haywood County. 828.246.7542 or wildcatridgefarm.com.