Archived Outdoors
Wildlife Commission, DOT, pledge to work together on wildlife crossings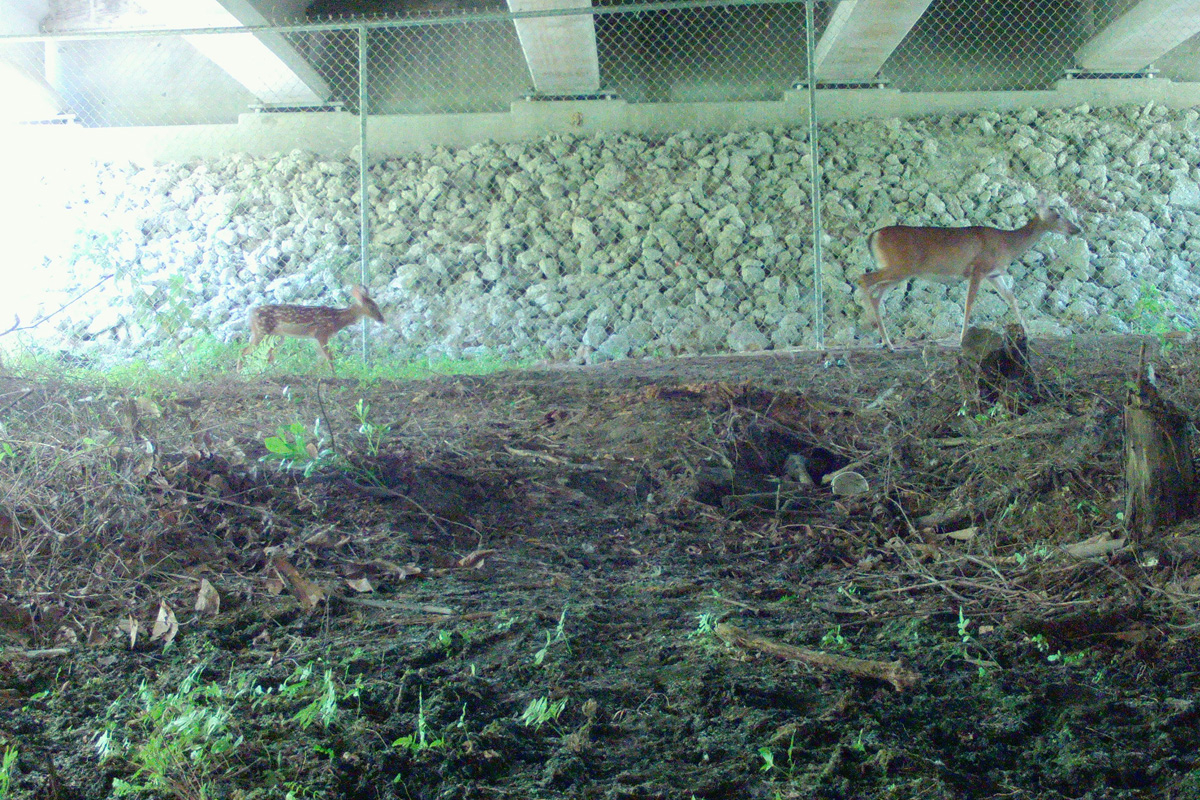 A recently signed memorandum of understanding between the N.C. Wildlife Resources Commission and the N.C. Department of Transportation signals the agencies' commitment to work together to improve infrastructure and safety for wildlife and people on roads in North Carolina.
Both agencies share common goals to make highways less hazardous for wildlife and reduce the impact highways have on important habitats. The partnership aims to develop effective and efficient passages for various species of wildlife to reduce highway hazards for motorists and wildlife, while minimizing habitat fragmentation.
Over the decades, collaboration between these agencies has resulted in 26 wildlife crossing structures being built across the state. Examples include a passage corridor along Cold Springs Creek and Harmon Den Road under Interstate 40 in Haywood County as well as three underpasses on Interstate 140 south of Wilmington in Brunswick County. NCDOT and NCWRC are currently collaborating on 11 additional projects in various stages of planning, with several awaiting construction while others are still in the design phase.
"NCDOT is committed to work with our partners to improve North Carolina's roads for both the safety of the traveling public and wildlife," NCDOT Chief Engineer Chris Peoples said. "We will continue to work with our partners to examine wildlife vehicle mortality data, monitor crossing structures and identify new crossings and mitigation strategies in North Carolina."
According to NCDOT, 20,331 wildlife-vehicle collisions were reported across the state in 2019, and 18,607 such collisions were reported in 2020 — a decrease the NCDOT largely attributes to reduced travel during the COVID-19 pandemic. A 2021 release from the department estimated that 7 percent of all reported vehicle crashes in the state involve animal strikes, with almost half occurring in the twilight hours or at night, between October and December.
Both agencies recognize the need for a collaborative relationship to accommodate the ongoing and projected population increase and consequent demand for movement of goods, services and people in the state as well as the impacts highways have on North Carolina's wildlife and environment.
"As more and more people move to North Carolina, the landscape changes with additional development, new roads, additional road lanes and overall, more vehicles on the highways," said NCWRC Chief Deputy Director Kyle Briggs. "Unfortunately, the effect on wildlife from those actions often results in habitat loss, habitat fragmentation and increased wildlife-vehicle collisions."
This partnership will improve data collection for wildlife vehicle mortality, continued monitoring of wildlife crossing structures and identification of new crossings and wildlife mitigation strategies. As part of continued collaboration during NCDOT's project planning processes, NCWRC will develop a "Wildlife Passage Guidance" document that will aide in the familiarity and incorporation of standard pre scriptions for highway projects.
These efforts will be aided by the federal Bipartisan Infrastructure Law, which allocated $350 million for the Wildlife Crossings Pilot Program, helping fund projects in all 50 states. This marked the first time Congress has made a major investment in wildlife crossings. The North Carolina General Assembly is considering allocating resources to wildlife passages that could be leveraged to match the available federal funding within the pilot program.