Archived Opinion
This must be the place: 'To rouse the spirit of the earth, and move the rolling sky'
Wednesday, April 19, 2023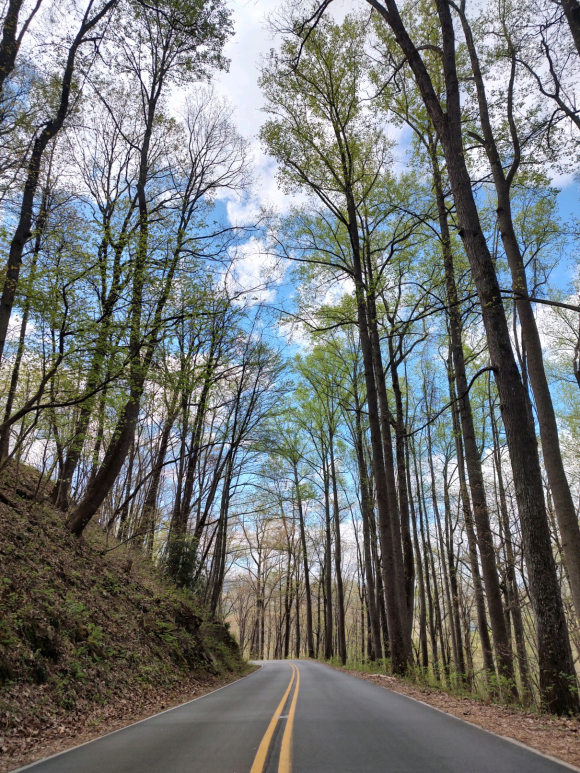 N.C. 151 near the Blue Ridge Parkway.
Garret K. Woodward photo.
Dropping my girlfriend off at her house in West Asheville, it was a warm, sunny Saturday afternoon. She was headed to South Carolina to spend time with her best friend. I decided to track down a new trail to jog down.
Cruising along N.C. 151 from Candler towards the Blue Ridge Parkway, the Upper Hominy area of Buncombe County unfolded right outside the windshield. S-curves, farm fields and a canopy of trees high above the truck. Parking on a narrow dirt pull-off, I could see the gate for the old logging road that allowed public use.
Tightening up a pair of dirty running shoes, I started up the steady incline that hugged the contours of the ridge. Winding around the mountain, the sounds of the nearby road and all its sunny day motorcycle and sportscar traffic soon disappeared into the ether — it was just myself, a few birds chirping and the sounds of nearby creeks sporadically throughout the trek.
For the most part, my legs and body felt fine, albeit a bit tight and a tad tired moving up the trail. At 38, I've been a die-hard runner since I was 12 years old and in seventh grade. Running is a huge part of my life, more so nowadays than I'd ever envisioned back in the middle school era of meandering down trails behind the school within reach of the Canadian Border.
And I've never taken running for granted, with a deep sense of gratitude amid each step up a trail or down a road. It's that serene sense of self and ability to be able to make one's way up a mountain or along a paved route for several miles, only to circle back to your vehicle just as the runner's high swirls around your current state of being.
But, as I've gotten older, it's been, well, interesting to see how the body ages and matures, as the legs "ain't what they used to be." And that can be tough, physically and emotionally, especially for someone like myself that was a D-1 college athlete in the good ole days of sub-five-minute miles and hovering around two minutes for 800 meters, where an 18-minute 5K pace was considered par for the course (my PR is 16:31 for 3.1 miles).
No matter, seeing as it's all part of growing up and getting older. You'll never be that spry young kid at the starting line, whether literally or figuratively.
You're an older adult way down the road of life, this juncture of time and place where the weight of daily existence can sometimes hang heavy on your shoulders. That, and knee sprains and achilles tendonitis seem more frequent with each passing year on the calendar on the wall.
The irony of dealing with somewhat chronic physical pain and slower paces while in motion as a 30-something runner is that I love the act of running more now than ever before. Back then, as a student-athlete, running was kind of a chore, something you do and participate in because some coach saw something in you — perhaps potential, promise or passion.
Nowadays, even if it takes me the better part of a half-mile to feel warmed up, the legs and arms finding their ideal rhythm of pace and performance, eventually I'll hit my stride and fall into that seamless beauty of running in one's own realm of reality.
Us runners are well-aware of that realm, where the rest of the world and its meaningless priorities and responsibilities fall away with each drop of sweat rolling down your face and onto the ground below. The stress of thoughts, actions and reactions that really don't matter in the grand scheme of things now seem small and insignificant when immersed in the depths of a trail run.
About a couple miles down the trail, it's time to turn around and return to the truck parked on that narrow dirt pull-off on N.C. 151. Wipe your forehead and neck with the dry fit shirt and ready oneself for the second part of the jaunt. But, not before taking a moment to let out a big sigh of relief and redemption, that nod to the ability of body, mind and spirit to make these regular treks into pure silence and disconnection from society.
Sure, the legs "ain't what they used to be," but neither am I. Yes, in the good ole days of fast miles and school records, these limbs proved victorious. But, as I'm nearing the 40-year mark, the real victory is still being able to do so, and all while the fruits of muscle and strength breed such mental and emotional victories when everyday life becomes a little too hectic or daunting.
Back at the truck, it was a few minutes of stretching and "shaking it all out" for basic maintenance of yet another glorious run. The new trail proved itself worthy of such endeavors of a curious soul looking for the next path to trot down in search of your true essence.

Push ahead with a smile ear-to-ear, for what else is there to be in search of, eh? Pull those running shoes out from the closet or the back of your car and lace 'em up. Log into the AllTrails app or website (alltrails.com) and throw a dart of mischief and discovery at the map on the wall of your intent. Onward.
Life is beautiful, grasp for it, y'all.