Archived Arts & Entertainment
Character counts: a review of James Rosen's 'Scalia'
Wednesday, April 19, 2023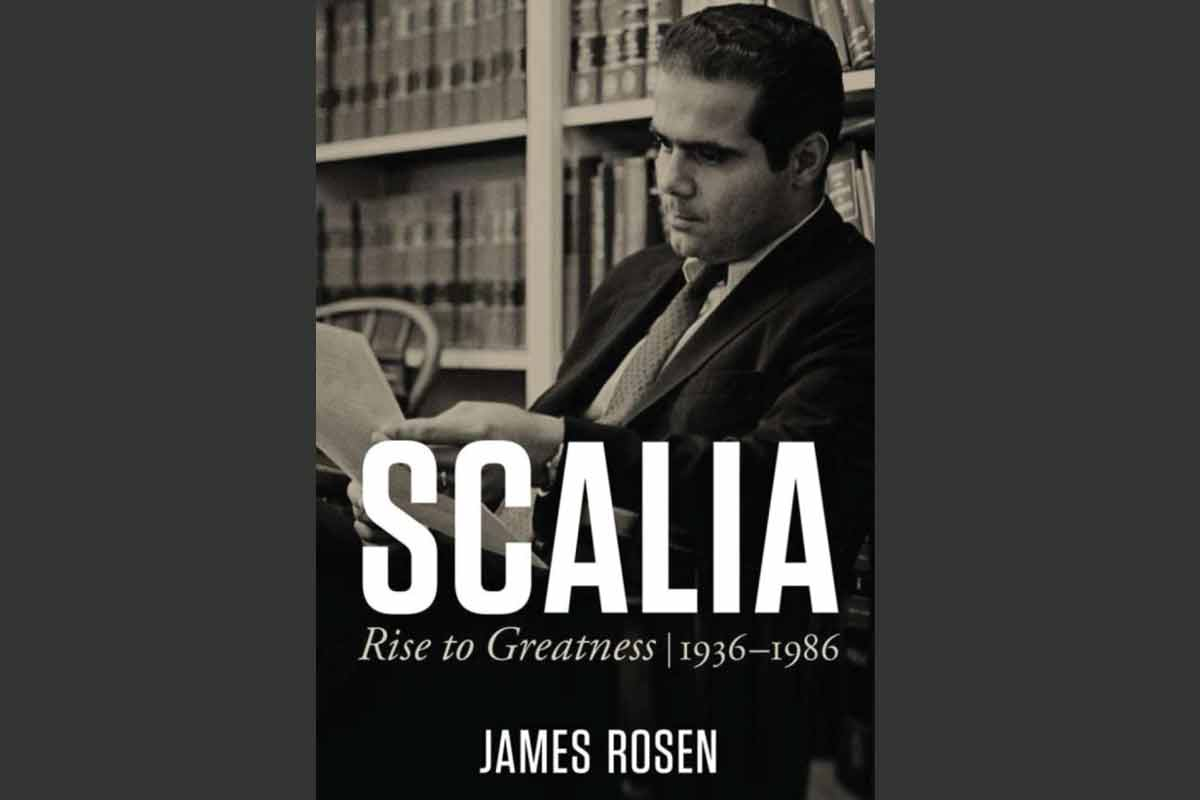 He was good friends with Supreme Court Justice Ruth Bader Ginsberg. He taught shooting to another justice, Elaine Kagan, and became her hunting buddy. When he was under consideration for the post of judge on the D.C. Circuit Court, the FBI conducted its usual background investigation, examining his bank accounts and tax returns, and interviewing several dozen colleagues and friends. These interviews confirmed his integrity, intellectual gifts, and charisma, and are filled with such plaudits as "delightful and sensitive," "of unimpeachable character," "a model family man … his reputation above reproach …" and "the government could not have a better candidate for a position as a judge."
In "Scalia: Rise to Greatness, 1936-1986" (Regnery Publishers, 2023, 500 pages), James Rosen gives us a lively and thorough account of the man who would sit on the High Court along with the likes of his friends, Justices Ginsberg and Kagan.
Rosen takes us from Antonin Scalia's boyhood in Trenton, New Jersey to the moment he joined the Court. As a child, he attended a public elementary school in Queens, entered St. Francis Xavier High School, where he graduated as valedictorian, won those same high honors at Georgetown University, and graduated Harvard Law magna cum laude.
His career thereafter was varied and stellar. He spent some years employed by a prestigious law firm, two stints teaching law in excellent universities, worked for the Nixon and Ford administrations, and put in an outstanding performance as a judge on the U.S. Court of Appeals in D.C.
Rosen takes us behind the scenes in these endeavors, showing the challenges they presented, the people with whom Scalia interacted, and the consequences of his actions and decisions.
But getting to know the personal side of Scalia is what I most enjoyed in this biography , particularly those traits and virtues that carried this son of an Italian immigrant all the way to the Supreme Court.
Scalia's devotion to family, for example, stands out. Though he was the only son of Catherine and Salvatore, who was more commonly called Sam, he was surrounded from infancy by a tribe of relatives, especially aunts and uncles, who instilled in him the importance of family. He brought these values into his marriage with his beloved Maureen McCarthy.
Described by Rosen as "petite but fiercely independent, intellectually brilliant, and impeccably mannered," like her husband, Maureen was a devout Catholic and conservative in her politics. The couple raised nine children and remained married for 55 years until Scalia's death in 2016.
At a Federalist Society celebration in 2006 — Scalia was one of the founders of this organization — the justice summoned Maureen to the podium, where he paid homage to her talents. Rosen gives us this description of what followed:
"Mrs. Scalia smiled shyly and examined the floor as the justice described her as 'the best decision I ever made, the mother of the nine children you see, and the woman responsible for raising them with little assistance from me …. And there's not a dullard in the bunch!"
Of course, Scalia himself was no dullard either. Throughout Rosen's biography, we read again and again of his brilliance in the classroom and in the law. Accompanying this powerful intellect, however, was a rigorous work ethic first learned in childhood. His father, a scholar and a professor, read and studied intensely his entire life, and served as an early example of the efficacy of effort and labor. Sam also demanded his son apply himself in the same way. Scalia's classmates and his colleagues in the law all remember him as witty and fun-loving, but they also inevitably add to that evaluation his intense dedication to the job at hand.
Also from his childhood, Scalia learned the absolute importance of character. Of his father, Rosen observes, "Moral character was king in Sam's eyes, prized more than intellect or wealth. 'Son,' he would tell Nino, 'brains are like muscles. You can rent them by the hour. The only thing that's not for sale is character.'" This emphasis on doing the right thing, no matter how hard or unpopular, was reinforced by the Jesuits at Xavier High.
These lessons in moral formation stuck with Scalia the rest of his life. Following the FBI investigation, the bureau deemed Scalia's "impartiality, objectiveness, professional ethics and competency … above reproach."
As Rosen writes of that FBI report, "Would that every life repaid such close scrutiny with such superlative results."
All too often these days our public figures fall short of what we hope from them. Whether celebrities or politicians, they may amaze us by their talents and their works, but frequently their character leaves much to be desired. The actress who stuns us by her performance on the screen is on the set an absolute nightmare in her cruelty to the crew. The politician who brings peace to some foreign land brings the exact opposite to his wife and their children.
It is, then, both refreshing and uplifting to read the story of a man who was so possessed by drive and ambition who yet firmly kept his eyes on the highest goods of all: family, work, and virtue.
(Jeff Minick reviews books and has written four of his own: two novels, "Amanda Bell" and "Dust On Their Wings," and two works of nonfiction, "Learning As I Go" and "Movies Make the Man." This email address is being protected from spambots. You need JavaScript enabled to view it.)