Archived News
Rep. Edwards silent on protecting seniors, veterans
Wednesday, April 12, 2023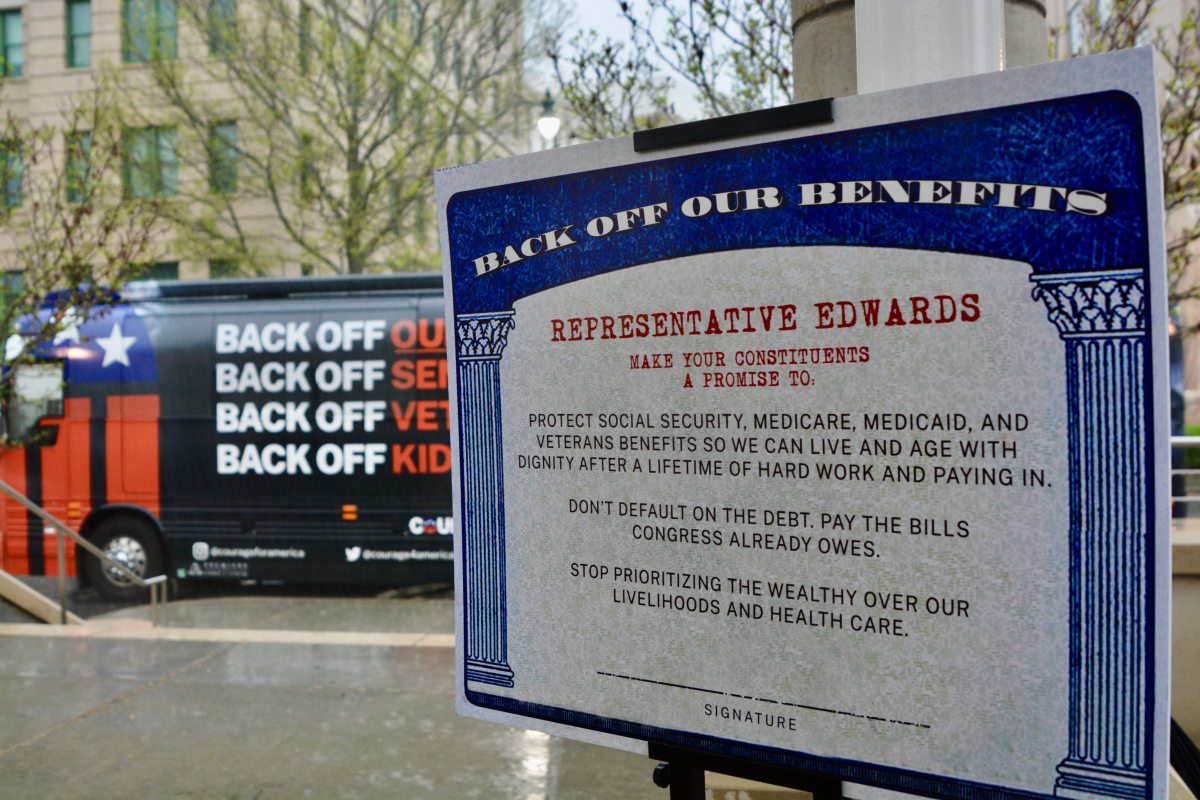 A pledge to protect entitlement benefits — earned by many Americans over a lifetime — remains unsigned by NC-11 Rep. Chuck Edwards.
Cory Vaillancourt photo
The "Back off our Benefits" bus tour rolled into Asheville last week with one simple request — for Congress to protect Medicare, Medicaid, Social Security and veterans' benefits. Western North Carolina Congressman Chuck Edwards (R-Henderson), who faced similar calls from Republican voters last fall, ignored them again.
"We're asking Rep. Edwards to commit to his constituents that he will protect Social Security, Medicare, Medicaid and veterans benefits so that we can live and age with dignity after a lifetime of hard work and paying in," said Laura Packard, a national spokesperson for the tour.
Packard, of Denver, Colorado, is a cancer survivor who says that the Affordable Care Act saved her life. She spoke at an April 7 press conference in Pack Square Park, where a large placard outlined a pledge to protect the entitlement plans and asked Edwards to "stop prioritizing the wealthy over our livelihoods and health care."

Thus far, they've been met only with silence from Edwards.
"We reached out to him; he was invited to attend today and to sign the promise, but you don't see his signature because he did not sign it," Packard said.
On Oct. 14, 2022, Edwards told The Smoky Mountain News that there was "absolutely no interest from Republicans to cut Medicare or Social Security," despite reporting from Bloomberg three days prior that outlined Republican threats of entitlement cuts.
Edwards' assertion suggests he's ignorant of or misleading constituents regarding previous and continuing calls for cuts by congressional Republicans.
Utah Republican Sen. Mike Lee has called for such cuts. So has Louisiana Republican Rep. Steve Scalise. Ditto for Utah Republican Sen. John Thune and Georgia Republican Rep. Buddy Carter.
Less than a month ago, The American Independent reported that 13 other Republicans said they wanted to "fix" entitlement programs by tweaking eligibility requirements or raising the retirement age.
"[Edwards] is a member of the Republican Study Committee, and their plan changes the age of eligibility for some of these programs, which is in fact, a cut," Packard said. "Republicans haven't coalesced on any one plan, but all of their plans have something in common, which is cuts to the benefits we rely on."

Leslie Boyd lost her son in 2008 after he was denied the care he needed. According to Boyd, her son's birth defect was considered a pre-existing condition, so he was denied insurance coverage. Doctors, she said, knew he would die. Boyd said she visited Edwards, who was then a member of the North Carolina General Assembly.
"Instead of talking about what he could do to help people in need, Chuck Edwards looked at me and asked whether my son had a job when he got sick, as though he didn't deserve to live," Boyd said at the event.
Eric Ager, a Democratic state legislator from Buncombe County, also spoke at the rally.

"This is really just an effort to get people fired up and get people excited about making sure that Congress doesn't take away the benefits that we need in America, and about taking care of regular people out here in the mountains," Ager said.
The bus tour began in Speaker Kevin McCarthy's home district and made stops in Arizona, Colorado and St. Louis before coming to Asheville. The tour will conclude in Washington, D.C. on April 17.
Rep. Edwards did not respond to multiple interview requests for this story.
Leave a comment
2

comments
I want to see Medicare/ Medicaid, social security and VA Benefits solvent for the future. Years ago, they had to raise the age for full retirement because of all those baby boomers and it may have to be raised again for those people perhaps 40 years old and under. That's a reasonable solution. Those on social security and those nearing it won't see any changes or cuts. Another big problem that needs to be fixed is Medicare/Medicaid fraud! It
Costs us billions!! If hard choices need to made, so be it. I hope Rep Edwards and all the others can come to some reasonable solutions to keep these benefits solvent, don't you??

Friday, 04/14/2023

Didn't people know what they were getting when they voted for Rep. Edwards when they voted for him? Open your eyes, folks.

Friday, 04/14/2023