Archived News
This must be the place: 'Same ol' moon, same ol' sun, same ol' race that we've always run'
Wednesday, March 29, 2023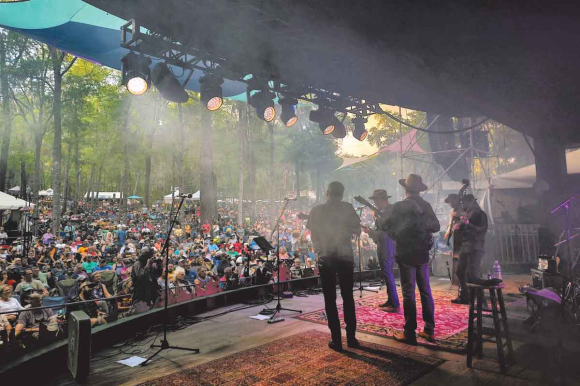 Steep Canyon Rangers at Suwannee Spring Reunion. Garret K. Woodward photo
Hello from the backstage area at the Suwannee Spring Reunion music festival in Live Oak, Florida. It's hot and humid. Mid-80s and blue skies. But a cool breeze greets me as I sit and type away underneath the Spanish moss hanging in the oak trees overhead.
It's at least my fifth time on this magical property in the rural depths of North Florida. Horse barns and farm fields. Black muddy rivers and curious alligators. Dirt roads and steaming blacktop. Bluegrass, Americana and folk music, bodies swaying in the late afternoon light.
And it's wild to think how this place in the backwoods of Florida, not far from the Georgia state line, has become this anchor point — for not only me, but also countless other musicians and concertgoers alike. For decades, this melodic landscape has played host to raucous bands and overzealous audiences.
As one of the first music festivals anywhere in the country each year, Suwannee Spring Reunion is a mile-marker of sorts, personally and professionally. For those onstage and in the crowd, this place and this gathering are the grand reawakening each spring after a long, somewhat dormant winter of, hopefully, rest, respite and reflection.
Working year-round in the music industry as a journalist, for me Suwannee is the kickoff for the organized chaos that is the impending festival season, summer and fall shenanigans, and, well, whatever endeavors in the name of irresponsible enlightenment will bubble up from the mysterious depths of the universe.
It's also a brief moment to reconnect with the artists and other folks in the industry — promoters, managers, publicists, etc. — who are vibrating dots of purpose and passion, each ricocheting off of each other and shooting off into seemingly every direction, an all eventually circling back to Live Oak, Florida, in late March once again.
The first time I rolled into Suwannee was a fall festival back in 2016. Known as the Suwannee Roots Revival, it featured headliners Sam Bush, Leftover Salmon, The Wood Brothers and dozens more acts on numerous stages throughout the weekend.
Back in 2016, I was driving my ole 2001 GMC Sonoma pickup truck. Although the vehicle was somewhat beat up from years on the road coast-to-coast, it remained sturdy and reliable to make the long treks from Southern Appalachia to The Sunshine State.
And I remember camping out of the back of the rusty, musty Sonoma that initial gathering, all while plotting my coverage for the weekend — a young writer trying to nail down interviews and make sincere connections with artists that I respect and admire.
Then, there was the Suwannee gathering when I cruised in with the gas-guzzling 2005 Dodge Dakota, again camping out in the bed of the truck. Just a cooler of beer, an array of snacks, bag of clean clothes and barely enough gas money to get back to Western North Carolina — just in time to put out that week's issue of The Smoky Mountain News on Tuesday morning.
Oh, and the Suwannee with 2005 Toyota Tacoma, where I found myself sleeping awkwardly in the passenger's seat, folded back all the way, but never far enough. Wake up and go for a run. Take a shower and ready oneself to corral numerous interviews with musicians, many of which were squirreled away for future features that eventually appeared in this very publication.
Skip ahead to this weekend here in March 2023. The headliners are full-circle with Sam Bush and Leftover Salmon. Camping out of the back of the trusty 2013 Tacoma. Quad-cab pickup with a camper shell atop the 6-foot bed, which is ideal for a joyous slumber of peace and solitude in the midnight hour, especially after one wanders back from the late-night jam sessions in the woods or, perhaps, to simply sit on the tailgate and gaze up at the brightly-lit stars and constellations hovering high above in the night sky.
I guess the point of my rambling in the previous paragraphs is the personal inventory that I've been taking throughout this most recent installment of another adventure into the rabbit hole that is Suwannee. All of these people once strangers back in 2016, now dear friends some seven years — and many, many miles — later.
And the innumerable moments shared together, whether onstage, backstage or around a campfire in the midst of a heated pickin' session. You-had-to-be-there moments that captive the senses and sooth the soul, only to pack up and motor home come Sunday afternoon. Back to our respective realities, but with an aura of compassion and connectivity radiating from us to you (and you, too).
The desolate, cold winter season has culminated and come to a close, physically, emotionally and spiritually. Spring has sprung and the antsy, mischievous nature of springtime is coursing through our veins. Leaving Suwannee, a genuine sense of excitement for the warmth of friends, family and festivals is bouncing through my heart and soul.
Thoughts of the past and what is (it is what it is, truly) and what shall never be. Thoughts of the future and what could be, and may take shape. But, mostly thoughts of the "here and now" — of what is happening in real time, and how beautiful nothing and everything remains after all these years earned and miles traveled. Onward.
Life is beautiful, grasp for it, y'all.
Leave a comment
2

comments
Thanks for the wonderful article. This year so many of the performers mentioned it was a favorite place to play. I thought the amphitheatre was magical, day or night, when I first saw it. That feeling hasn't faded. My husband and I can't quite remember how many with this and the fall festival we have attended, but we have loved every one.

Monday, 04/03/2023

Well, said. I first arrived at Springfest [now Spring Reunion] back in 2012. I have been to every Spring Reunion and Roots Revival since, It soothes my soul. Time to reconnect with my Suwannee Family!!! An amazing place for sure.

Thanks for expressing so well what an amazing place we all get to share!

Linda Ocoee ,FL

Thursday, 03/30/2023