Archived News
Help for mill workers
Wednesday, March 22, 2023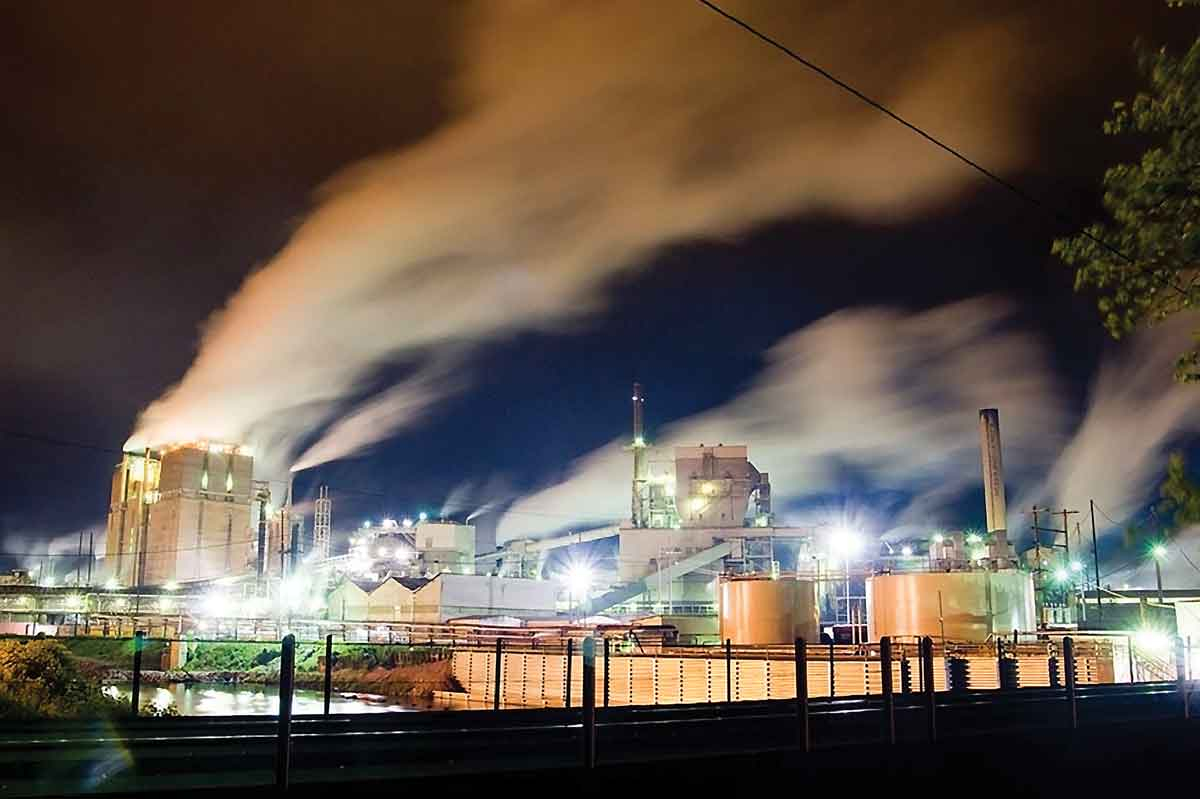 Max Cooper photo
The economic impact of Pactiv Evergreen's decision to close the Canton paper mill will be substantial. It is estimated that about 1,000 employees will be out of work by the summer, the majority of whom are Haywood County residents.
In an effort to understand the broader economic impact as it will affect other businesses in the county, the Haywood County Chamber of Commerce is partnering with local economist Tom Tveidt to conduct an economic impact survey. Owners and operators of local businesses that buy or sell products or services to or from the mill can take the survey at www.surveymonkey.com/r/CWHXXG2.
Below is an evolving list of resources in the community for individuals and businesses that will be impacted by the mill closing.
Employment Resources
The Haywood County NCWorks Career Center is located at 1170 N Main St, in Waynesville. The center can help people with unemployment benefits, job seeking, trade eligible services, medical coverage, insurance needs, housing assistance and connections to employers in the region.
WNC Career Expo will take place 11 a.m. to 5 p.m. Thursday, March 23, in the Davis Event Center at the WNC Agricultural Center. This is the largest hiring event in Western North Carolina with over 100 employers in attendance.
Waynesville Inn & Golf Club Hiring Fairs
Waynesville Inn & Golf Club have multiple upcoming hiring fairs. These will take place from 10 a.m. to 2 p.m. March 22, 29 and April 5 at the Waynesville Inn. There are opportunities in guest services, housekeeping, food and beverage, golf operations, course maintenance, and facilities maintenance.
International Paper Hiring Event
International Paper will hold a hiring event from 9 a.m. to 5 p.m. March 23-25, at the Lake Junaluska Conference and Retreat Center.
Pratt & Whitney Job Fair -- CANCELED DUE TO INCLEMENT WEATHER
Pratt & Whitney will hold an on-site job fair noon to 4 p.m. April 5-6 at 330 Pratt & Whitney Blvd. in Asheville, in partnership with A-B Tech Community College. The fair will allow attendees to drop in, talk to Pratt & Whitney and A-B Tech representatives, and sign up for the free spring 16-hour and 80-hour Machine Operator pre-hire programs at A-B Tech Community College. No prior manufacturing experience is required, but students must submit a job application before being placed in a class.
Resume Writing Workshop
This drop-in workshop will take place 9 a.m. to noon and 1-5 p.m. March 21-22 at the Education Center in Clyde. For more information call 828.456.2400.
Haywood Community College is offering scholarships, career services, training and other educational opportunities. Find these resources and more at the link above.
Health and Wellness Resources
Haywood County Food Resources
For a complete list of the food resources available in Haywood County, visit milltownstrong.com/wp-content/uploads/2023/03/Haywood-FRG-3-9-23.pdf
Listening Circles
Residents affected by the paper mill closing are invited to attend listening circles taking place every Tuesday from 9-10 a.m. and every Thursday from 4-5 p.m. via zoom. The link to connect to a meeting is us02web.zoom.us/j/7395212604#success.
Health and Human Services
Haywood County Health and Human Services can help with continuing medical coverage, food and nutrition support, financial support, and workforce programs. For more information on these programs and services visit their website, call 828.356.2368 or email This email address is being protected from spambots. You need JavaScript enabled to view it..
Mountain Projects offers a variety of services including assistance with health i nsurance, food, utilities, transportation and child and senior services. For more information about these programs you can visit their website, call 828.452.1447 or email This email address is being protected from spambots. You need JavaScript enabled to view it..
Financial Assistance Affordable Connectivity Program
The Affordable Connectivity Program (ACP) helps many low-income households pay for broadband service and internet connected devices. Households with an income below 200% of the federal poverty line are eligible, as well as anyone who currently receives a government benefit like SNAP, Medicaid, SSI, WIC, Pell Grant, or free and reduced-price lunch.
The Champion Credit Union Member Relief Fund was established to provide financial assistance in the form of a grant to members who are experiencing financial hardship due to events beyond their control including disasters, extended illnesses or injuries and other special situations. Visit the link above for more information.
For more resources and job opportunities, visit milltownstrong.com.