Archived News
Putin's indictments: Maggie man who's prosecuted war crimes weighs in
Wednesday, March 22, 2023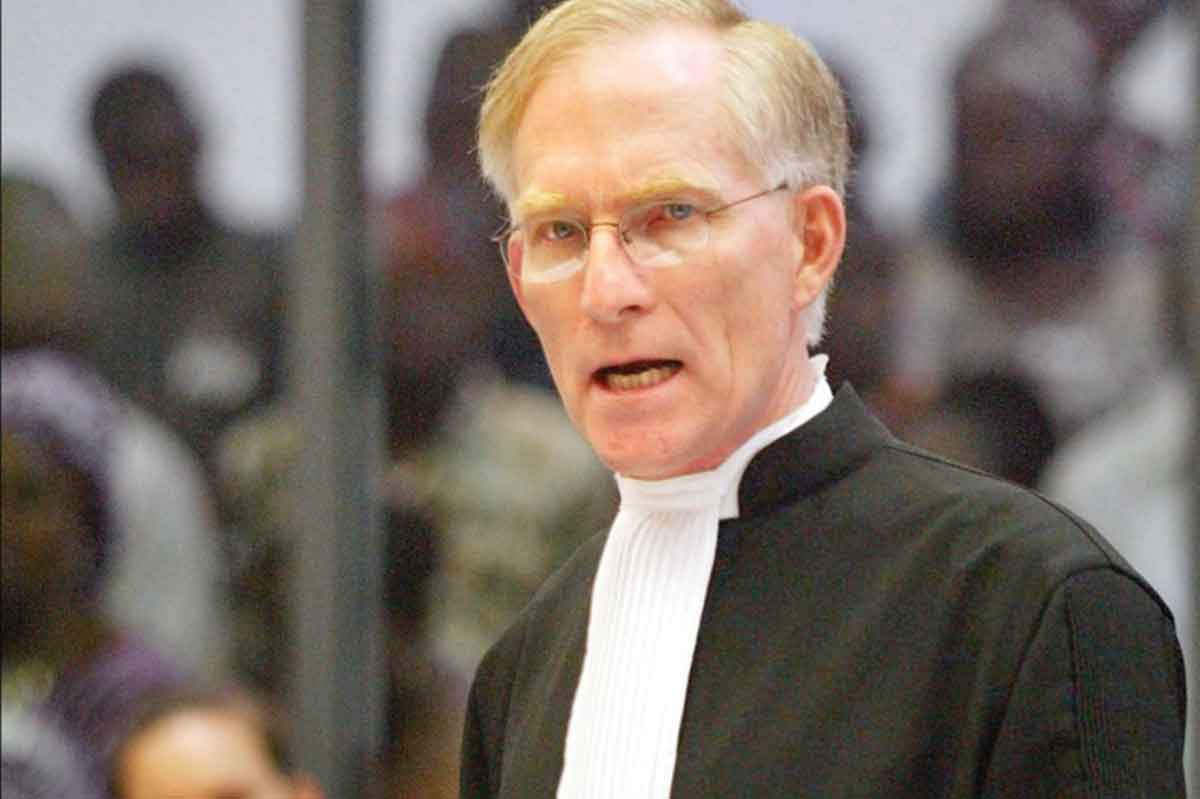 David Crane offers opening statements during the prosecution of warlord Charles Taylor. Donated photo
Last Friday, Russian President Vladimir Putin was indicted on a war crime related to his country's invasion of Ukraine.
Maggie Valley resident David Crane saw it coming and even predicted Putin would be charged just the night before when speaking in front of a group in Haywood County. Once that indictment came to fruition, Crane's phone blew up with all kinds of people interested in his take. After all, he was the last man to head up an international war crimes tribunal — a tribunal that ended in the successful prosecution of former Liberian president and warlord Charles Taylor, who now languishes in a North England prison.
Putin's alleged crime was the forced deportation of children, and his Children's Rights Commissioner, Maria Alekseyevna Lvova-Belova, was also charged. According to a statement released by the International Criminal Court, Putin and Lvova-Belova allegedly committed the war crimes of "unlawful deportation of [children] and that of unlawful transfer of [children] from occupied areas of Ukraine to the Russian Federation."
A year ago, Crane took a leading role in the quest to prosecute Putin. Since then, he's led the group that drafted several white papers making the case against Putin for various war crimes.
The first white paper came in at 276 pages and was released last April.
One appendix in that white paper includes a "crime narrative" that lists specific incidents in the first two months of the war and how they are violations of international law. The perpetrator listed for almost every incident is Russia.
Crane wrote the white paper's opening statement.
"Since the first day of invasion, Russia has continued its attacks on not just Ukrainian military, but its civilian population as well, forcing approximately 3.5 million Ukrainians to leave Kyiv," it reads. "Furthermore, there have been reports of war crimes by Russian government through its acts of shelling an orphanage, maternity hospital, children's hospital."
Crane also uses the opening statement as a rallying cry.
"The people of Ukraine are not in this fight alone, and the international system of justice must step up and fulfill its role as a mechanism of accountability," it reads. "Without it, the painful and brutal history of Ukrainian occupation will continue unabated, leaving democracy and justice around the world in peril."
Crane said he was thrilled with Putin's indictment and noted it fell almost exactly on the anniversary of the indictment of Charles Taylor, the first ever sitting head of state in the modern era to be indicted for war crimes.
"And now 20 years later, almost to the day, a second sitting Head of State has been indicted for war crimes and crimes against humanity, and that's Vladimir Putin," Crane said.
Although Crane considers himself retired, he's played a key role in securing the indictment of Putin since the invasion began on Feb. 24 of last year and was even among those sanctioned by Putin for his work.
In Crane's effort to lead an international group to set up a special tribunal, Ukrainian president Volodymyr Zelensky publicly endorsed a written proposal Crane and his group put out in September of last year.
"I've actually drafted the UN General Assembly resolution that would help create the tribunal, and also the step-by-step plan and how to set up the tribunal," Crane said.
A common refrain for Crane has been that the rule of law is more powerful than the rule of the gun, a warning to dictators who believe they can act with impunity.
"If we ease our way out of the Ukraine crisis with little to no accountability for Russian aggression, it will be a signal to the rest of the world's tyrants, strongmen and dictators that the United Nations' paradigm based on the rule of law is a sham. Democracies around the world must remain strong in holding the Russian Federation accountable," one white paper reads.
Crane reiterated that sentiment in his interview with The Smoky Mountain News hours after the news of Putin's indictment broke.
"This indictment is a forever ash mark on Vladimir Putin, who is now an indicted war criminal, and it sends an amazing and important signal to all the tyrants and dictators around the world, who are watching like crocodiles," he said.
"This is this is a huge moment, a moment that pushed back the age of the strong man … we're now going to go back to using the law as opposed to nationalistic power," he added. "2023 is going to be the year that tyrants and would be tyrants."
Crane talked specifically about Chinese President Xi Jinping, who traveled to Russia and met with Putin earlier this week. In the last couple of months, concerns have mounted regarding the potential that China may provide military aid to the battered Russian Army, aid that could very well set off a new, more successful offensive against Ukraine. Crane said that while Jinping may placate Putin by meeting with him, the indictment should ensure he doesn't associate himself too closely with Russia's war in Ukraine.
"This gives us legal authority to impose sanctions on China, and China's all about business," Crane said. "That's why they're the power they are … [Jinping] is a damn fool if he does that, because he knows he could be charged with aiding and abetting international war crimes."
When Crane spoke in front of a group almost a year ago, someone in the audience asked what an indictment might tangibly mean for Putin. Would he be able to travel internationally without being arrested? If he just stays in Russia and plays it safe, will he live out the rest of his life without being brought to justice?
"He is an indicted war criminal, even if we never get him into court," Crane said. "It doesn't matter; it's for life. It paints his history. It is the ultimate ash mark on his forehead. The only thing that could be worse for him is he's brought in the court. And there may be a political circumstance by which Russia would hand Putin over for a fair and open trial like the international community did handing over Charles Taylor to me for a fair and open trial."
Throughout the war in Ukraine, thousands of children have been orphaned or separated from their parents, and Belova's team has swept up a large portion of those children and brought them to Russia, where many are made citizens of that country. In response to being indicted, Belova scoffed and noted that ICC has no jurisdiction in Russia, essentially calling the charge meaningless.
"It is great that the international community has appreciated the work to help the children of our country, that we do not leave them in war zones, that we take them out, we create good conditions for them, that we surround them with loving, caring people," she said.
When asked what he would say to Belova, Crane chuckled.
"I would say I'll see you in court," Crane said. "Charles Taylor blew me off and called me a redneck racist. They can put on a brave face, but in their heart of hearts, they know the significance of this."
In the white paper that came out in April of last year, Crane and his team made the case for indictments of several individuals in Putin's circle. He said he expects more people to be indicted on a whole range war crimes.
"This is just the beginning," he said.