Archived Opinion
'Papertown' through the eyes of a lifelong resident, historian
Wednesday, March 15, 2023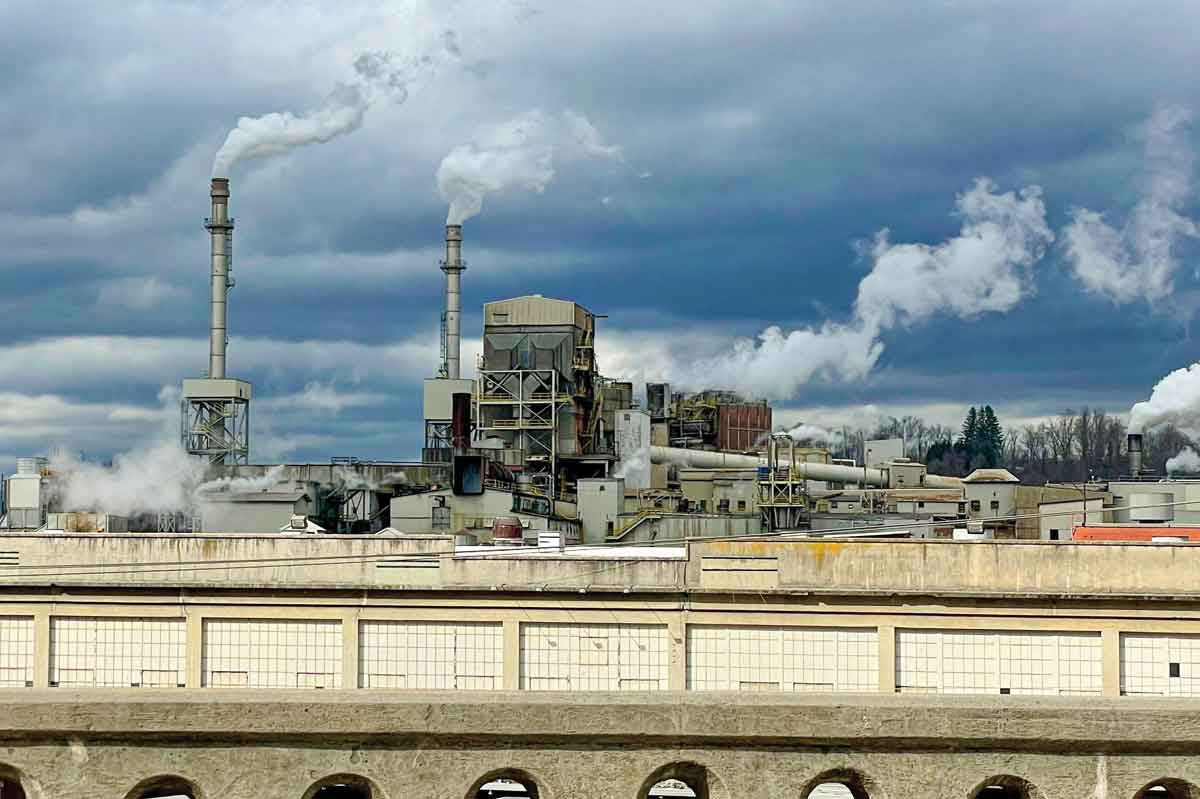 The whistle at Canton's paper mill talked to me daily, sending the reassuring message that the mill was producing paper and employees were busy at their jobs. Security. Dependability. Reliable employment. Income. Pride.
Painful silence of that whistle translates into a devastating impact on the lives of people regardless of their ages.
People and their families, their survival, their ability to reconstruct their lives are, overwhelmingly, the biggest concern. Figuratively speaking, the banks of the Pigeon River, the Town of Canton, the entire area could be littered with broken lives. Recovery will require far more than replacing bridges and removing debris.
Cruelty is a strong word, but it hovers. If closure of the mill was inevitable, did the news have to be delivered with abruptness, absence of effective communication, inhumanity? Avoiding the reality, I choose to retreat to good memories.
"We grew up in the best of times" is an oft-repeated perception heard from those of my generation and from former students who once occupied my Pisgah High School classroom.
Champion Paper & Fibre Company contributed in large measure to the sentiment. Paternalistic management of the company demonstrated sincere concern for the lives of employees and their children.
A credit union was established to assist in wise money management. A YMCA was built and its employees provided a very real positive influence for children in the Canton area regardless of whether their parents worked in the mill or not.
The company store sold groceries, gas, clothing, coal and other needed items at reasonable prices, preventing unscrupulous merchants from taking advantage of people who weren't accustomed to having regular paychecks.
Boys and girls who spent a week or so at the mill-owned Camp Hope treasured their memories and the lessons learned from counselors and other staff.
Reuben B. Robertson, a former president and chairman of the board for Champion, and his wife, Hope, built a new public library and dedicated it to Canton in 1954.
Canton's school system benefitted. The high school, with assistance and cooperation from Champion, added a well-equipped machine shop and welding classes to teach actual job skills.
During an early typhoid epidemic, Champion outfitted and staffed a small hospital until the crisis ended.
Walter Damtoft, Champion's chief forester, enlisted Canton Schools superintendent A. J. Hutchins and 60 male students to plant 2,500 trees on Canton's Rough Creek watershed to enhance water retention and protect the town's water source.
Seedlings were set out yearly for the next 10 to 12 years; for the following decade, every two to three years. Thirty-five thousand trees had been hand-planted when the reforestation program ended. The watershed's potential and supply increased considerably.
Strong friendships grew among employees and, at times, evolved into support systems. When one needed assistance, his or her buddies were quick to help. Their compassion led to an expansive "Christmas Basket" program to provide food, Christmas gifts, and clothing for the disadvantaged. A voluntary payroll deduction plan supported the enduring success of this program.
Snug Harbor was a home for the Old Timers Club where retirees gathered. A popular event was a "potato roast" with the spuds cooked among coals in a fireplace. After the house was demolished, retirees continued regular meetings in the Senior Citizens Center in Canton's Armory building until the flooding Pigeon River washed through.
My most personal memories revolve around the YMCA. It was "home" for so many reasons. Tap and ballet lessons, learning to swim, "sock hops," my 16th birthday party, new friends, caring staff members who knew our names and personalities and who our parents were.
I "lived" for the Champion Y Square Dance team. We danced in countless festivals and competitions, entertained groups at Grove Park Inn and traveled to out-of-state events. Sometimes we rode in the noisy old YMCA bus, but occasions when we were transported in Champion's big black Buicks seemed special.
My cousin, "Skeeter" Curtis, once said about the "Y," "It was friendships, being with each other, staying there all day ... people there seemed to take an interest in you … if you got in trouble, they approached you and tried to get you on the right track"
Memories of Camp Hope are good ones. My good fortune was to spend time there as a camper, and later as a counselor. Pisgah High School once held an all-night party at Camp Hope for seniors following their graduation ceremony. Adults were chaperones, of course, but we were also the cooks, as well as participants in games, dances or whatever the seniors planned for their entertainment, within reason.
Additional positive memories exist, as do countless other uplifting stories to tell. Perhaps they can be told another time. For now, disappointment is becoming further tinged with anger and bitterness.
I remember the brown froth of Pigeon River below the mill, as well as the fallout from mill smokestacks on clothing, cars and windowsills, and am grateful for the current cleanliness.
I also remember the callousness of a man who bought property near the river when it was in that frothy state. He wasn't blind when he chose to live there, but he later endeavored to close the paper mill and improve his view, oblivious to potential consequences for others.
Industry does not exist in a completely pristine condition. Which is more important — human lives or an odor in the air? Obviously, the odor existed when people consciously chose to live here.
I expect we will survive. Mountain people have long been acquainted with adversities and are often characterized as resilient survivors. A primary strength is their demonstrated willingness to care for each other.
(Edie Burnette graduated from Canton High School in 1954 and Wake Forest University in 1958. She was employed by the Haywood County Department of Social Services as a caseworker before going to the Asheville Citizen-Times as the Women's Page Editor. In 1963, Burnette began teaching English at Canton High School. In 1966, she went to Pisgah High and taught graphic communications until her retirement in 1996. Her association with the AC-T continued with little interruption as a reporter covering the Canton, Waynesville and Clyde area, writing feature stories, and finally as a columnist. In 2016, Burnette published a book, "Mountain Echoes." Her father, A.J. Hutchins, was the superintendent of Canton City Schools.)
Leave a comment
9

comments
I have always loved the wonderful writings of this beautiful lady! My respect and Love. G.Justice

Tuesday, 04/11/2023

Very well said Mrs B. Thank you.

Sunday, 04/02/2023

I remember you as I am also a life long resident of Haywood county. I'm a 1964 graduate of Canton high school. I retired from the paper company with 38 years of service and been a part of the things you mentioned and very proud of it. Thanks so much for your story it was well done.

Tuesday, 03/21/2023

I remember you as I am also a life long resident of Haywood county. I'm a 1964 graduate of Canton high school. I retired from the paper company with 38 years of service and been a part of the things you mentioned and very proud of it. Thanks so much for your story it was well done.

Tuesday, 03/21/2023

I remember you as I am also a life long resident of Haywood county. I'm a 1964 graduate of Canton high school. I retired from the paper company with 38 years of service and been a part of the things you mentioned and very proud of it. Thanks so much for your story it was well done.

Tuesday, 03/21/2023

This piece shows how much we've lost by the disappearance of corporate connections to the communities they inhabit. I remember thirty years ago in Waynesville there was an expectation that businesses get involved in community service projects and non-profits. Now it is all gone - we have soulless national/multinational corporations, the leaders of whom live in virtual gated communities.

Sunday, 03/19/2023

Amen, Edie!

Saturday, 03/18/2023

Edie, this made me cry. You hit the nail on the head in every respect.

Saturday, 03/18/2023

Edie, you have put into words what we all are feeling. Thank you for such a touching story.

Thursday, 03/16/2023