Archived News
Charges dropped against police shooting victim
Wednesday, March 15, 2023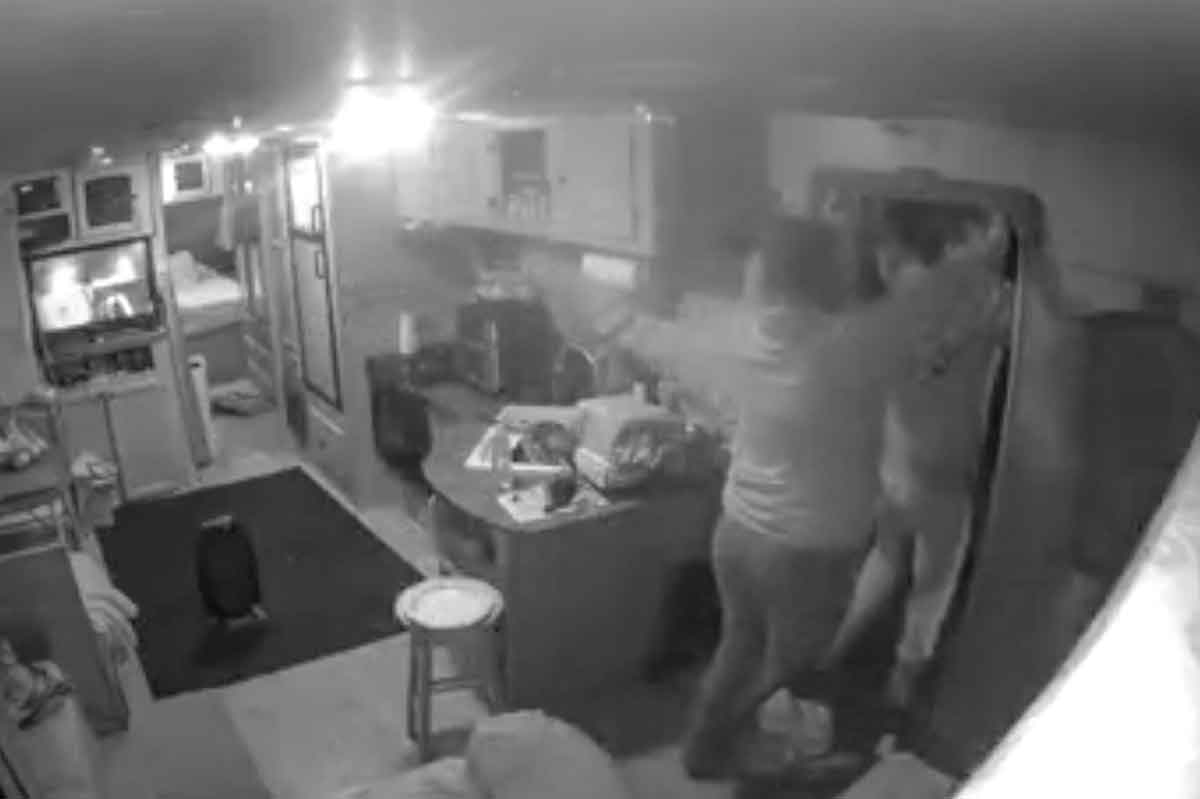 Jason Harley Kloepfer stands at the door with his hands up one second before officers fired. Photo from Kloepfer security video
Jason Harley Kloepfer left his home near Murphy on Dec. 13, 2022, with bullets in his body and criminal charges in the courthouse. Now, more than two months after an officer-involved shooting that made international headlines, misdemeanor charges accusing Kloepfer of communicating threats and resisting a public officer have been dropped.
According to a dismissal filed March 1, the charge of communicating threats was dropped "at the request of the prosecuting witness." On the same day, the charge of resisting a public officer was let go "upon prosecutorial discretion and the charging document does not list the type of orders given and under what circumstances that this would be a duty of their office," the dismissal states. The charges were dropped at the discretion of District Attorney Ashley Welch, who declined to offer any further comment on the decision.
The dismissal of Kloepfer's case came about two weeks after his attorney Zeyland McKinney filed six subpoenas Monday, Feb. 13, seeking a plethora of documents, communications and video related to the case. Subpoenas issued for Cherokee Indian Police Department Chief Carla Neadeau and CIPD officers Christopher Harris, Nathan Messer, Neil Ferguson and Andrew Sampson, as well as Cherokee County Sheriff Dustin Smith.
Records sought from both CIPD and Cherokee County included video from body cams, dash cams and the robot that entered Kloepfer's home, as well as policies for use of deadly force and use of body cams. The subpoenas also called for any psychological evaluations done on CIPD officers prior to Dec. 14, any mission pre-plans or after-reports related to the Dec. 13 response and any documents showing who signed the mutual aid agreement before the raid Dec. 13.
Additionally, Kloepfer's attorney asked for text messages between Smith and key members of the CIPD and Cherokee County Sheriff's Department, any texts between Cherokee County deputies and the 911 caller and communications between the county and anyone contacted about providing emergency medical service to Kloepfer after the shooting.
Subpoenaed parties were given until March 9 to either produce the material or appear in court. With the case now dismissed, the subpoenas will no longer be carried out.
The two misdemeanor charges were the least of Kloepfer's worries as he left his camper trailer on Upper Bear Paw Road in an ambulance Dec. 13, following an incident that would spawn conflicting narratives and urgent questions about why police took the actions they did. Kloepfer has posted photos showing a scar running up the center of his torso from hip level to just below the breastbone, with another scar where a bullet struck his right arm.
"No we are not home," Kloepfer wrote in a Feb. 13 Facebook post. "We probably will never live there again after that nightmare."
Kloepfer was shot by members of the CIPD SWAT Team, which the Cherokee County Sheriff's Office called in following an 11 p.m. 911 call from Kloepfer's next door neighbor Dec. 12. The neighbor alleged that Kloepfer had been shooting a gun and yelling that he was going to kill the whole neighborhood, and she implied that he may have shot his wife or otherwise harmed her. Cherokee County deputies visited the property soon afterward but didn't see Kloepfer and couldn't enter the home without a search warrant. The next step was to secure a search warrant and ask for help from the CIPD, which unlike Cherokee County has its own SWAT team.
All of this took time to carry out. The search warrant was secured at 2:14 a.m. but not executed until nearly three hours later. This was at least in part due to the 70-mile drive from Cherokee to Kloepfer's home and to the fact that there was no mutual aid agreement between Cherokee County and CIPD in effect at the time. The previous Memorandum of Understanding had died with the term of former Sheriff Derrick Palmer, who left office a week before the incident.
"If they could, contact the sheriff or the highest-ranking person that they got that's on duty tonight to do that, because we got to make sure that we're, you know, covered on the assistance thing," CIPD's SWAT commander told dispatch before arriving in Murphy.
Cherokee County produced the resulting document following a public records request from The Smoky Mountain News. The letter is a "formal request" that Roger Neadeau Jr. of CIPD and the CIPD SWAT team be allowed to assist Cherokee County at 3:11 a.m. Dec. 13, 2022. While on duty, the letter says, these officers are to have the same jurisdiction, power, rights, privileges and immunities as officers of Cherokee County — in addition to those the officers normally possess.
Kloepfer and his wife Alison Mahler smile in a photo taken in 2019. Jason Harley Kloepfer Facebook photo
The letter bears two signatures, one from D. Smith, which would be Sheriff Dustin Smith, and another difficult-to-read signature from somebody representing CIPD. The presence of Smith's signature on the document pairs with statements on radio traffic to show that he was at the sheriff's office that morning.
However, Smith has maintained that neither he nor Deputy Sheriff Justin Jacobs were present at Kloepfer's home, and that the press release his office published hours after the shooting was based on information provided by the CIPD. Smith's original statement said the shooting happened after Kloepfer "engaged in a verbal altercation with officers" and confronted them as he emerged from his camper trailer.
When Kloepfer posted home security video Jan. 18 that did not show any altercation but did show him standing in the camper door with his hands held high at the moment he was shot, Smith issued a new statement blaming CIPD for the apparently false information contained in the original release. Dispatch logs show multiple county deputies and investigators were on scene at the time of the shooting, in addition to the CIPD team.
SMN's public records request that yielded a copy of the Dec. 13 agreement between Cherokee County and CIPD had sought other documents as well, including text messages and emails between various members of the Cherokee County Sheriff's Office and employees of the Eastern Band of Cherokee Indians at the time of the incident and in its aftermath. After one month and multiple follow-ups from SMN, the county released the Dec. 13 agreement along with a letter stating that, "regarding communications involving the other people listed in your request, at this time, we are unable to release those records, in accordance with North Carolina G.S. 132-1.4."
This statute places restrictions on release of investigation records but requires a court order to prevent release of a record that would normally be public. It also makes clear that "the use of a public record in connection with a criminal investigation or the gathering of criminal intelligence shall not affect its status as a public record."
"The Public Records Law exemption applies to particular criminal incidents, not to general information," said Amanda Martin, an attorney with the Stevens Martin Vaughn & Tadych firm that focuses on First Amendment issues. "So if there are emails discussing an issue, as opposed to a particular case, those should be public."
Though she chose to drop the charges, Welch will have another decision to make stemming from the events of Dec. 13. As is routine when an officer shoots a citizen while on duty, the SBI is investigating the incident and will send the resulting report to Welch. SBI reports never become public, but the document will allow Welch to decide whether to press criminal charges against any of the law enforcement officers involved.
Neadeau declined to comment for this story, citing the ongoing investigation. McKinney, Kloepfer's attorney, did not return a request for comment.
Leave a comment
1

comment
Honestly I think his neighbor had him swatted.

Wednesday, 03/15/2023