Archived News
'It means everything': Former worker reflects on career amid Canton mill closure
Wednesday, March 15, 2023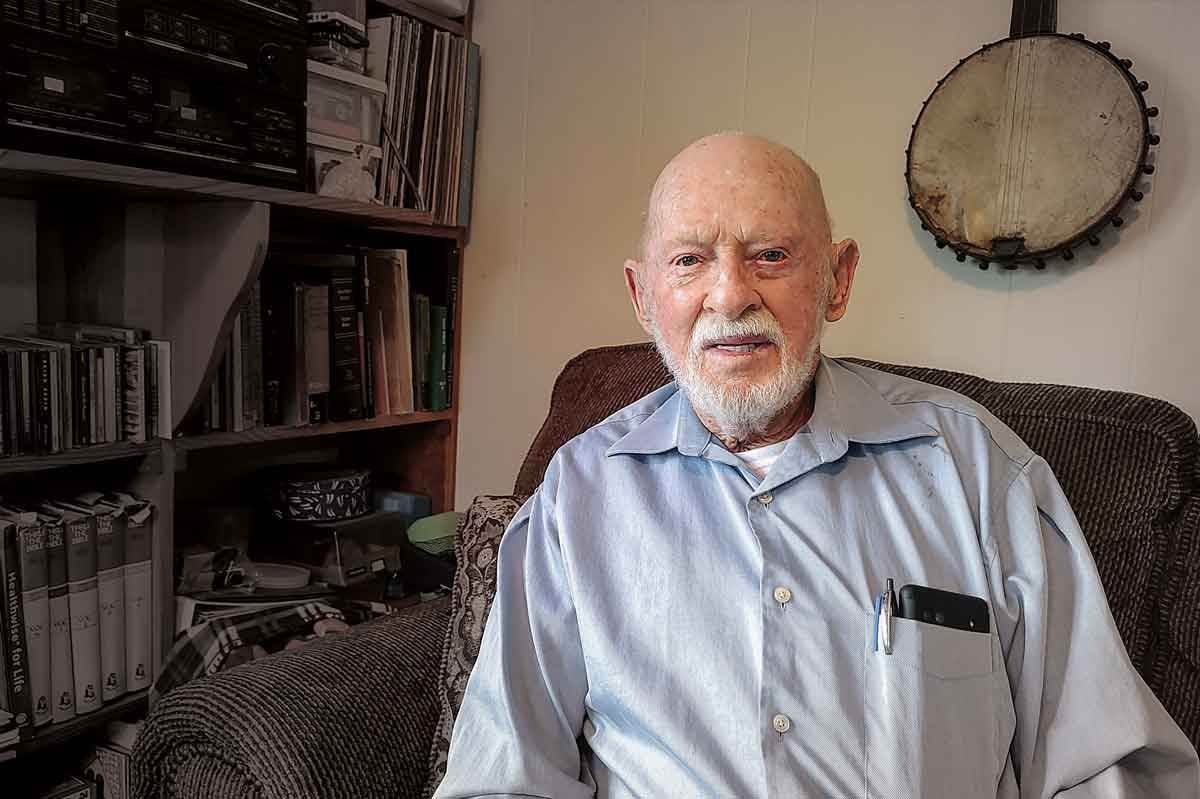 From 1956 to 1993, Ben Best worked at for the Champion paper mill in Canton. Now known as Pactiv-Evergreen, the mill announced last week that it will be closing this summer after 115 years. Garret K. Woodward photo
At 94 years young, Ben Best is proud of several things in his long, bountiful life — a marriage of 67 years and counting, raising three healthy sons, being a grandfather, a loyal friend to many, and a hard-scrabble Haywood County farmer.
And, near the top of that list of achievements and dreams fulfilled, he also holds a deep sense of pride for his 37 years as an employee of the Champion Paper & Fibre Company in Canton.
"Those paychecks paid for the home we're sitting in," Best said. "We built this house in 1957 and paid off the debt in five years. Those paychecks supported a family, cars in the driveway, and kept the farm going — that meant a lot."
Sitting in the living-room of his farmhouse in the tightknit mountain community of Crabtree one recent afternoon, Best gazed out onto his 180-acre property in the rural depths of Haywood County. Even in his 90s, the lifelong farmer still works the land each day, climbing up on his John Deere tractor and doing what needs to be done.
"I used to drive a truck just like that," Best pointed to a toy tractor-trailer on a nearby bookshelf, the word "Champion" emblazoned across the antique-looking rig.
From 1956 to 1993, Best worked mainly for the trucking department of Champion. He spent the first five years of his career at the Canton paper mill. Then, when they needed paper hauled between the main Canton facility and the "Little Champion" plant in Waynesville, Best shifted into trucker mode.
"So, we started this trucking department through the mill, hauling large rolls of paper from Canton to Waynesville," Best recalled. "And, for about a quarter of my career, I was on the road hauling paper. I got to see the lower 48 states and Canada. One year, I drove a truck to California and back eight times, and this was before there were interstates — it was just two-lane roads coast-to-coast."
Nowadays known as Pactiv-Evergreen, the Canton paper mill announced last week that it will be closing this summer after 115 years strong in Haywood County. Over 1,000 workers will lose their jobs, with countless other industries and families also affected by the abrupt decision.
"Having a job at the mill was a sense of pride," Best said. "It was good money and you were able to survive."
Following graduation from Crabtree High School, Best took on some carpentry work for a year, then joined the Army, ultimately serving his country while stationed in Germany. After he was honorably discharged, he returned to Western North Carolina and was a mail carrier for a stint.
But, in 1956, Best's life was forever changed. He and his brother also ran a service station in Clyde. One day, a good friend of Best's wandered into the station and asked if he'd like to work for Champion. Best said yes. The friend said he'd see what he could do.
"Working for Champion was something everybody wanted, and not everyone could get," Best noted. "It was mostly a family affair. If you had family working there, you could get on. If you didn't, it was almost impossible."
At age 26, Best started work at the Canton mill for $1.95 an hour.
"It was better than nothing," Best chuckled when asked about the pay rate. "That was good money in this area. It was better than most people made back then."
Not long after he started at the mill came the arrival of Best's first son in early 1957. And as he began to get acquainted with the job and his co-workers, Best found sincere enjoyment in getting to know the "old-timers" that had been at the mill for years.
"Back during World War II, when all the young men went into the [military], the old men had to go to the mill and work," Best said. "And, when I went to work there, there was a lot of those old guys still there."
Best reminisced about how knowledgeable the old-timers were, how they knew every nook and cranny in the mill, and how prideful each was in how well they held their position. He even remembers when there was also profit-sharing for employees.
But, that all changed when the mill owner, Reuben B. Robertson Jr., was killed in a car accident in Cincinnati, Ohio, in 1960.
"As long as [Reuben] was alive, they had profit-sharing for every paycheck if Champion made a profit," Best said. "After he was killed, it all went down from there and they stopped the profit-sharing."
Regardless, Best and thousands of others who were, and remain, employed by the mill over the decades were able to carve out a comfortable existence — a better life for them, their families, and their friends. To note, all three of Best's sons worked for the mill at some point, with one making it to retirement from the company.
"I enjoyed my job and I'm proud of my time with Champion," Best said. "And I hate to see the mill shut down. I was just reading [in the newspaper] today, one fellow says, 'It makes big men cry' — this is going to hurt a lot of people."
When asked what it means to hear the mill is closing after all these years, Best paused for a moment, only to look up at the small toy truck on the bookshelf.
"It means everything," Best said in a humbled tone. "All of those jobs are now gone, and all of the other people that will be affected — it's sad, it really is."