Archived News
After the final whistle: Papertown stands strong in the face of an identity crisis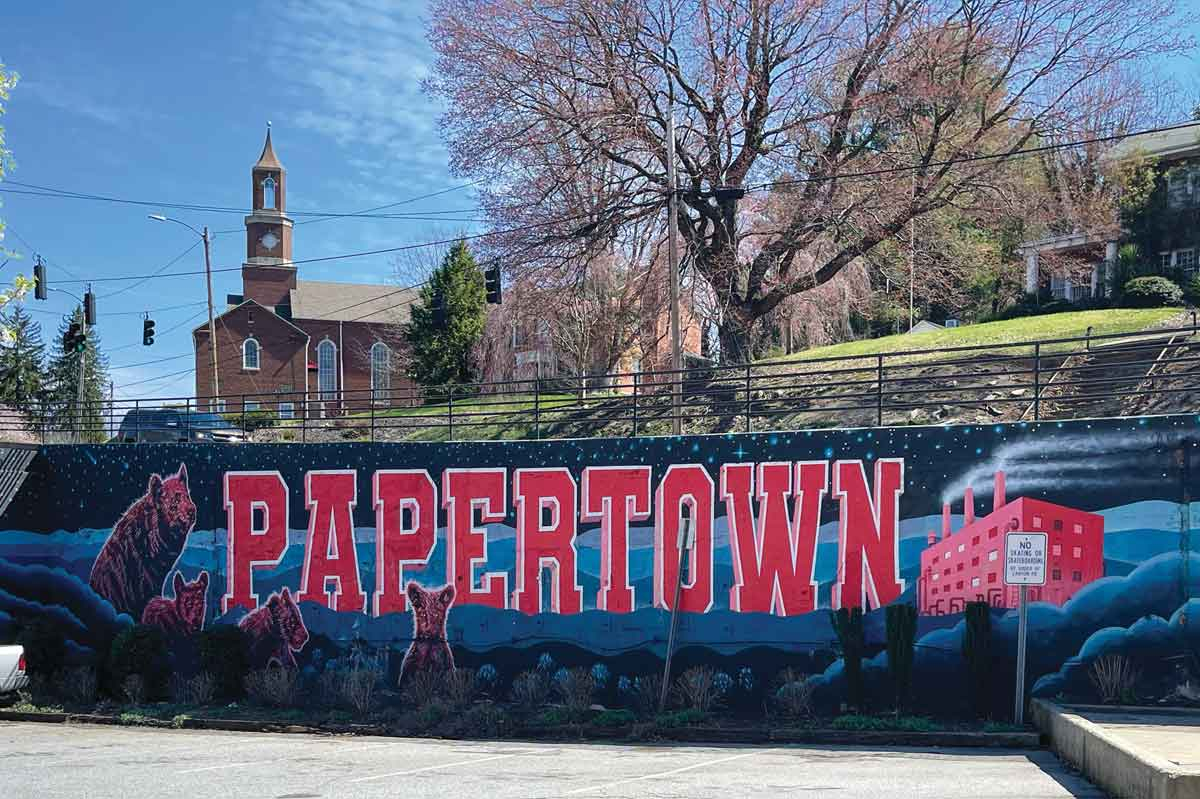 This mural says it all — Canton residents pride themselves on being "Papertown strong." Kyle Perrotti photo
To visitors, the noise seems strange and maybe even concerning. To folks in Canton, it sounds like home.
It's the bellowing echo of the mill whistle, something that's been heard in town for decades now.
Within just a few months, it will become a memory, a relic of Canton's days as a blue-collar town doing the work of the region's largest manufacturer, Pactiv Evergreen, efficiently pumping out ton after ton of paper that ultimately goes to customers worldwide.
Through the decades of ups and downs, the mill has stood strong and persevered, but now its fate has been sealed by the corporation that's profited from it since 2006. As people emerge from the shock of the heartbreaking news and take some time to mourn, there's also an air of hope, not from any sense of certainty about what may lie ahead but rather that no matter what happens, the community will come together.
Papertown will stand strong
Since The Smoky Mountain News broke the announcement of the closure last Monday, Canton Mayor Zeb Smathers has candidly shared his feelings of anger and sadness over the lost jobs. He's also pointed out that the mill is much more than an economic driver — it's Canton's very identity. In a speech to elected officials, stakeholders and reporters at a press conference last Friday, Smathers said losing the mill so abruptly isn't just a challenge, it's a tragedy. It's a "death in the family."
"Every single one of us in this room are somewhat affected by this … In our public school system, the kids crying in the middle of class because they don't know if they're going to have to move away so their parents can find a job," Smathers said.
Like with the loss of a loved one, eventually the deluge of phone calls, check-ins and prayers will ebb, and what will be left is a community that must find a way to move on while trying to maintain the identity that has gotten it through so many crises over the past few decades.
But as Smathers said, it won't necessarily be easy.
"Our soul has been sacrificed," he said. "And our soul has to be rebuilt."
Gail Mull is the secretary for the union that represents mill workers and also worked there as an administrative secretary for 30 years. She is currently a town alderwoman. Kyle Perrotti photo
Mill town down
At the USW Local 507 Union Hall across from the mill, Union Secretary Gail Mull has been busy with a steady stream of workers and retirees anxious about their future, their town's future. Last Wednesday afternoon, as people came in one after the other, she tried to lighten the mood with an array of light-hearted jabs and jokes.
"Well look at that — if that isn't just the saddest picture I've ever seen," she said with a grin when one concerned worker walked in. "You'd better be here for the free cookies and coffee, because I don't think I can help with whatever's going on with you."
The man's stern face slowly turned up into a smile as the two began discussing rumors and rehashing fond memories of better days. By the time he got to the tough questions, they were both laughing.
Mull currently serves as Mayor Pro Tem of Canton and also worked as an administrative secretary at the mill for 30 years. She has a long history of mill workers in her family, including her father, two brothers, a sister and now a son who works at the pulp mill.
"This is all we've ever known," she said. "It sent us to college. My father raised nine children on the salary. He had a seventh-grade education, and he was determined to do better for his children."
Also hanging around the union hall that afternoon was Roland Osborne, who worked at the mill for 30 years. Many folks would recognize Osborne, 84, as the man who attends Canton town meetings and ambles around town daily, always with a camera in-hand. Osborne recalled that when he worked at the mill, it was the center of the community, from the company store to the Christmas baskets that were given out to kids during the holidays.
"Everything revolved around the mill," he said.
"You can't separate the town from the mill," Mull echoed.
Osborne was upset about the way things played out with the announcement of the mill closure.
"Common decency would not have allowed this, and we live by that rule here," he said. "They stepped over that boundary."
However, while Osborne said he felt terrible for the people who are going to lose their jobs, he was also optimistic that some good may come of this when all is said and done. After all, so much of how the community fares will depend on how resilient its residents prove to be.
And folks in Canton have had plenty of chances to prove that resilience — too many, in fact. Along with the threat from the EPA to close the mill in the 1980s and the recession around 2008, the town has also been devastated by two major floods, first in 2004 and then more recently in 2021.
But if you ask just about anyone in the Canton area what they remember from any of those hardships, they're likely to tell you they remember the way the community came together to rise above what may have initially seemed like an insurmountable challenge.
A sense of pride
The mill is a key part of workers' identity, and their sense of pride comes from their work ethic and competence in their job. Since the announcement of the closure, many workers who spoke with SMN on background or off the record about various topics were also quick to talk about what machine they worked on, and each seems to have its own reputation as though they could be Papertown's own little subcultures. A couple of men beamed with pride as they discussed their work on the legendary #19 machine, which was known as the best in the world during its heyday.
It's that sense of pride that has also pushed community members to rally around one another during tough times. History has shown that's not always the case in other towns.
Amber Hyman has lived in Canton since she was 12 years old, and her husband, Mark, works at the mill. She spoke not only with fondness but also intense optimism about Canton's future.
"Papertown is Canton's identity," she said. "It represents the grit and the community and the love people have for one another. We're blue-collar people for the most part, and we're tightknit."
The steady employment offered by the mill has enabled Hyman and her family to live a stable existence while also enjoying some of the extra things that make life that much better.
But Hyman said that to her husband, there's more to it.
"It's been a community and a brotherhood for him," she said.
Like many folks in Canton, Hyman leans heavily on her faith during tough times, and she believes that will be crucial for the community in getting through this latest challenge.
"We can glorify the problem, or we can glorify the problem solver," she said. "There are a lot of people who have stepped out and said, 'God's got this.'"
"Within minutes of finding out Mark would lose his job, people were messaging us asking what they could do and saying, 'we're going to be praying for you,'" Hyman added.
When Canton resident Mikell Clark-Webb thinks about Papertown, she thinks of Labor Day and the way people come together to celebrate their proud blue-collar heritage. That day has always been a focal point for Canton families but in recent years has blossomed into an event that attracts people not only from the region, but surrounding states, as well.
Clark-Webb said things such as that Labor Day celebration or the town's Fourth of July Plus-One event are going to be more crucial than ever to maintain the community spirit that makes Canton stand out against other small towns that seem to be more and more alike every day.
Either way, Clark-Webb said she's proud of her little town and its mill — a mill that employed much of her family going back multiple generations.
"They have such a work ethic, not just the mill, but everyone around them. I think of maintenance workers and truck drivers and loggers and everyone around them," she said.
Clark-Webb, who typically has her finger on the pulse of Canton and runs multiple community social media pages, said it's important that people continue to check up on one another and love their neighbors.
"That cohesiveness will stay," she said. "Going through something like this can make those community bonds stronger."
Pisgah Memorial Stadium was a casualty of the 2021 flood, but when the Bears return to the field this fall, fans will have cause to rejoice. Allen Newland photo
Pisgah Athletics: A reflection of the community
In the first couple months of the school year, when the booming sound of the 3:30 p.m. mill whistle fills the crisp fall air, the Pisgah Bears football team needs to be suited up, on the field and ready to practice. And as high school football fans all over Western North Carolina know, at every Pisgah home game, the whistle accompanies the opening kickoff.
In any case, the whistle is the signal to play ball.
It's not lost on head coach Brett Chappell that it may feel odd losing the mill whistle; however, it wouldn't be the first time the team has had to deal with a sharp change. The 2021 flood that devastated Canton also rendered Pisgah Memorial Stadium unusable. Despite a strong push from Mayor Smathers and others to get it back into shape, the team still hasn't played a game there since the flood.
As was the case during the flood, Chappell said he is most concerned for his players, many of whom have relatives, even parents, who work at the mill. In addition, Chappell said several of his assistant coaches work at the mill and are about to lose their day jobs.
This fall, with all that's happened, the Pisgah faithful will be happy to gather as a community in their home stadium to cheer on their Bears. Like always, fans can expect to see a Mill Town team whose hardnosed brand of football mirrors Canton's blue-collar identity.
Chappell, who's been at the helm with Pisgah 10 years now, recalled that he was first exposed to the program's physical brand of football when he coached at East Henderson High School prior to coming to Haywood County.
"The town, the culture, the team has always embodied the same thing, and that was that tough mentality, whether it was the work that they did or how they played on the field," he said. "You always knew coming here to play as a visiting opponent that it was going to be physical."
Chappell said he's tried to continue to cultivate that brand of football since he's been head coach, something that he admitted wasn't too difficult considering that spirit is engrained in kids at a young age, both by their parents and through the youth football leagues. He believes it will live on with future teams.
"Our kids are mill town kids. They're very proud of that identity, and they like to remind people of that," he said.
That toughness is also evident in just about every other Pisgah sports team, from the wrestlers to the cheerleaders to the track and field athletes. This year, the girls' basketball team swept its conference before losing a playoff game at Ben L. Smith in what fans described as a hard-fought contest where poor officiating may have played an outsized role.
Like Chappell, head coach Brandon Holloway, who also won coach of the year in the conference, said he admires his players' willingness to buckle down and do what they must to improve as a team.
"They were on the same mission," he said of the recent season. "They had a clear purpose to be the best they could."
In other words, the girls left the egos out of it and the results were spectacular.
"When we met as a team for the first time, I told them that if I don't have to coach effort, we can do great things this year," Holloway said.
"Not one day did I have to spend a whole practice telling them to work hard," he added. "That comes from their home and the community they're raised up in. It's engrained in them at an early age that hard work pays off. As cliché as it sounds, it's true."
Ain't just another Papertown
As much as Cantonians love their football, they may love their music even more.
In a town committed to staying in touch with its roots, bluegrass sensation Balsam Range reigns supreme. The band's bassist, Tim Surrett, lives in Canton and hosts WPTL's Papertown Roots Radio, which airs every Monday and Wednesday night. While the show is the perfect vehicle to allow tens of thousands of listeners online to enjoy the variety of music that has influenced Surrett's own work, it also frequently gives him the chance to relay stories that depict what life in Papertown is all about.
Surrett lamented what's happening in Canton with the mill closure.
"Growing up there in the shadow of that mill that I can see from my backyard, I can't imagine how it's going to be when that quiet comes," he said.
Surrett, whose father worked 30 years for the railroad that supplies the mill, said the mill also created a camaraderie in the community that just isn't seen much nowadays.
"They're tough and hardworking people, and they're caring people … It's a close-knit bunch," he said. "The papermill galvanized a relationship that was bigger than Canton or Waynesville or Asheville."
And that closeness, that sense of community, created some fantastic experiences for aspiring musicians like Surrett. To begin with, he said there were more square-dancing teams than he can even recall.
"I can name four or five off the top of my head," he said.
Surrett added that "old timers" who would play mountain music, including his own father, held him rapt. He didn't have to look far for inspiration. He recalled that the late great banjo picker Raymond Fairchild, a Haywood County legend, would come to school from time to time.
"We'd sit on the floor of the gym and listen to three or four songs and hear some stories," Surrett said.
Surrett recalled how much he enjoyed just hanging out in Canton back when his grandparents owned a fueling depot for trucks coming in and out of the mill. At that time, the downtown area was bustling with locals and visitors alike and had everything a family would need — even two movie theaters.
"In my very early memory, you could go to Canton on Saturday, and it looked like Manhattan sometimes," he said.
Surrett and his bandmates' love for Canton was expressed in their hit song "Papertown," an upbeat tribute to the town and its mill. While the song offers a brief history of the mill, it's the first chorus that seems to sum up the pride and adoration so many people feel toward their hometown.
"But this ain't just another papertown on a random riverside/ She was built with blood, sweat and tears and a whole lot of pride/ From the mountains and the farmlands, 'round the smokestack she has grown/ This ain't just another papertown, it's the one that I call home."
Canton Mayor Zeb Smathers talks with Drew Christy from Gov. Roy Cooper's office prior to a press conference last week. Bob Scott photo
Forever a mill town
Once the mill closes, someone else could buy the property and repurpose it for the same or another industry; the town, with the river and its surrounding mountains, may become an ecotourism hub; it could become an Asheville suburb; or perhaps any number of other things. The uncertainty has caused its fair share of anxiety around the community, but Surrett said it doesn't much matter since the people and their work ethic will remain the same, and he expects that to continue to be reflected in Balsam Range's music.
"That mill town culture will certainly stay with us," he said.
At the union hall, Mull said that while people are scared for their economic future, it's important that they keep sight of their identity.
"There's this perception that if the mill closes the town's gone," she said. "And I think we've got to fight back on that perception, because a lot of times perception becomes reality if we aren't very careful."
During his speech last Friday, Smathers reminded those elected officials in the room that it's incumbent upon them to step up and lead during this tough time, adding that when something like this happens, it devastates people in the community, not only because of the job loss but because of the loss of a culture.
"This is about our culture and our community," he said.
The recovery process — like with the 2021 flood — will play out over years, and Smathers said it's crucial that the town's collective identity remains intact. But even after the final mill whistle blows, even amid a period of extreme uncertainty and intense mourning, hope can shine as bright as ever for Papertown, not because anyone is promising a silver bullet, but because no matter what comes, the people will stick together to endure yet another storm.
"We are building the hometown of tomorrow, and we are building it on the value and character that got us here in the first place," Smathers said. "America loves a comeback story. Let's give people in this country an example of success. This is not the end; this is the turning of a page."
Leave a comment
1

comment
Stock up on ammo, crime is going to get really bad in Canton.

Tuesday, 03/14/2023