Archived Arts & Entertainment
This must be the place: Ode to Canton, ode to Small Town America
Wednesday, March 08, 2023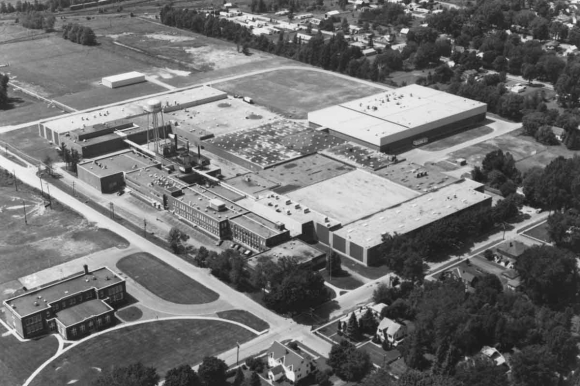 The Wyeth-Ayerst facility in Rouses Point, New York. (Rouses Point Historical Society photo)
On Aug. 10, 2012, I took on my first assignment for The Smoky Mountain News. It was the "Papertown" album release show by Haywood County bluegrass sensation Balsam Range.
The performance was held at The Colonial Theater in downtown Canton. Truth-be-told, I had just arrived in Western North Carolina earlier that afternoon from my native Upstate New York. Immediately following a 1,100-mile solo trek, I was handed a notebook, pen and camera by my publisher in our Waynesville newsroom and told to head to Canton.
And I remember standing side-stage at the Colonial, watching a packed house of local residents cheer on the musical talents of their own:
"Stepping up to the microphone, [bassist Tim] Surrett saluted the crowd amid raucous cheers and applause. Outside, the tall steam stacks of the paper mill signal that there's a lot more work left to do and tomorrow is new a day. 'We grew up here and we played ball here,' he said. 'We live here and we think it smells just fine here.'"
Thus, for the better part of the last 11 years, the paper mill, its residents, and the rest of the proud, blue-collar community that is Canton have become part of my everyday life, whether I realized it or not. As a journalist and Haywood County resident, I've written numerous pieces on Canton, and always with the mill in mind.
Articles on the history of the mill, with first-hand interviews from old-timers who got a job there upon returning home from active duty in World War II. Profiles on new businesses in town, with quotes always about the tenacity of the blue-collar mill town, and so forth. And features on milestone Pisgah High School football games, the stadium within sight of the mill.
As a local resident, I've befriended countless folks who either worked at the mill or currently work there. So many families whose homes I've been invited into where, at some point in the gathering, the conversation would turn to the mill — talking points being the pride of the mill, old stories and memories, or, sadly, what may or may not happen if the mill were to leave someday.
So, to receive the news on Monday, March 6, that the mill would be closing by this summer hit me, and hit hard. My heart goes out to those countless individuals who lost their jobs this week, and to those who will surely be affected by the undulating ripple effect of the closure and its damage to many aspects of Canton — economically, socially, and culturally.
The news of the Canton closure conjured vivid memories of my own hometown, the tiny Canadian Border community of Rouses Point, New York. For generations, we had a pharmaceutical company, Wyeth-Ayerst, who employed a good chunk of the town. With around 2,000 residents in Rouses Point, the plant employed upwards of 1,700 workers, many of which from surrounding farm communities.
By 2005, Wyeth-Ayerst decided to close the enormous facility (pictured). Many of my friends' parents lost their jobs, as did several people in my own family tree. The company took the jobs and work overseas, leaving Rouses Point hanging out to dry. And, since then, the plant has been demolished, this wide-swath of a facility now an empty lot on the edge of town.
Rouses Point was never the same after the demise of Wyeth-Ayerst. Aside from positions in the federal government on the border or working in the school system, there aren't many avenues of revenue in that small town. Whenever I do find myself back there by chance, it feels more like a ghost town than the once vibrant, thriving setting of my childhood and adolescent years.
The cut is deep, generations in depth, with the Canton paper mill now seemingly fading into the rearview mirror. In essence, the Town of Canton itself will be fine. We're lucky enough to live in an area that is incredibly desirable — geographically, aesthetically, recreationally. These mountains will always attract new faces and business opportunities, that's a given.
But, aside from that, it's those workers and their families that I, and everyone else in these ancient hills, are genuinely concerned about. And what about the identity of Canton? What will it look like moving forward? As an eternal optimist, I remain headstrong in the will and resolve of a community and people that I've had the utmost respect and admiration for since that warm August evening back in 2012.
There are more questions than answers at this juncture of this developing story. The coming days, weeks, months, and years will be uncertain and, perhaps, rocky for many. But, as I've seen, heard and felt over the years here in Haywood County, that push ahead with your head held high, come hell or high-water attitude of this place remains undefeated — whether it be economic downturns, a pandemic, ravaging floods, or the silencing of a century-old factory.
And, in this current state of personal reflection, I recall the Balsam Range "Grit & Grace" concert fundraiser for the folks affected by the great flood of August 2021 that overtook downtown Canton. Tens of thousands of dollars raised during a free performance at Sorrells Street Park, which was underwater just weeks earlier.
Thousands of attendees at the concert, everyone coming together for a night of nurturing live music and fellowship. As the stage emcee, I remember standing up there on the huge platform, addressing a sea of faces in the foreground, the massive mill in the background. A true sense of pride coursed through my body — as a journalist, as a Haywood County resident, but more so as a human being.
I also think of what Balsam Range bassist Tim Surrett, a Canton native, told me about the core values of the town and its people that were showcased in the wake of the flood.
"Immediately after the flood happened, people just started showing up and coming together to help each other out," Surrett said. "When something like this happens, you don't ask questions. You just grab a shovel, you know? And I love that about this community."
Leave a comment
5

comments
I grew up in Eden, NC (formerly Leaksville, Spray and Draper.) We had many rug, cotton, and garment mills that have closed in years past. Examples of these: Karastan and Fieldcrest mills. I cannot imagine who could come in and repurpose the existing mill. I do not think Evergreen would be willing to tear the mill down due to the cost. Our old mills in the Eden area are mostly sitting in ruins. There is not much left in my hometown. People moved or work in neighboring areas which is a daily commute.
I have friends that work at the paper mill. My suggestion is to get on-line and research ways to get new training or education from the comfort of your home. That was not a resource available back in the past. I would imagine our local community colleges will try to implement programs that offer new avenues of work for many people.
The way Evergreen has been secretive to its employees is disgraceful. Please tell me they will still have to pay the fines already issued to them for pollution or other infractions. Will they clean up the Pigeon River before they leave?

Monday, 03/13/2023

Interesting article hopefully other opportunities will come for the people affected.

Thursday, 03/09/2023

Thank you, Garrett, for your sensitivity! They will make it with support from you and others like you.

Wednesday, 03/08/2023

Thank you, Garrett, for your sensitivity! They will make it with support from you and others like you.

Wednesday, 03/08/2023

Love this!

Wednesday, 03/08/2023