Archived Reading Room
Books vs. the winter blues — and books win
Wednesday, March 08, 2023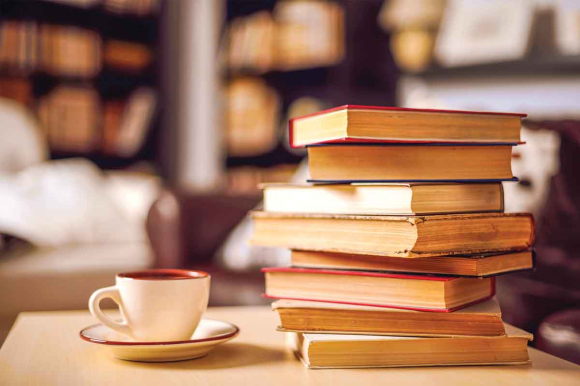 It's another one of those unremarkable winter afternoons when the outside temp is identical to the inside of my refrigerator, the sky is as gray as a friar's habit, and the wind has just enough of a whistle to sting an old man's cheeks.
It's that kind of winter afternoon where time seems to have fallen asleep, and the slow-dripping minutes suck away all ambition until we become irritable, frowsy, and disoriented, similar to that feeling children often experience after watching an entire afternoon of television, when they shove themselves off the sofa at suppertime zonked out and monosyllabic as zombies.
Such was the mood of your pathetic columnist, namely me, an hour ago. It was time to knock out another review for the SMN, and at hand were several books I'd finished that would do nicely. A week earlier, I'd polished off Mark Twain's "Is He Dead? A Comedy in Three Acts," brought back from the literary boneyard by Twain scholar Shelley Fishkin. This was followed by Marc Morano's "The Great Reset: Global Elites and the Permanent Lockdown." Eye-opening and comprehensive, yes, but not the cheeriest read on the planet. Jenny Rosenstrach's festive "How to Celebrate Everything: Recipes and Rituals for Birthdays, Holidays, Family Dinners, and Every Day In Between" is a delight, and a plenitude of photos and recipes made it a fast read, but even Rosenstrach, whose prose is as sweet and appealing as her strawberry-almond milkshakes, didn't shake off my winter doldrums.
Eventually, all three books will appear in this space, but right now my enthusiasm for writing about them is as dead as the grass on the front lawn.
Considering these titles for review turned my attention to the small blue bookshelf I've recently installed by the dining room table where I tap away on my laptop. The bottom two shelves of this rugged piece of furniture contain 32 of my own books — yes, I just counted them — and a three-inch high shelf above them offers an alcove for typing paper, several brochures, and two composition books.
On the top shelf, standing side by side, are 18 books. Stacked atop them are four more books and five DVDs. None of these items, which include the works of Messieurs Twain and Morano and Madame Rosenstrach, are mine. Over the last week or so, they've all accompanied me home courtesy of that insanely magical institution, the public library, that treasure house where a small plastic card permits patrons to carry away an armload of information and entertainment.
For whatever reason, taking stock of these borrowed riches wiped away my gloom and melancholy. It cheered me immensely to see these books, some of them already friends, some strangers, all waiting for my attention.
Now, some readers may be appalled by the number of library books I'd commandeered, however temporarily, thereby keeping them from the hands, eyes, and enjoyment of others. Some might even regard this hillock of paper and print as evidence of bibliomania, also known as lit-fit, that is, a temporary madness that strikes the unwary bibliophile turned loose in a large room with books begging to be borrowed.
Visitors to that top shelf might also find themselves boggled by its variety of subjects. Here "Safe Haven," a Nicholas Sparks romance, stands alongside Jim Trelease's "The Read-Aloud Handbook." "How to Tell a Joke"— based on the writings of the Roman orator Cicero, of all people — is bedded down with Eric Hoffer's "The True Believer: Thoughts on the Nature of Mass Movements." A new book by Bob Dylan, "The Philosophy of Modern Song," stands spine to spine with "Julie Andrews' Collection of Poems, Songs, and Lullabies" while Ryan Holiday's "Ego Is the Enemy" holds hands with Brene Brown's "The Gifts of Imperfection."
Before you put me down as greedy or book-mad, please understand that nearly all of these books are necessary for my work. At least three of them, possibly four, will appear here in the Smoky Mountain News. Others will take a bow in the articles I write for other publications. The 1938 edition of "Representative English Plays," for instance, contains Joseph Addison's "Cato," one of George Washington's favorite dramas, and I intend to write about that connection. In "Ego Is the Enemy," which I glanced at in the library, is a fascinating chapter on George C. Marshall, Chief of Staff of the U.S. Army in World War II. That topic too is fodder for my fire.
Bear in mind as well that the library keeps track of all items checked out, useful statistics when presenting a budget to some county oversight committee. One librarian once told me that homeschoolers, who make me look like a piker when it comes to the number of books carted away, are crucial to maintaining these numbers. So you could say I'm doing my bit to keep libraries alive and well.
When I was a boy, my father would on rare occasions whisk our large family off to supper at the K&W cafeteria in Winston-Salem. As we children stood in line drooling over that array of fried chicken, French fries, biscuits, vegetables, and scrumptious desserts, Dad would caution us, "Remember — don't let your eyes get bigger than your stomachs."
Sound advice, under the circumstances.
Fortunately, Dad never said anything like that about public libraries.
At any rate, just examining my library stash and writing these words has dispelled my ugly winter mood. Gone are the blues and the ennui. This evening, I'll return to "Safe Haven" — perfect for part of a Valentine's Day piece — or look through Trelease for his advice on reading to children, or see if Cicero really knew much about telling jokes.
That old Roman did know something about the important things in life. After all, he once wrote, "A room without books is like a body without a soul."
Or in this case, like a winter's day without some sunshine.
(Jeff Minick reviews books and has written four of his own: two novels, "Amanda Bell" and "Dust On Their Wings," and two works of nonfiction, "Learning As I Go" and "Movies Make the Man." This email address is being protected from spambots. You need JavaScript enabled to view it..)