Archived News
Area manufacturers, colleges could help laid-off mill workers write their next chapter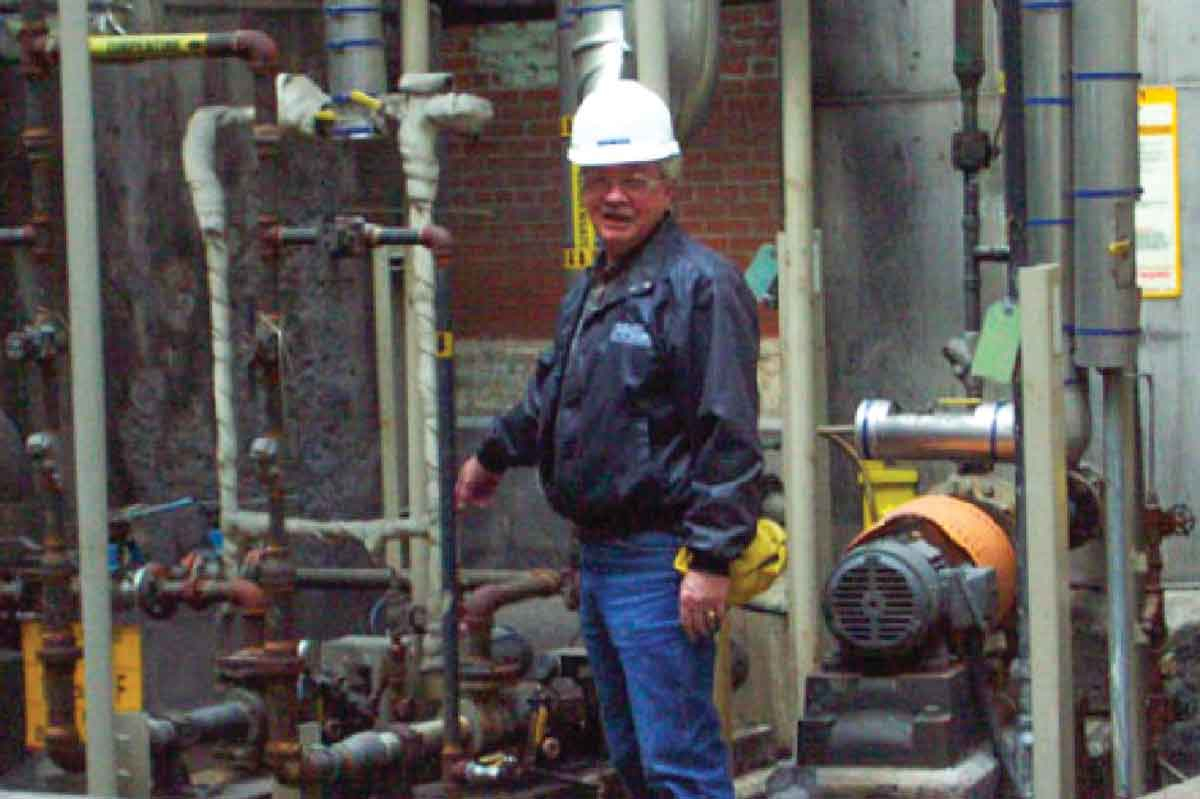 A mill worker carries out his duties. Donated photo
When the Pactiv-Evergreen packaging plant in Canton closes this spring, 1,000 people who thought they'd secured steady work to last a lifetime will be looking for new jobs.
The paper mill is hands-down the largest manufacturing employer in the region, but it's far from the only one. Additionally, community colleges are expected to make efforts to help train former mill workers for new ventures.
"We know this is a huge change, but we are confident that our county can find solutions," said Haywood County Commissioner Kevin Ensley. "Our great county staff are searching for ways to help the hard-working Evergreen employees find resources to help them make a smooth transition. This is not the first time we have lost an industry, and we will come out strong as before. We are praying for everyone involved."
Haywood County and its neighbors have several large manufacturing employers — though none has anywhere near the payroll or workforce of Evergreen Packaging. Waynesville has Giles Chemical and Sonoco, and Canton has ConMet. Over in Jackson County, Jackson Paper operates in Sylva while Pratt & Whitney is building a new aerospace manufacturing center in southern Buncombe County.
"We're interested, and we have jobs. We definitely think some of their skills would be applicable," Carr Tyndall, chief operating officer at Jackson Paper in Sylva, said of the soon-to-be-former Evergreen employees.
"We want to extend our support and empathy to the Canton community; we understand that the closure of the Evergreen Packaging mill has been a significant loss for the community," said Cataldo Perrone, communications manager for the new Pratt & Whitney facility in Asheville. "We welcome anyone affected by the closure to apply to our open positions and join our team."
The Jackson Paper and Pratt & Whitney facilities both employ significantly fewer people than the Canton paper mill — Jackson Paper has 115 employees and about six open positions, while Pratt & Whitney is looking to create 800 new jobs through 2027, with 80% of the nearly 200 employees hired to date coming from the local area. Between its Canton and Waynesville facilities, Evergreen employs about 1,100 people.
Tyndall expressed his deep sympathy for the sudden news in Canton, and while he said Jackson Paper would welcome former Evergreen employees to its ranks, he urged Canton paper mill workers to pause and think through their options before sending in their applications.
SEE ALSO: Canton mill's closing means uncertainty for county, region
"It costs us a lot to get a worker and train them, and we don't want somebody doing something out of desperation," he said. "Right now, I know it's a big blow to them, but they've got to go through a good bit between now and when the plant closes."
Employees will receive severance pay equal to one week for each consecutive year with the company, and further bargaining with the labor union could also impact compensation. Unemployed former mill workers may also be eligible for government assistance. Workers will need to weigh whether quitting early, and possibly missing out on severance pay and other compensation, is in their best interest.
Plus, Tyndall said, they may wish to take some vacation time before leaping into a new job. At Jackson Paper, new employees are considered temporary for the first 90 days and can't take vacation for the first month.
The company is loyal to its employees, Tyndall said, and new workers — even those with years of paper mill experience — will start at the bottom. Entry-level positions pay $19 per hour, which translates to about $40,000 per year. Workers also receive health insurance, paid time off and 401k matches. In April 2021, Evergreen said it employed 1,100 people in Haywood County with an annual payroll of $95 million, implying an average salary and benefits package totaling $86,000.
However, Tyndall said, more senior employees can make around $30 per hour at Jackson Paper, and there is opportunity to move through the ranks relatively quickly.
"We've been shorthanded for the last couple of years, so employees have come here and within a couple of years moved up pretty far in what we call line of progression and been able to work on some of the higher-level jobs," he said.
Unlike Evergreen, which uses fresh wood chips to make new paper, the Sylva plant makes paper from old corrugated cardboard boxes. Positions at Evergreen that revolve around cooking and digesting wood chips don't exist in Sylva, but many positions and skills are transferable.
Meanwhile, the casting foundry and airfoil production facility at Pratt & Whitney relies on entirely different processes than the Canton paper mill. Regardless, former mill workers may well find a home there.
"We recognize that while there may be differences in processes, equipment and operations between the two facilities, we believe that the skills and experiences gained from working in a manufacturing environment can be transferable and valuable in any similar setting," Perrone said.
Open positions include managers, engineers, technicians, operators, supervisors and shop floor positions. The company trains workers in-house after a position has been offered, and a partnership with AB Tech is allowing workers to prepare for employment before even applying. In February, the community college's Advanced Manufacturing Center launched the first classes in its free Pratt & Whitey Fast Track training program, which aims to put locals on the path to full-time employment, with benefits, in aerospace manufacturing. The program will offer additional opportunities in the near future.
Closer to home, Haywood Community College is reportedly considering how it can help former mill workers step into the next chapter of their lives. Haywood County Commissioners Kevin Ensley and Tommy Long said they spoke to HCC President Shelley White the morning after the mill closure was announced, and that White wants to help any way she can. White did not immediately respond to a request for comment.
"Even AB Tech and Southwestern [Community College] can help," Ensley said. "The strength of our community colleges is to help during times like this."
Additionally, there might be state funding available to help laid-off workers make ends meet while they're taking classes.
"We're going to go after that," Long said.
Rep. Mark Pless (R-Haywood) is currently in Raleigh and said he's investigating whether any such programs are available. Pless's father was employed at Dayco in Waynesville, and he remembers workforce retraining opportunities being available when that plant shut down in 1996.
"That's what I'm doing today is figuring out what's going to be available," he said March 7. "Hopefully by the end of the week I can come home and have some answers."
Pless said it's imperative to find solutions that will allow people to continue to live and work in Haywood County — though for a period of time, former mill workers may need to seek employment across county lines. Haywood County still has property available for development at its industrial complex in Beaverdam that could potentially be enticing for other companies.
"There's always opportunities to attract [new manufacturers]," he said. "We're going to work hard over the next year to be at the table with folks looking to relocate."
News editor Kyle Perrotti contributed to this report.
Leave a comment
2

comments
Someone should be reporting on the added security measures- armed, hired thugs who are security - harassing workers as they go in and out. Extra cameras. It's almost like cowards up top are afraid some good ol' boys might stomp 'em. Pactiv has intentionally avoided repairs & drove the equipment into the ground for the last 2 years. Corporate greed will once again cost regular folks. I bet every higher up leaves with a golden parachute package tho!!

Wednesday, 03/08/2023

Why are the workers going to do and helping them land on their feet is the the first priority and it looks like the tools, organization and people to make that happen are lining up reasonably well. I do have a concern about the mill itself and would like to understand how the shutting down, will be orchestrated. The environmental impacts of the shutdown, of the disassembled equipment and transferring of the materials to other plants or to recycle facilities. Does the company have a plan that won't just abandon the whole thing and leave it to the community they are leaving.

Wednesday, 03/08/2023