Archived News
Suit against district attorney challenging Giglio order dismissed
Tuesday, February 28, 2023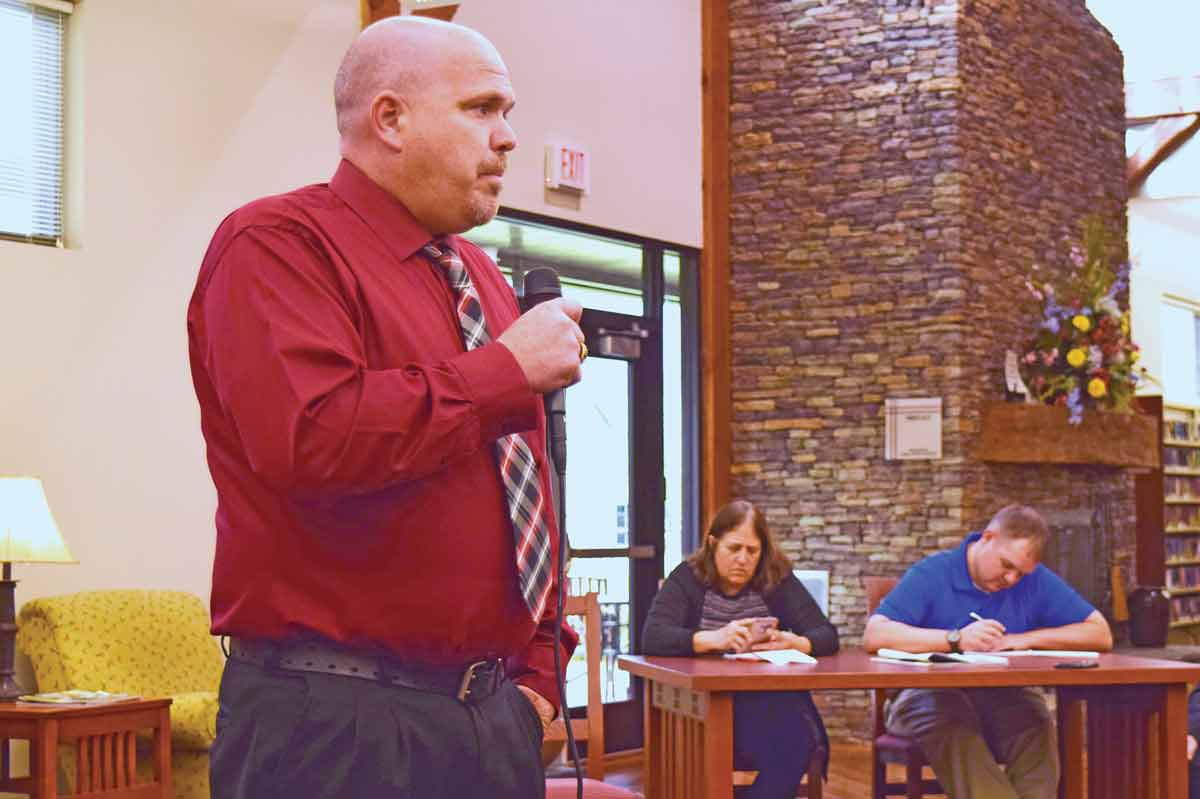 Eric Giles speaks at a candidate forum in 2018 when he ran for Macon County sheriff. File photo
A lawsuit filed by a former deputy against District Attorney Ashley Welch and Assistant District Attorney John Hindsman has been entirely dismissed.
The suit, filed by Eric Giles, a former deputy in Cherokee, Graham, Clay and Macon counties, claimed that a Giglio order issued by Welch's office violated his constitutional rights — specifically his rights to free speech, due process and equal protection.
A Giglio order is issued by a prosecutor when it is determined a law enforcement officer has a severe enough integrity or reliability issue that their character can be impeached should they have to testify in court. Because such testimony is vital to the job, a Giglio order essentially puts an end to that officer's career.
"In compliance with our procedures, prosecutors in our office recently reviewed materials and information in our possession regarding substantial violations," the letter from Welch's office to Giles reads. "Unfortunately, in a review of these materials and information, the findings of the committee revealed that on more than one occasion you misrepresented your duties as a law enforcement officer in your employment with both the Clay and Cherokee County Sheriff's Office in public forums."
Giles filed the suit on Aug. 27, 2021, in Clay County Superior Court. He then filed a lawsuit in September 2021 in federal court against Welch and Hindsman individually and in their official capacity with the District Attorney's Office.
"Plaintiff Giles can no longer obtain employment as a certified law enforcement officer in North Carolina as a result of the 'Giglio letters' issued by the Defendants," the suit read.
Not long after the Giglio order was issued on Aug. 28, 2018, Giles was placed on leave by former Cherokee County Sheriff Derrick Palmer, for whom he worked at that time, so that an internal investigation could be completed. In short order, he was reinstated and said it was because Welch failed to provide evidence for Palmer's investigation.
"I went back to work about two weeks ago — the chief deputy called me and told me to stop being lazy and get back to work," Giles said in a Smoky Mountain News story from that time. "And I'm back on full-time patrol duty — I'm not in courthouse security or behind a desk somewhere."
However, within months, Giles was placed on bailiff duty and then became a detention officer.
For her part, at that time, Welch said the Giglio order would stand and that she didn't intend to withdraw it, adding that evidence wasn't provided to Palmer based on a threat of litigation from Giles and his attorney Zeyland G. McKinney Jr. of Murphy.
"My intent was always to reply, but before I got a chance, I received a nasty letter from Giles' attorney that caused me concern. Based on his accusations and tone it was very apparent to me I needed to see an attorney," Welch said. "At the advice of counsel, I didn't respond."
The Giglio order was issued based on allegations that Giles misrepresented his law enforcement duties while running as a Democratic candidate for Macon County Sheriff. In March 2018, Giles took part in a candidate forum, where he stated he worked at four different agencies and had been a member of the drug task force in Cherokee County. However, the complaint states that Giles misspoke and was a member of the drug task force in Graham County and not Cherokee.
The initial suit noted that then Macon County News reporter Brittney Lofthouse — who helped moderate the forum — accused Giles on social media May 9 of lying about being on that task force, in addition to claiming his statement that he was a victim advocate when he was employed by Clay County Sheriff's Office was false.
"Therefore Brittany (sic) Burns Lofthouse circulated untruthful rumors about Plaintiff Giles having affairs with young women when he worked in Graham County and in Clay County," the lawsuit states.
There were also allegations against Giles that involved a potentially inappropriate relationship with a high school student. While Giles has maintained he resigned from his deputy position with Graham County Sheriff on good terms, information from the Graham County human resources department said otherwise. According to a 2014 memo to county commissioners, Giles had applied for unemployment benefits, and the county denied his request because of behavior unbecoming of an officer.
According to the high school principal at the time, David Matheson, Giles used his county-issued key to enter the high school weight room at 3:20 a.m. along with a female, and they departed the building at 4:10 a.m. They perhaps would have never been caught were it not for school officials trying to figure out who'd left some kind of mess in a locker room.
"Sheriff Mickey Anderson stated that [Giles] would not be eligible to sign up (for benefits) due to he was on duty at the time that he entered the weight room with a civilian," Board Clerk Kim Crisp stated in the memo. "Sheriff Anderson stated that his conduct was not acceptable to his standards and was negligent in his duties."
SMN spoke with the former student around that time. She stated that nothing inappropriate happened and that Giles was simply offering her support and advice during a tough time in her life.
Before ever filing suit, McKinney responded to the Giglio Order by sending a letter to the DA's office on Sept. 26, 2018, that included about 40 pages of campaign finance reports showing Welch's contributions to Giles' opponent — incumbent Sheriff Robert Holland — and Holland's contributions to Welch's campaign.
According to campaign contribution records, Welch did donate $1,000 to Holland's campaign for re-election.
Holland would go on to win that election before recently retiring at the end of that term in 2022.
In his letter addressed to Hindsman, McKinney stated that the DA's office made no effort to contact his client regarding the allegations of "ethical or moral" breaches that would disqualify him from testifying in court.
"It seems to me that due process, at a minimum, requires you to give my client an opportunity to be heard prior to making a decision to disqualify him from testifying in criminal proceedings," the letter read. "Your actions, unless remedied, will likely bring an end to my client's law enforcement career. It is disheartening to know that you and Ashley Welch have such little regard for fair play and substantial justice that you did not give my client an opportunity to rebut whatever allegations have been made against him …."
McKinney ultimately accused the DA's office of misusing its power and interfering with an election campaign in addition to requesting the Giglio order be rescinded.
"Your boss, Ashley Welch, has openly supported Sheriff Holland in the campaign for Sheriff of Macon County and has donated $1,000 to his re-election campaign," he wrote to Hindsman.
Similarly, Giles' suit also accused Lofthouse of having conflicts of interest, including being married to a Macon County Sheriff's Deputy and the fact that she worked for the DA's office under Welch.
The defendants claimed it was their duty to send the letter based on the decision in Giglio v. United States, but Giles claimed the reasons for sending the letter were not reasonably related to the defendants' function as prosecutors.
"The Defendants gave the Plaintiff no meaningful opportunity to be heard or to present evidence on his behalf prior to sending the 'Palmer Giglio letter' to the Plaintiff's employer," the complaint reads with regard to the perceived violation of Giles' constitutional right to due process.
While Giles was represented by McKinney, Welch and Hindsman were represented by Kathryn H. Shields, special deputy attorney general with the North Carolina Department of Justice under Attorney General Josh Stein.
In the defendants' request to dismiss the suit, Shields presented a number of individual, specific arguments, including one that states that "absolute prosecutorial immunity" bars Giles from any claims for monetary relief.
On June 6 of this year, Chief U.S. District Judge Martin Reidinger issued an order that, in part, dismissed Giles' suit. Following that order, the only part of the suit still in play was the one that sought injunctive relief based on a violation of Giles' First Amendment Rights.
The defense provided a response to claims of the First Amendment violation, arguing that Welch and Hindsman were entitled to the immunity provided by the Eleventh Amendment, as well as prosecutorial discretion.
"The Judicial power of the United States shall not be construed to extend to any suit in law or equity, commenced or prosecuted against one of the United States by Citizens of another State, or by Citizens or Subjects of any Foreign State," that amendment reads.
After several more months of back-and-forth, including mediation, on Feb. 17, Giles and McKinney submitted a "Voluntary Dismissal Without Prejudice," which put an end to the case — a case that may serve as a bellwether for similar civil challenges to Giglio orders.