Archived Arts & Entertainment
'We are still here': Indigenous Walls Project sparks social dialogue
Wednesday, February 22, 2023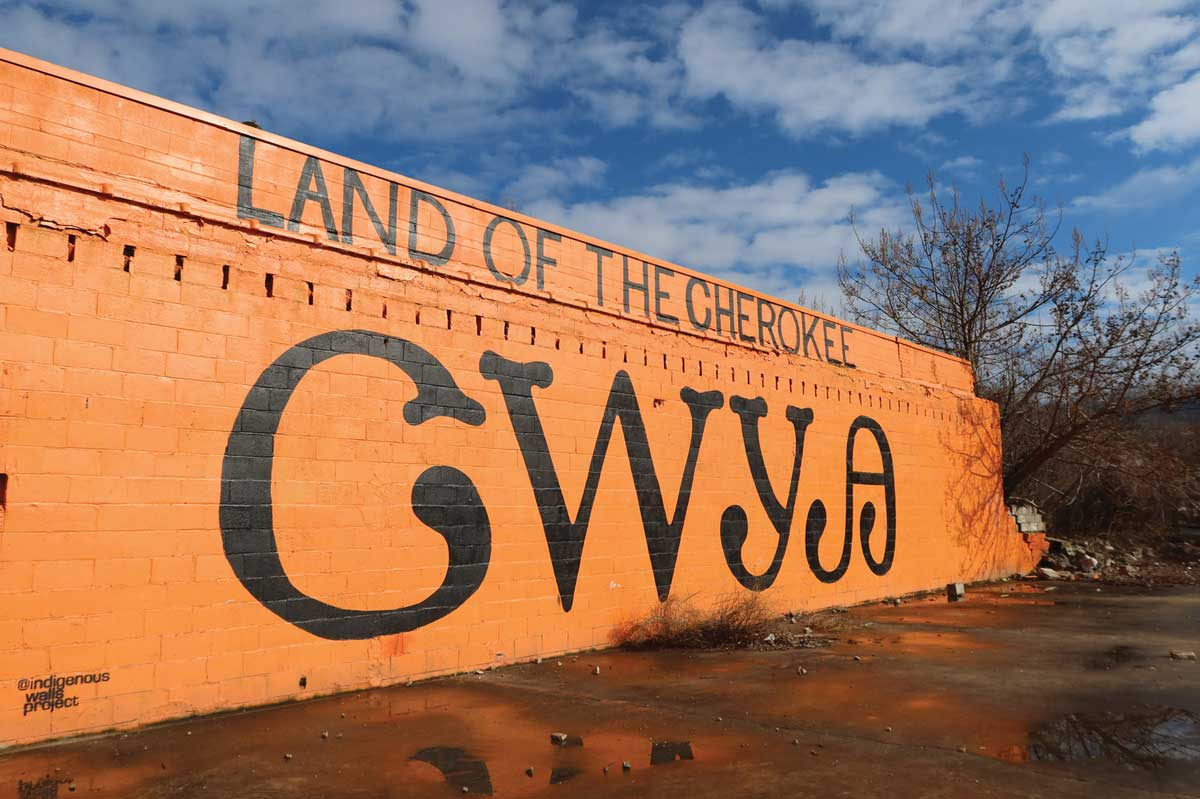 The human condition frequently subjects us to the lie that every experience we face daily is also what every other person is experiencing, causing a state of willful blindness to our fellow man. Then one day, someone comes along with a spark that claims, "I've got this idea," and it catches on like wildfire in the eyes of everyone who witnesses it.
When walking around Asheville, you can see that spark in tangible form through the street art and murals of a local art movement known as the Indigenous Walls Project. There are over 15,000 square feet of murals and graffiti scattered throughout the city from Native artists represented by 10 diverse nations, conveying a similar message — "We are still here, and you are on Native land."
"Land" is a word that Jared Wheatley of the Cherokee Nation stresses is the primary focus of this project. Wheatley is the founder of the IWP, a local activist and founder/key contributor to the "Outsiders Podcast" as well as the owner of Wheatley Construction and Epatage Workwear. On its surface, the IWP is a local street art movement, showcasing a Native artist whose work encompasses all forms displaying their indigeneity and personal messages. However, just below the surface, is where the heart and life of the movement is — "Land Back" and Native sovereignty.
What is "Land Back"? Most have never heard this phrase and those who have can oftentimes misunderstand the objective of the movement and reject it together. Simply put, "Land Back" challenges non-Natives to assist in repairing the damage and exploitation that colonialism and capitalism have inflicted on Indigenous communities.
"Land Back" can be achieved by reinstating and returning ancestral territories to those who have managed and maintained the lands for thousands of years. This can be presented in many forms such as land return, control or co-management of public lands to indigenous communities, and land transfers.
Some folks misunderstand the movement as a demand for current residents to pick up and flee their homes, which is not the case. "Land Back" shows that Native governance is achievable, ecologically preferable and long-term will sustain a more positive impact on public lands.
Since the conception of the Indigenous Walls Project last April, Asheville has experienced a large influx of public wall space detected to Native murals that Wheatley and his partners have acquired through their various work and community connections — to use those public spaces to provoke thought and get the hard conversation started about native sovereignty and other related issues.
Nex Wheatley (Cherokee Nation) working on her mural at the IWP Open Air Gallery in Asheville. Breanna Delannoy photo
In 2022, Wheatley, the IWP, as well as other local business owners, were able to utilize street art, food, intertribal markets, films and open community discussions to successfully catch the eyes and ears of locals and visitors alike. In this coming year Wheatley, his two children and others attached to this project plan to explore more judicial aspects of this movement and the requirements for the return of indigenous lands back to the communities they belong to.
In addition, Wheatley hopes to expand this movement to other cities, continue to integrate art, talk with other organizations to arrange events and future "Graffiti Jams" and involve the younger generations in this vital form of activism. Wheatleys' oldest child, Nex, has already started to take that involvement to heart and added their own awe-inspiring piece to the ever-growing mural gallery situated in Asheville's South Slope.
Seeing the younger generation's involvement to bring change and awareness imparts a bit of hope that the youth will be alright, and when given a platform — or a wall — to amplify their voices, they'll continue on the significant work for generations to come.
Want to know more?
To learn more about the Indigenous Walls Project, and to stay updated on the project as it continues to develop, visit indigenouswallsproject.com or follow the organization on Instagram at @IndigenousWallsProject.