Archived Reading Room
Frozen: A review of 'The Memoirs of Stockholm Sven'
Wednesday, February 22, 2023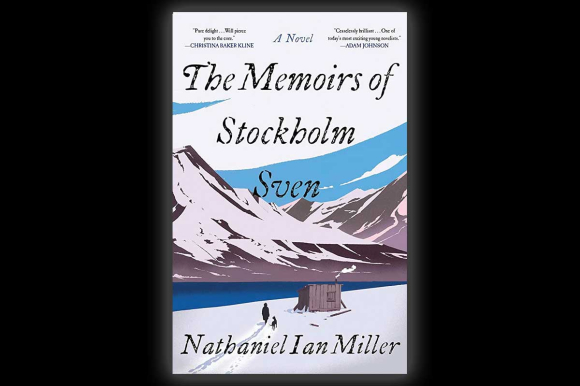 One way to enjoy winter is to read about someone who lives north of the Arctic Circle. It's never going to be that cold here, is the idea.
I was intrigued by the very snowy cover of "The Memoirs of Stockholm Sven" (Back Bay Books, 2022, 336 pages) when I saw it on the "Staff Picks" shelf of local Blue Ridge Books in Waynesville. Seeing it identified as "Jo's pick" by the bookmark sticking up, I took the book and waved it at Jo, who happened to be manning the counter 6 feet away. "What's this?" She looked and laughed and answered that it wasn't a book she would have chosen to read on her own, but that a sales rep had urged her to give it a try. Obviously, she had liked it.
It's a novel, and the back cover gives the encouraging information that author Nathaniel Ian Miller spent some time in the far North, meaning that he could base some of his writing on actual experience. Also, the back tells us, this novel wants to make the point that humans, no matter where they live, are "not beyond the reach of love." Good sell. I am not up for hopelessness these days. I bought the book.
Believe me, things don't look all that promising at the beginning. We meet Sven, telling his own story, when he is at his unhappiest. He lives by himself in Stockholm, working and getting fired from a succession of menial factory jobs, each one of which he hates. He has no friends except his younger sister Olga, and yet despite his true feelings of love for her, is acting increasingly unkind to her. She tries to continue their previous close relationship. He responds with coldness.
His books are a comfort, or at least an escape. They are all concerned with one subject only — life in the Arctic. Even his reading, though, is tainted in this unhappy time. He reads "with a singular, sweaty focus, like an addict reunited with his vice after too long a separation."
What changes everything is his mother's mention, casual on the surface but full of what Sven recognizes as desperation, that sister Olga has stopped taking care of herself. He immediately moves in with her and begins to help raise her two young children. None of this is sappy. He says this of the children: "They learned how stubborn I could be, and I learned how stubborn they could be." But, as you can guess, he begins to open up. Years pass.
Change must come again when the younger of the two children goes to school, and that's when Sven makes it to the archipelago of Svalbard above the Arctic Circle, signing a 2-year contract with a mining company. It looks for a while that things might be bad all over again. The mining job is demanding and dangerous, and Sven feels no desire to join the after-shift camaraderie of his fellow workers. "There was nowhere to go but a cold empty barracks, a thin mattress on a squeaking cot, a guttering tallow stub, and no books but the precious few I'd brought and read again and again until the pages fell out."
But then ….
Here is where the fun seeps in. Warm and lively characters make their appearances, and adventures follow, though nothing fantastic or sentimental. We know these people, whether in real life or fiction, like the Scotsman Charles MacIntyre, or the Finnish trapper Tapio, and the others, including a few women. There is great conversation, oh so welcome, and even humor. Tapio, a socialist, a man with a subtle comic intensity, "spent a great deal of time articulating the myriad ways in which one socialist could differ from another …" ("Myriad ways," isn't this the truth of every ideology!) New places as well are brought to life with well-informed and interesting writing. How does one live in the Arctic? We find out.
Two big events play important but admirably restrained roles here. The first is the mine shaft collapse that nearly kills Sven and does disfigure his face. The second is the Great War. Sven gets to Svalbard in 1916, in the middle of what we know as World War I. There is a lot for the reader to muse upon with both of these two happenings, beyond what each does to move the plot along, beyond Sven's personal thoughts about them. A good writer does not spell out everything.
I always hold my breath a little as I get near the ending of a book I am enjoying. Will the ending ruin it for me? Not in this case. It's surprising and it's one of my favorites.
In all ways, I'm grateful to Jo for steering me to a modern novel that I like. That's no mean feat. Blue Ridge Books is a delightful place with a friendly staff in one of the best little spots around, the Hazelwood section of Waynesville. And I might just start a new shelf at home for my "winter books." This is one I'll keep.
(Anne Bevilacqua is a book lover who lives in Haywood County. This email address is being protected from spambots. You need JavaScript enabled to view it..)