Archived Outdoors
Holding court: Pickleball grows 
in popularity 

Wednesday, February 15, 2023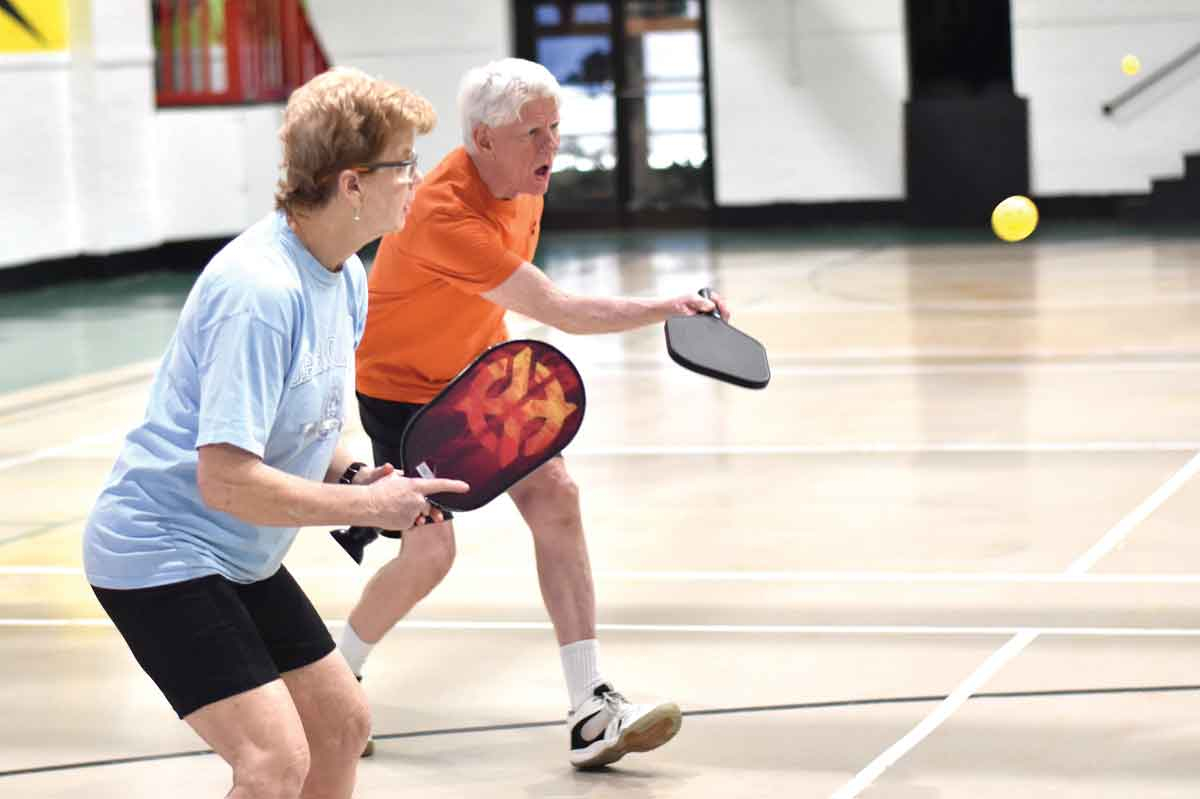 Players return a volley during a pickleball game at the Old Armory in Waynesville. Holly Kays photos
It's 4 p.m. on Thursday, which for a growing subset of Haywood County residents means only one thing — it's time to play pickleball.
"So many people converge on the place, we try to get here early so we can play before everybody gets here," says Maggie Valley resident Victoria Cowles, 66, after finishing the first game of the evening Feb. 9. "Because then we have to rotate out."
In a couple of hours, she said, all three courts will be full, with benches of people waiting their turn to play. Cowles and her husband T.J., also 66, are at the Old Armory in Waynesville as soon as the courts open, playing doubles with some folks they're used to seeing on the pickleball court. It's a social sport, which is part of why they love it so much.
"I didn't know any of these people before a year ago," says Jane Lee, 65.
"And now we know like 30 new people," says Cowles, finishing the thought. "Seriously, it's a way to get to know people. And we do things outside of pickleball."
The game is "addictive," she says — T.J. had already played three hours of pickleball that morning before returning for afternoon play, and he's typically on the court 15 hours a week. It's fun, and easy on the body compared to similar sports like tennis.
"It's a game that everybody can play," says T.J., adding, "You want to give it a try?"
He hands over an extra paddle, and I join Maggie Valley resident Alyson Wells, 49, for an impromptu session of Pickleball 101. The ball must bounce in the first two volleys after a serve. Hold the paddle
perpendicular to the ground like a hammer to make it easier to respond when the ball arrives. First one to score 11 points wins.
I miss the first several hits completely and feel slightly embarrassed about standing on a court with three other people who spend hours a day perfecting their game. But with a couple of pointers from Wells and a few more minutes of practice, I'm making my serves and returning the ball. Scurrying around the court, which is one-quarter the size of a tennis court, gets me warm but not sweaty in my jeans and long sleeves.
I'm starting to see the appeal.
Pickleball night at the Old Armory typically attracts well over a dozen players.
Trending up
So are a growing number of people — both in Western North Carolina and across the nation.
The latest Outdoor Industry Association Outdoor Participation Trends Report, which monitors interest in 122 sports and outdoor activities, names pickleball the country's fastest-growing activity — since the report first included pickleball in 2014, participation has nearly doubled. In 2021, an estimated 4.82 million people reported playing it at least once, the report found — a 14.8% jump since 2020 and a 39.3% increase since 2019.
Other sources put the total number of players even higher. A new report from the Association of Pickleball Professionals shows that 14% of adult Americans — 36.5 million people — played pickleball at least once between August 2021 and August 2022. Of those players, 45% said they plan to play pickleball more often over the next six months than in the previous six-month period.
"The sport is really growing like crazy, like no sport has grown in a long, long time," said Brandon Mackie, co-founder of Pickleheads, which bills itself as a "digital home" for pickleball.
Mackie believes the sport's appeal has to do with its low barrier to entry and function as a social outlet.
"It's a very gentle learning curve, so folks can go out their first time, have fun, even win games. And that's just not true of sports like golf or tennis that could require months of lessons and practice to get the point where you're enjoying the sport," he said, adding, "But at the same time, it's a hard sport to master. People don't just get bored of it. There's competitive play at the highest levels."
Pickleball has traditionally appealed mainly to older players looking for low-impact ways to stay active. But the average age of pickleball players is dropping. In 2021, players under 24 were the fastest-growing age group, increasing 21% compared to 10% for players 55 and older, according to the Pickleheads website citing the SFIA Single Sport Participation Report on Pickleball.
Mackie links the growth in younger players to fallout from the pandemic.
"The dates for the pandemic is pretty well correlated with the rise of pickleball, especially among young people," he said. "If you think about a lot of the folks that were trapped inside during lockdown and whatnot, pickleball I think was a really important outlet for people to be able to go out and socialize responsibly."
Because the courts are so much smaller than tennis courts, it's easier to have a casual conversation during gameplay, and more people can use any given space at the same time. It's the perfect recipe for making and maintaining friendships while keeping a safe distance. As younger people discovered the sport, they also began to share it on social media, further amplifying its reach. The #pickleball hashtag on Instagram has nearly 415,000 posts.
"Now even though the lockdown has kind of run its course, we're kind of going back to normal, people haven't stopped playing," Mackie said. "They stuck with it. They've seen how much fun it is and how important it is to their friend group."
T.J. Cowles watches the ball he's just hit sail toward the net.
Demand for facilities
Luke Kinsland, director of Waynesville Parks and Recreation Department, said that pickleball has "catapulted pretty big" locally over the past five to six years. As more people have flocked the sport, they've begun demanding better facilities and more hours to play.
"They're a big, passionate group," he said, "We're trying to harness it the best we can."
Currently, the Waynesville Recreation Center offers pickleball classes 9 a.m. to noon Monday and Wednesday, and the department hosts dozens of hours of open play at two different locations. The Old Armory is open for play 7 a.m. to noon Monday through Saturday as well as 4-8 p.m. Tuesday and Thursday. While the schedule varies at the rec center, Kinsland said there's typically around 40 hours of opportunity there.
But even that isn't enough to meet demand. Cowles said it's not unusual to have 12 people playing at the Old Armory and another dozen sitting on the benches against the back of the room, waiting for a court to open.
"We need permanent facilities, we really do," Wells said as she got ready to play Feb. 9.
The Old Armory works alright for pickleball, she said, but the rafters crisscrossing the high ceilings frustrate any hits that fly too far vertically. And because the courts are temporary, sometimes they disappear when some other event eclipses regular pickleball hours.
"When that schedule changes, they are so passionate about pickleball that they do like it if you change the schedule on them," Kinsland said.
Kinsland isn't sure it makes sense to put money into pickleball-specific courts when the department is already able to offer so many hours of play with its current facilities. The department's master plan, completed in 2017, doesn't call for dedicated pickleball facilities.
"But honestly, that could change," Kinsland said. "We may be updating the master plan in the next few years, and when we do that there may be a public input meeting that has an enormous demand for pickleball, and that will go into consideration for the master plan."
While permanent facilities are likely a ways off for Waynesville Parks and Recreation, new courts are on the way in Waynesville. Haywood County Recreation and Parks has budgeted $345,000 to build six outdoor courts at Allens Creek Park, anticipated for completion in spring 2024. Pickleball equipment is being installed at Canton Recreation Park.
Courts are popping up across the region, in fact. There are pickleball opportunities at Lake Junaluska, Sylva, Cashiers, Franklin and Highlands, as well — and enthusiasts don't see demand slacking anytime soon.
"It's just a great sport," Well said. "It just opens up community. It supports community, getting involved and getting to know people. It's hard to explain."
Where to play
As its popularity increases, so do the opportunities to play pickleball. To find a nearby court, visit playtimescheduler.com or pickleheads.com, or call your local recreation department.

Leave a comment
1

comment
The hyperlink listed for playtimescheduler.com misspells the url link.
Although it appears to be spelled correctly in the hyperlink, it actually is missing the "d" in scheduler in the web link.

Tuesday, 02/21/2023