Archived Outdoors
Notes from a plant nerd: Winter moss gathers no stones
Wednesday, February 15, 2023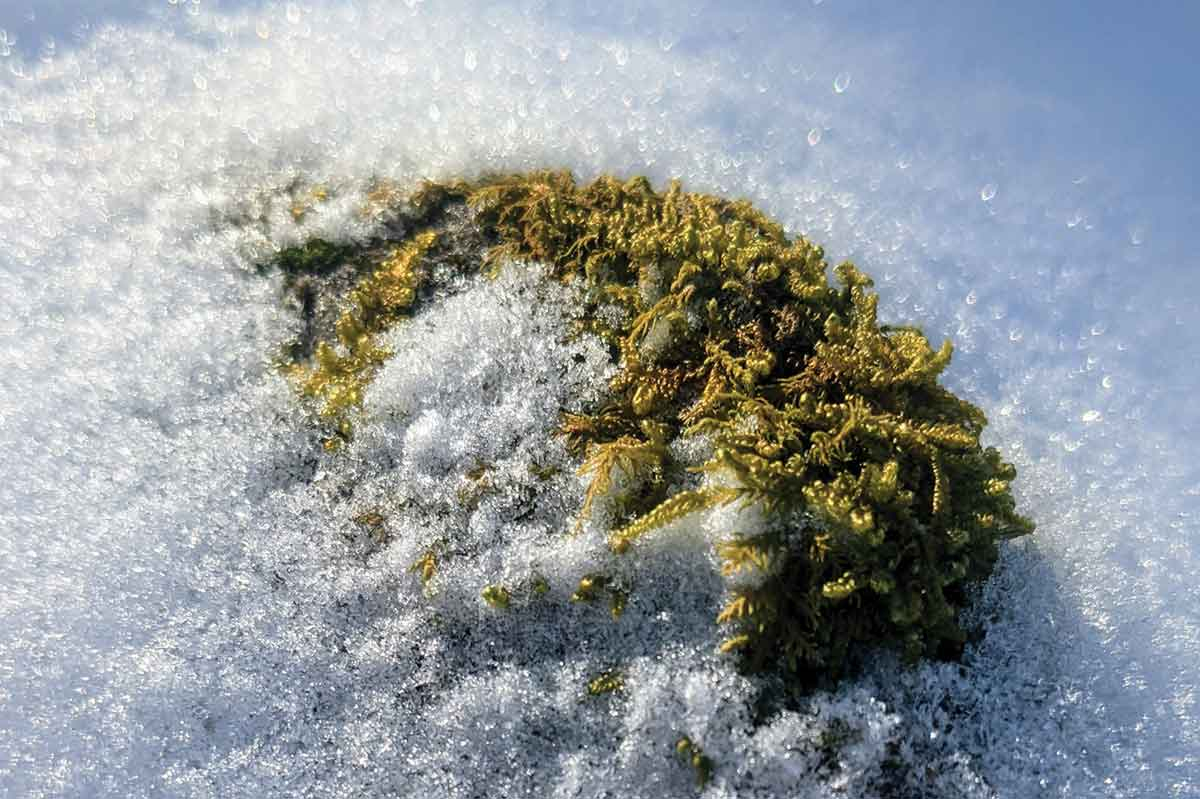 Green moss peeks through a winter dusting. Donated photo
Among my favorite types of plants that grow year-round, and tend to especially shine in the wintertime, are mosses.
Mosses are incredibly beautiful and incredibly diverse members of the plant kingdom that tend to get a short shrift from people who either don't notice them at all or think that they only indicate a problem. And that is too bad, for while they certainly are short, they are also beautiful and as deserving of study and attention as any tree or wildflower.
Mosses are non-vascular plants, which means that unlike flowering plants, shrubs and trees, mosses and other non-vascular plants like liverworts, hornworts and algae do not have specialized cells that can be used to carry water and mineral nutrients upwards into plant tissues and can't transport sugar and carbohydrates down into the roots. In fact, mosses don't even have roots that grow into the soil, wood or rocks that they grow on. Rather, mosses attach themselves to their growing medium by way of small, thin, root-like structures called rhizoids that produce acids and glues that help them stick to the growing surface.
Mosses also differ from other plants in their reproductive method. They don't produce flowers, pollen, seeds or fruits but rather reproduce by spores, similar to ferns and mushrooms, and rely mostly on the wind to disperse and spread the spores. The spores are produced in a structure called a sporophyte that sticks up above the moss leaves and aids in dispersal by being higher than the surrounding moss to help catch the wind upon release. Mosses can also increase their spread and grow into new locations when pieces of moss dislodge, or fragment, from the colony and find a new home to begin growing.
Studying mosses and learning their names and how to differentiate the different species is a challenging skill that involves the use of magnifiers like jeweler's loupes, and microscopes. You can learn a lot about different mosses through a few different resources like books, workshops and websites. One of the best resources in the world for learning moss just happens to be the local expert Annie Martin of Mountain Moss Enterprises based in Brevard. Mossin' Annie, as she is known, is the author of "The Magical World of Moss Gardening" the seminal book on moss gardening and propagation. She also maintains a great website, mountainmoss.com, that can be used to help identify mosses, and you can even purchase mosses there to use in your own garden or moss lawn creations.
And speaking of moss lawns, another friend I have in the moss world is Paul Moore, aka "The Moss Man" who has a beautiful and low-maintenance moss lawn at his home outside of Nashville, Tennessee. This lawn is green and growing all year-round and is a great eco-friendly replacement for a traditional grass lawn. Moss lawns require no fertilizing, and the minimal maintenance includes hand-pulling small weeds, removing leaves in the fall, and the occasional watering in dry times if you want to "green" it back up. Paul's moss lawn is so beautiful, it has been featured in Southern Living, among other publications.
If you want to get really deep into the world of moss, I encourage you to find and read a most beautiful book by Robin Wall Kimmerer, Ph.D., called "Gathering Moss, a Natural and Cultural History of Mosses." Kimmerer is not only a botanist and educator at the State University of New York but is a member of the Citizen Potawatomi Nation and a beautifully poetic writer and essayist.
I encourage you, on your winter walks in the woods, to slow down and spend some time in the sublime smallness of moss. For as Kimmerer says in her book, "Mosses and other small beings issue an invitation to dwell for a time right at the limits of ordinary perception. All it requires of us is attentiveness. Look in a certain way and a whole new world can be revealed." A whole new world, indeed.
(Adam Bigelow lives in Cullowhee and leads weekly wildflower walks and ecotours through Bigelow's Botanical Excursions. This email address is being protected from spambots. You need JavaScript enabled to view it..)
Leave a comment
2

comments
Adam,
Thanks for the Shout Out! Great article!

Monday, 02/20/2023

Thank you for mentioning Robin's book! She brings out the sheer magic of moss.

Monday, 02/20/2023