Archived Opinion
Building a community that's resilient to climate change
Wednesday, February 15, 2023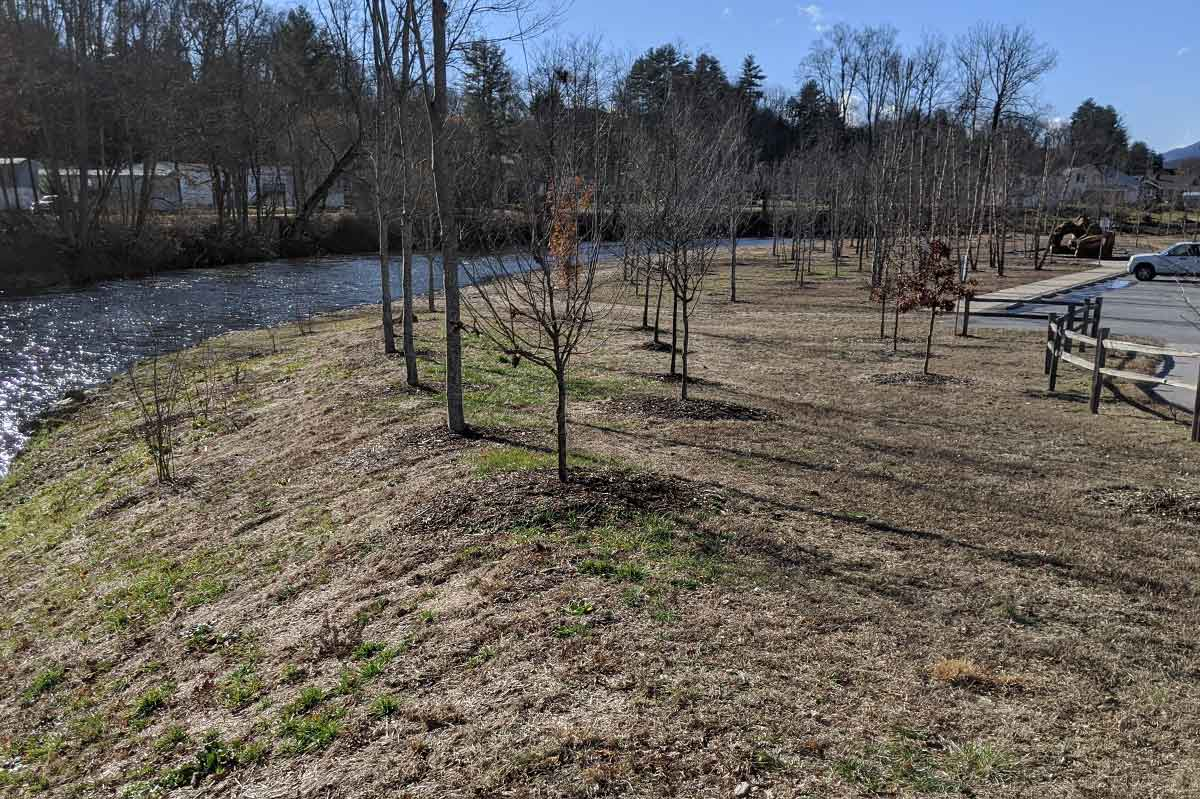 On April 17, 2021, volunteers from Haywood Waterways, Haywood Community College, Climate Action Coalition, and others, gathered at River's Edge Park in Clyde. Our job was to plant native species of deep-rooted trees and shrubs to stabilize the banks of the Pigeon River. There was a sense of urgency. When the job was done and over 40 specimens were planted, the group gathered together to share some thoughts.
Unknown to some, it was explained that in September 2004 the entire area, and much of Clyde, was under water. Hurricanes Ivan and Frances had dumped 22 inches of rain onto Haywood County. The Pigeon River had jumped its banks. These two storms took over 90 lives moving across the southern U.S., causing more than $20 billion in damage.
The 2004 floods were called 100-year events, but folks doubted that it would be 100 years before the next weather disaster. The Town of Clyde made a bold decision, and with federal and state assistance, River's Edge Park was designed to create a "safety valve" for Clyde should the Pigeon River jump its banks again.
On August 17, 2021, four months to the day after the repair work at the River's Edge Park, Hurricane Fred arrived with 16 inches of rain. Hundreds of homes in Haywood County were damaged and six lives were lost as the Pigeon River once again rampaged. But the Town of Clyde suffered far less than in 2004. River's Edge Park had done its job.
As is traditional in Haywood County, hundreds of volunteers quickly joined together to aid in the recovery. Barely a month after the disaster, a group of citizens met to discuss the need to prepare for future climate challenges. A series of discussions over the next few months included Haywood Waterways, Southern Appalachian Highland Conservancy, N.C. Land and Water, Haywood County Soil and Water, Climate Action Coalition and others.
Work with the Land and Water Fund in Raleigh resulted in a successful grant application for $200,000. Administered by Haywood Waterways, this "planning grant" will allow engineering expertise to analyze the situation in the Pigeon River and Hominy Creek areas. A goal is to propose "shovel-ready" projects — some perhaps along the lines of the Clyde River's Edge Park — to prevent the kind of destruction experienced in 2004 and 2021. This planning grant puts Haywood County in position towards the goal of winning several million dollars of funds already allocated for flood relief.
Rep. Chuck Edwards — the newly elected congressman for our district — recently visited the National Oceanic and Atmospheric Administration in Asheville. The scientists there and throughout the climate science community continue to warn of increasingly intense weather events. We will not be able to wait 100 years for the next disaster.
In visiting NOAA, Congressman Edwards has shown his interest. Hopefully he will help secure funding for critical infrastructure projects needed to protect mountain communities like Haywood County from expected climate challenges.
It's clear that thousands of people yearly are leaving heat-stricken cities and flood-prone areas near the coasts. They are seeking the beauty and stability of mountain communities. In the new world of "climate refugees," development and infrastructure must be carefully monitored by local government and citizens. Non-polluting energy sources must be encouraged and our precious farmland and forests must be protected.
In recovering from natural disasters, Western North Carolina has shown courage and compassion. Preparing for future extreme climate events also requires urgency and determination. The community has shown it can respond with both.
(Dr. Stephen Wall is a member of the newly formed Environmental Action Community of Western North Carolina (EAC). The views expressed here are his own. This email address is being protected from spambots. You need JavaScript enabled to view it..)