Archived News
WNC officers, activists gather to craft DWI legislation
Tuesday, February 14, 2023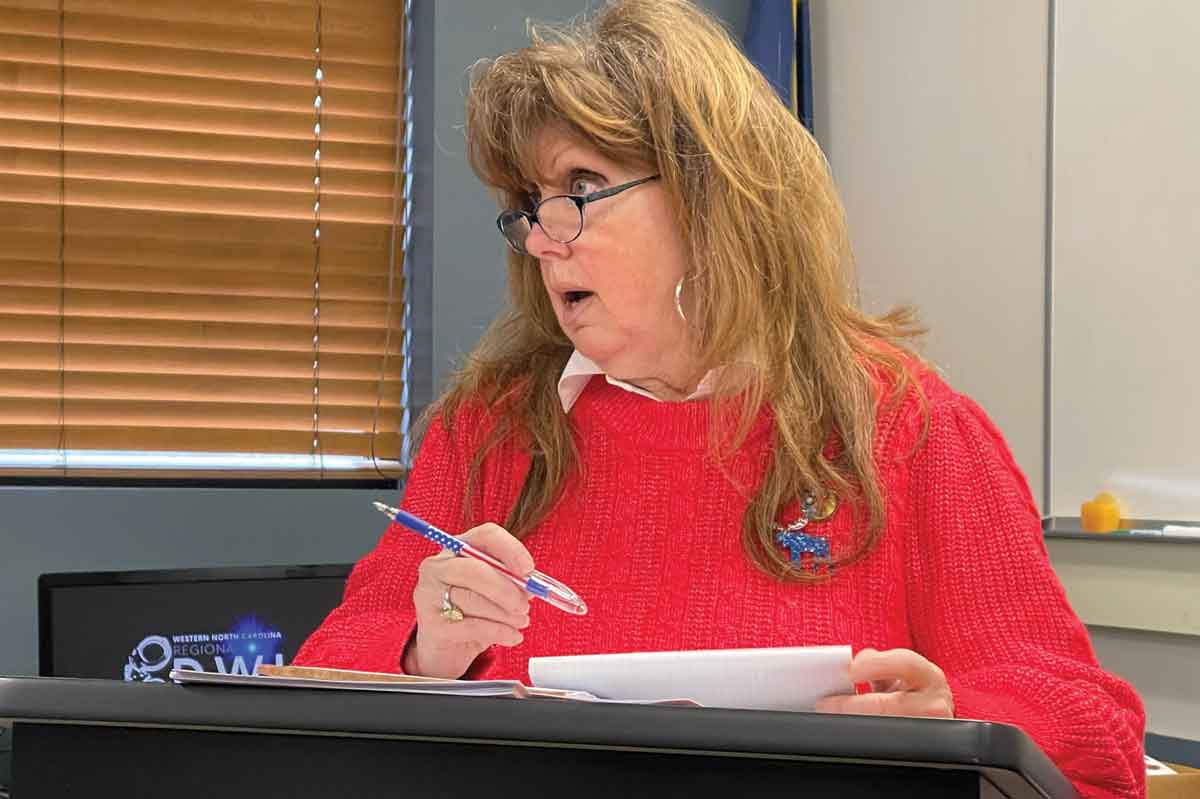 Ellen Pitt has spearheaded the effort across the region to curb DWIs.
Western North Carolina has one of the most proactive anti-drunk driving forces in the state, and now a contingent from this region is pushing for a new set of laws that will further restrictions.
Late last month, the WNC Regional DWI Task Force convened at the Waynesville Police Station to weigh in on legislation sponsored by Rep. Mike Clampitt (R-Swain), some of which seeks to crack down on DWIs — such as one that would lower the legal limit for driving from a blood alcohol content of .08 to .05 — and one of which seeks to provide an easier transition for those who successfully complete DWI recovery court.
Heading up the meeting was Ellen Pitt, a career nurse who dedicated her life to curbing drunk driving in the early 2000s. Joining Pitt were law enforcement officers from local police departments, sheriff's offices, the Highway Patrol and the N.C. Wildlife Resources Commission. In addition, Haywood County Sheriff Bill Wilke and Jackson County Sheriff Doug Farmer were in attendance, as was Justin Philbeck, who works for the Conference of District Attorneys providing resources and training specifically regarding DWI prosecution to those who represent the state.
Pitt first talked about trends in DWI arrests, including the prevalence of offenders who have a pending DWI charge already hanging over their head and used those examples to make the case for the bills that were about to be discussed.
"We want offenders to understand there will be consequences," Pitt told the group.
One of the most notable bills would lower the legal blood alcohol content of a driver from .08 to .05. While the National Transportation Safety Board recommended this change for all states back in 2012, Utah is the only one so far to adopt the lowered standard. Washington and New York have both seen bills introduced to do that this year, and North Carolina may follow suit.
The potential change was discussed at the meeting.
"Utah did that, and they've had nothing but success," Pitt said.
"I've had people who are .06 who are snookered," a deputy from Jackson County said.
Right now, if a DWI is charged and the suspect blows a .09, that is considered a mitigating factor, meaning it could lessen their sentence. One change floated at the meeting was to remove that mitigating factor altogether.
"Driving a .09 is a crime, so why are we mitigating your sentence if it's a crime?" Pitt said.
In addition to that relatively straightforward proposed change, Rep. Clampitt also introduced a bill to allow the specific reading from a portable breathalyzer test, also known as the roadside breathalyzer, to be used to develop probable cause to charge a driver with a DWI. It currently can only be used by officers to determine whether there is alcohol present in the bloodstream, but specific numbers are not to be considered.
The portable breathalyzer is a handheld device. Inserted into that device is a disposable plastic straw into which a suspected impaired driver blows. Having such a readily available tool at officers' disposal is a significant advantage, considering issues they said they've had nailing down an admissible BAC before someone has time for that number to lower prior to doing the admissible intoxilyzer at the magistrate's office or having blood drawn at the hospital.
Philbeck said that from a prosecutor's perspective, this change could make probable cause hearings — typically about an hour long — shorter and more efficient.
"It would make my job easier in the sense that oftentimes, the probable cause motion is the longest type of motion in a DWI case," Philbeck said.
Assuming judges buy into the change, it could also cut down on judge shopping by defense attorneys looking for the most lenient option.
Haywood County Chief Deputy Matthew Trantham asked if judges would be required to accept that probable cause. Philbeck said that while judges' definitions of probable cause may vary, those who don't accept it may at least have to face political pressure for their decisions.
While officers were excited about this potential change, one voiced a couple of concerns. First, it's likely defense attorneys will have another item to scrutinize when fighting for their clients. To use the result for probable cause, officers will have to ensure the PBTs — portable breathalyzers — are calibrated and properly used and that the results are properly documented.
"If probable cause for alcohol DWIs boils down to PBTs, the new battleground will be the PBTs and whether they were used correctly and calibrated," Philbeck said.
Also, one man asked about the potential that officers could grow too reliant on that number and lose proficiency on conducted standardized roadside sobriety tests.
"Approach every DWI like you don't have that number," Philbeck warned the officers.
North Carolina Police Chiefs Association Executive Director Bill Hollingsed, who served as Waynesville's police chief for 20 years, was present for the meeting. In an interview with SMN afterward, he said he's not too concerned about officers' losing their field sobriety test proficiency since it is a standardized lesson included in the basic law enforcement training program every prospective officer goes through.
Hollingsed's office typically weighs in on legislation as it goes through the gamut in the General Assembly. He said he personally likes that specific bill as discussed during the meeting.
"It provides a sample at the time of the stop," he said of the PBT. "There's all kinds of built-in delays in getting somebody to a facility to administer an intoxilyzer or take a blood sample."
Hollingsed added that he expects his organization will weigh in on the legislation.
"We have a full-time legal liaison that works with the legislature on a day-to-day basis," he said. "They'll discuss bills that are proposed."
Several items regarding the revocation and reinstatement of driver's licenses were discussed. One change would cover a current loophole for the 30-day civil revocation of a driver's license due to a DWI charge. Under current law, the only circumstances for revocation are blowing over a .08, blowing over a .04 for commercial drivers or registering any alcohol for a driver under 21.
About one-quarter of DWIs in North Carolina don't meet one of those standards, with a large portion of those involving drivers impaired by a substance other than alcohol. A couple of people asked about whether a person could have their license revoked for refusing to do a roadside PBT, but Philbeck pointed out that the Supreme Court has generally not seen such laws in a favorable light, meaning that may be a bridge too far.
While most of what was talked about involved an increased ability to arrest people for DWIs and further restrictions after they're charged, one proposed change would make things easier for offenders whose drunk driving didn't result in any injuries or death that complete DWI treatment court by reinstating their license and paying some of their fees.
"We want to reward good behavior as we should be doing and then punish the bad guys that don't even try," Pitt said. "People that come from sobriety court want to start their life over. We think that it's fair enough."
That bill is a slightly different version of one that was introduced in the Senate in February 2019 by now retired Macon County Republican Sen. Jim Davis and former Sen. Terry Van Duyn, a Buncombe County Democrat.
Davis said he thought the prior bill may have failed in committee because it had a Democratic cosponsor, although he admitted he wasn't entirely sure. He added that he thinks the new bill might stand a pretty good chance in the current legislature.
"It's rewarding good behavior," Davis said. "People may make mistakes, and there's never an excuse for driving impaired, but nevertheless people do it and if they do and get caught … I think it's a safety valve that people can make a mistake and still be redeemed."
Pitt told the officers in the crowd that while her task force aims to put more teeth on the state's DWI laws, she also realizes how valuable it is to have them out there enforcing whatever is on the books.
"At a time when a lot of things are going toward recovery courts … we still have to stay focused on enforcement," she said. "If people don't get convicted, sometimes they don't get forced into recovery."
Clampitt talked to the officers about the process of trying to get his bills signed into law. First, he will bring the bills to a law enforcement working group he's a part of.
"When I bring a bill into that group, that's where the headaches start," he said.
After another meeting held the Friday after the one with law enforcement where more input was gathered from other members of the regional taskforce, the bills were sent to drafting. As of Feb. 13, one bill was filed but the rest were "in the hopper," as Clampitt put it. Clampitt said he believed Sen. Kevin Corbin (R-Macon) would sponsor the Senate companion bills. Corbin didn't respond to an interview request from SMN and has not yet filed anything regarding DWIs in the Senate.
Clampitt said that of the over 1,000 bills filed in the House, maybe 10% will get signed into law, so any bill is fighting the odds, but he still felt confident.
"I foresee bipartisan support," he said.
At the late-January meeting, Pitt did what she could to ensure legislators feel pressure to act on Clapmitt's bills.
"You'll have to email them and call them and tell them this is what you want," she said to the officers.
Both Philbeck and Clampitt expressed their gratitude for the work Pitt puts into not only advocating for victims but pushing for stricter laws and more accountability.
"We have an advocate in Western North Carolina who does all this for no pay," he said. "She doesn't get the recognition she deserves."