Archived Arts & Entertainment
Don't overlook Matt Peiken's 'The Overlook' pod
Tuesday, February 14, 2023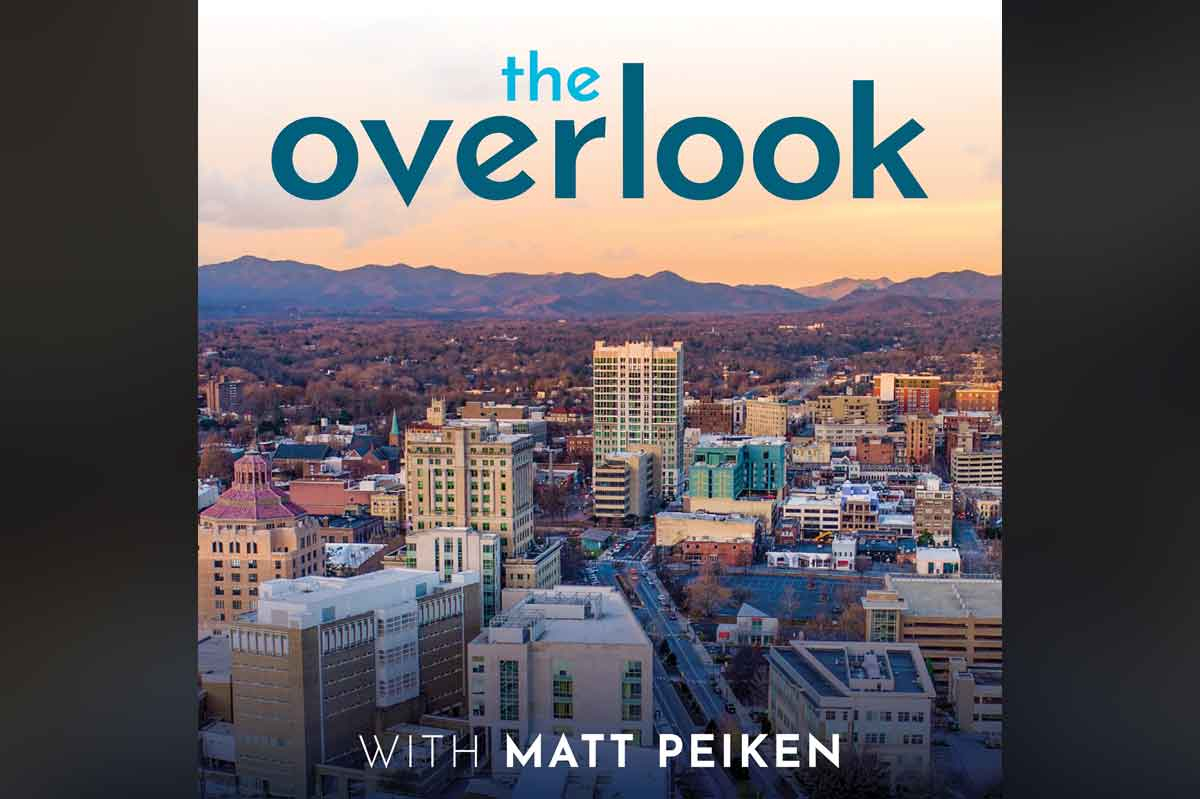 The Overlook, a daily podcast about Asheville's news and arts scene, debuted this week. (Matt Peiken photo)
After 20 years in daily newspapers, journalist Matt Peiken took a buyout from the St. Paul (Minnesota) Pioneer Press in 2007 and embarked upon his first foray into the entrepreneurial world — a daily video program called "3 Minute Egg." Over nearly three years, he produced more than 300 short documentary videos that eventually became a pre-YouTube era public television hit.
Bouncing around to other entrepreneurial and corporate gigs, Peiken landed at Blue Ridge Public Radio in Asheville nearly six years ago as an arts and entertainment producer and quickly became known for his insightful, nuanced coverage of a very creative city's very creative inhabitants.
But as part of the recent exodus of talent from BPR, Peiken is once again embracing the entrepreneurial spirit and all that it entails.
Peiken recently sat down with The Smoky Mountain News to talk about the siloed media climate in Western North Carolina, how best to tie it all together, and why his newest effort, a daily podcast called "The Overlook," is not to be overlooked.
The Smoky Mountain News: What was it that gave you the idea for "The Overlook?"
Matt Peiken: I couldn't work for this general manager anymore. That was the big thing. He started in July. I knew from the moment he interviewed for the job when we had a chance to meet them online. In my return survey I said, "Under no circumstances should he be hired." I wrote that verbatim. And sure enough, they hired him and he proved to be worse than I thought. I could no longer ethically work for him.
Secondarily to that, I see the landscape in the job market. I know ageism exists. Different other social factors exist. More people of color definitely need to be in public radio, younger people need to be hired. I completely support that, and at the same time, I am not any of that.
I've learned so much about what works and what doesn't work, why things work in the media landscape. What I am doing, other cities are already experiencing. Asheville is ripe for a topical daily podcast, and I'm the person to do it. I have a name here to at least some minor degree. I have some credibility here as a journalist. I know the terrain, and to do a general interest podcast that talks to people in the news, talks to people in the arts, there's an audience here for it. The only way it fails is if I fail it.
SMN: And at the same time, Asheville is more of a news desert than it's ever been.
MP: The term "news desert" gets thrown around a lot. I think there are only four, maybe five journalism outlets in Asheville, of any degree. I wouldn't call it a news desert, and the people who are at the Citizen-Times, they're good, they work hard. But everybody is in their own silo. Nobody's connecting any of it. At the spine of what I'm doing with "The Overlook" is interviewing journalists about the things they're covering, but it's not just interviewing journalists, it's finding topics. For instance, in one of my upcoming episodes, I just had the question, "Why aren't there more corporations, larger corporations that offer high-paying jobs to an educated workforce?"
SMN: "The Overlook" airs five days a week, for about 30 minutes. Right now, you're a one-man band. How are you going to sustain that?
MP: I've never been married to a 9-to-5, you know? I work early. I work late. I'm kind of I'm fueled by this work. I think when you go into something entrepreneurial, you tap into a reservoir of fuel that you just don't have when you're working for somebody else. I have a lot of motivation to make this thing succeed. I don't care about the time that it takes. I definitely need somebody who's going to oversee sales, I can't do that myself in the long run, but I will say it'll be easier for me to recruit somebody who has experience in that realm when I have success on my own. When people hear what advertisements in my show sound like — I'm doing something that isn't offered anywhere else. The upper tier of advertisements, these are conversational interviews that don't sound like an ad. It sounds like the person's offering advice or their view on the landscape of something. When business owners hear how these ads sound, they're going to say, "I want that."
SMN: One year from now, what do you want people to say about "The Overlook?"
MP: "When I listen to 'The Overlook,' I know about Asheville in a way I didn't before."
How many people are media junkies in this town — local media junkies who read Mountain X and the Times and AVL Watchdog? Probably very few. Once in a while, there's a page like Asheville Politics on Facebook, and people will post some stories from different outlets, but nobody's connected to all of it. My show is very much meant for people invested in living in Asheville. It is not meant for tourists. It's meant for people who care about the nitty gritty of what sets the pulse of the city and what it means to live here and the stakes involved and the frustration and the appreciation of what does work here and what is awesome here in a way that you only know if you live here. That's who my show is for.
Want to listen?
"The Overlook" podcast premiered on Monday, Feb. 13, and is available on all major streaming platforms. Find out everything you need to know, including social media profiles, ways to listen, and Matt Peiken's contact information at linktr.ee/avloverlook.