Archived Arts & Entertainment
This must be the place: Life is what you make it, and if you make it death, well rest your soul away
Tuesday, February 14, 2023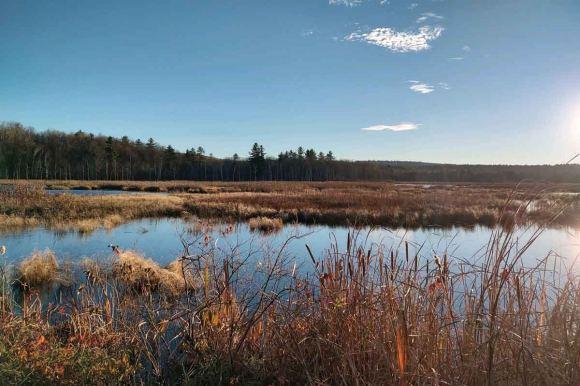 A view of the North Country. (Garret K. Woodward photo)
It was nearing midnight on Saturday. The rock band in the corner of the bar had just put the finishing touches on its evening set. Packing up their gear, the rest of us in the crowd headed towards the bar counter to pay up for our libations.
Signing the receipt, I turned to head for the door, but not before someone yelled out, "Does anybody have Narcan?" It took a moment or so for my mind to register exactly what this query was asking the general public. Is this for real? Sure enough, there was an unknown person slumped over in their seat.
Apparently, there might have been an overdose. None of us were sure, but it didn't seem good for the person involved. Looking down at the person, it was obvious that there was more than just alcohol involved. I recognized that glassy, "nobody is home" look in the person's eyes, the mumbling and fading light within. This was clearly drugs.
Almost immediately, a police officer arrived on the scene. Knowing that I keep a packet of Narcan nasal spray in my truck, I ran to the parking lot. Rummaging through a center console filled with old Taco Bell napkins and small hand tools, I located the Narcan box.
Darting back into the bar, I handed the Narcan to the police officer. Not sure if it helped, but I had the packet readily available. EMTs and the fire department arrived soon thereafter. You just never know. Always keep Narcan on you. You maybe never need to use it, hopefully. But, you never know. Who knows when someone in need, well, will need it?
All thoughts and good vibes for that person. The next day, I had heard that they were awake when being put in the ambulance. But, regardless, the scene was jarring for many of us, if anything troubling. Someone asked me if I felt affected by the scene that unfolded before our eyes last Saturday. And, I must say, I wasn't.
Yes, the genuine compassion for human life (whether family, friend, or stranger) and fight-or-flight quick action in my heart-of-hearts remains at my core. But, sadly, overdoses and situations like that are so common these days, where many in my generation find ourselves somewhat numb to these seemingly every day occurrences.
My biggest takeaway for the whole ordeal was the idea of knowledge and preparation, or the lack thereof. Everyone should have Narcan in their glovebox, purse, backpack, or wherever. Overdoses can happen anywhere, and at any time. There's no rhyme or reason as to when one might cross paths with a suspected overdose.
As we all know well, drugs and addiction itself runs across the spectrum of economic status, social circles, and cultural realms. In all my extended travels, I've known addicts of all types: athletes, homeless, teachers, counselors, rich folks, poor folks, and so on. It's a dead horse at this point to even try and make socioeconomic arguments about who drugs affects. Plain and simple? It's all of society.
When I got back to my apartment on Saturday night, I started to wonder: just how many folks had Narcan on them, whether behind the bar counter or in the crowd? And, if Narcan is available, how many know how to properly administer it? What about CPR? How many of us are trained in that, or have brushed up on the sporadic training we received in health class in high school those many years ago?
All of those questions ricocheting around my mind conjured a flood of memories from my native North Country of Upstate New York. Just like any community in America these days, my hometown and the surrounding areas have been severely ravaged by the effects of opiates and addiction. Truth be told, I'd need a few hands at this point to count the actual, real deal friends I've lost to addition over the years. And I know I'm not alone in that notion.
Sure, drugs and addiction have been around as long as humans have been conscious of what mind-altering substances can do to us. And yes, there's been a huge drug problem in our country for decades, one with no end in sight. Reagan's "War on Drugs" itself became more of an onslaught, just exacerbating the problem ultimately, and with no real solutions in how to combat and overcome it. Alas, I hold out hope. I do.
But, one wonders about us Millennials who grew up in the 1980s and 1990s onward, this period of time where we — as little kids — were massively prescribed (for good or ill) Ritalin and Adderall, and all while the opiate crisis of Oxycodone and Hydrocodone began rearing its head in our social circles as teenagers and college kids, up through our now adulthood, many of us now with families of our own.
What's wild is that the trials and tribulations of our peers facing addiction is such commonplace here in 2023, we just seem to accept it as our daily reality. None of us want to accept it, but it's so ingrained in our lives and our culture, to which we are well-aware of what's going on, and we are, in all sincerity, eternally compassionate.
But, it seems we're all in a fog about the whole thing, maybe even tuning out on addiction, whether we realize it or not. Even myself, who carries Narcan with me, found the bar scene last weekend kind of a wake-up call to be more proactive in helping others, or at least being prepared enough to aid in a situation if need be. Are you? Let's keep the conversation going. I remain optimistic.
Editor's Note: Naloxone (naloxone HCL) is an FDA-approved medication that reverses the effects of an opioid overdose by blocking receptors in the brain and restoring breathing. To learn more about Narcan and/or to find the nearest location to get Narcan to keep with you for harm reduction, go to naloxonesaves.org. For CPR courses, click on redcross.org/take-a-class/cpr.