Archived Reading Room
Dylan scores with 'The Philosophy of Modern Song'
Wednesday, February 08, 2023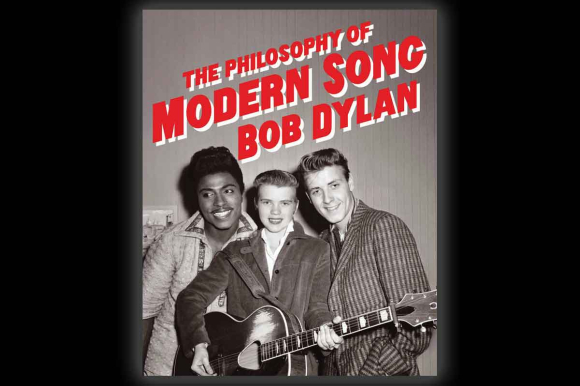 This was a fine morning in the coffee shop.
It was Sunday, which meant that others besides me were arriving from church or mass for a latte or to share some pastries with their children. Entertained by a guy their age wearing shoes without socks, the three young women at the table on the other side of the room were pretty and full of quiet laughter. Nearby, the adolescent boys with mom and dad were entranced by the seven foot tall Nutcracker beside their table, and the solitary father seated near the portable heatless fireplace had that long stare of a dad who'd spent most of the night awake with the infant he now held in his lap.
Best of all was the music.
Whoever put together that piped-in mix of tunes had provided a perfect blend for a Sunday morning in a café, quiet hits from the 1950s and 1960s by greats like Marty Robbins, Johnny Mathis, the Beatles, and Brenda Lee. That music was a balm to the soul, and I said as much to the barista on my way out. Nearly young enough to be my granddaughter, she nodded and said, "I love it, too."
"So it is with music; it is of a time but also timeless; a thing with which to make memories and the memory itself."
Those words come from Bob Dylan at the end of "The Philosophy of Modern Song" (Simon & Schuster, 2022, 352 pages).
In this collection of more than 60 essays, accompanied by a hundred or so photos and reproductions of posters, Dylan explores songwriters and performers as diverse as Willie Nelson, Eddy Arnold, and Judy Garland, but not from the usual angles found in such collections. Instead, Dylan takes these hit songs and guides us into their philosophy and meaning. In his brief examination of Johnny Cash's "Don't Take Your Guns to Town," for example, Dylan tells us these lyrics are about more than a kid who doesn't listen to his mother, carries his gun to town, drinks some whiskey, and pays with his life. "This is a warning song" writes Dylan. "Don't be too smart. Always let somebody else think that they are smarter than you are."
Dylan's takes on these songs is part-poetry, part-song, and a whole lot of impressionism. Here are a few of his ideas about "Your Cheatin' Heart" by Hank Williams: "This is the song of the con artist. In this song you're the swindler who sold me a faulty bill of goods — beguiled me, double-crossed me, and now you're out of moves and soon you'll be groaning with prolonged suffering."
In addition to these rambling adventures into the human condition, which are both entertaining and enlightening, "The Philosophy of Modern Song" offers other gifts as well, both for songwriters and musicians as well as for the general public. Included here are performers and composers familiar to most of us, The Grateful Dead, The Clash, and Johnnie Ray. But others may be total strangers, like Harold Melvin & the Blue Notes, Harry McClintock, and Webb Pierce. As well as possibly revealing his own musical roots, through these appraisals Dylan gives many of us an education in the music of the last 70 years or so.
And like the music playing in my hometown café, many of these songs were written and performed in the 1950s. So much of our music is ephemeral. The latest hits or songs going back only a couple of decades appear on the radio for commercial purposes, but here is a real song bag that deserves some close consideration. Enhancing "The Philosophy of Modern Song" is the magic of technology, which allows us to search out these works and listen to them before and after reading Dylan's essays. Absorb, for example, Webb Pierce's "There Stands the Glass" online, and then read Dylan's piece on the song, which ends with this marvelous summary: "The star of this song is the empty bourbon glass, and it's built around the same kind of crack guitar sound as on a Hank Williams record, as well as the magical open-string, strummed chord."
Finally, readers will enjoy the additional mini-essays scattered throughout the book. A favorite of mine is found in his chapter on The Drifters' "Saturday Night at the Movies." Here, as he does with his inclusion of so many hits before 1960, Dylan points us back to the past and urges us to look at movies like "High Noon" or "On the Waterfront," which will "hit you in the guts." At the end, commenting on today's films, Dylan writes, "People keep talking about making America great again. Maybe they should start with the movies."
I do have one quibble with "The Philosophy of Modern Song." Though the pictures of musicians, various performances and people, landscapes, and towns are credited as to their source in a small-print list in the back of the book, the pictures themselves could use captions explaining their meaning. Many of these are wonderfully evocative of their era, but leave many of us puzzled as to the identity of the people and places shown.
If you want some insights into what Bob Dylan has learned about music through his long career, or if you simply want a pleasurable and instructive tour into some great music, "The Philosophy of Modern Song" is the book for you.
(Jeff Minick reviews books and has written four of his own: two novels, "Amanda Bell" and "Dust On Their Wings," and two works of nonfiction, "Learning As I Go" and "Movies Make the Man." This email address is being protected from spambots. You need JavaScript enabled to view it..)