Archived Outdoors
Notes from a plant nerd: Winter Green
Wednesday, February 01, 2023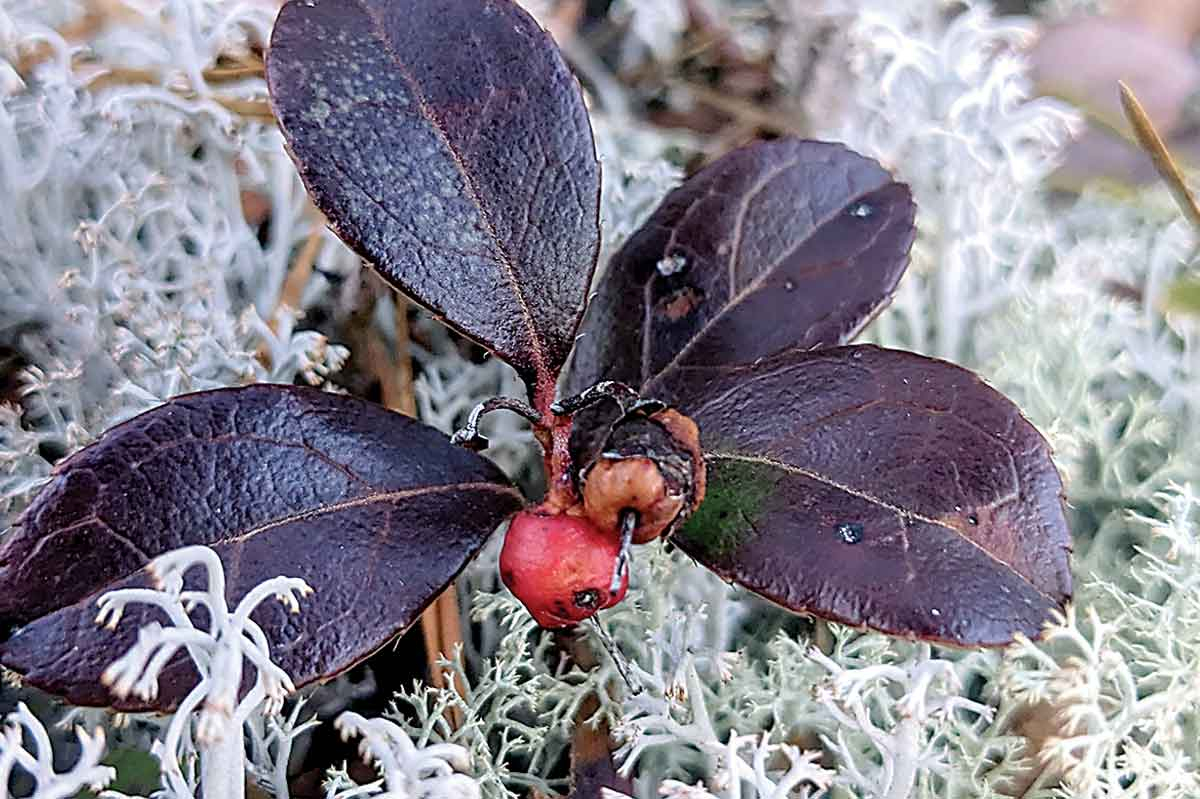 The low-growing wintergreen plant keeps its leaves — and its minty smell — throughout the winter. Adam Bigelow photo
While there are many plants that stay green throughout the winter, there is only one plant known as wintergreen.
The words "evergreen" and "wintergreen" started out with similar meanings, referring to plants that stay green forever, or at least throughout the winter. Over time, one evergreen plant with aromatic leaves and berries took on the name wintergreen, and the scent and flavor it produces also became known as wintergreen. When most people hear the word "wintergreen" they think of a candy or toothpaste flavoring, or Wint-o-green LifeSavers and how they are known to make a spark in the dark if you bite down on them.
Wintergreen (Gaultheria procumbens) is a plant that is technically referred to as a subshrub, as it has woody stems like a shrub or tree but only grows to around 3-8 inches high. It is often found growing underneath mountain-laurel (Kalmia latifolia) and rhododendrons (Rhododendron spp.) which are all in the same plant family of Ericaceae (pronounced like Eric-Kasey-E). Other evergreen plants in this family include doghobble (Leucothoe fontanesiana), cranberry (Vaccinium macrocarpon) and the similarly named striped-wintergreen (Chimaphala maculata), which is also a subshrub but does not have the wintergreen flavor.
The strong aroma of the wintergreen plant is created by a chemical called methyl salicylate that is found in the stems, leaves and berries of wintergreen. This chemical is not only used in the products mentioned above, but lends its flavor to traditional root beer, and a certain old-timey chewing gum called Teaberry Gum. Interestingly, the wintergreen flavor is not only produced by the wintergreen plant but is found in other plants like meadowsweet (Spiraea spp.), and it's the chemical that puts the "sweet" in sweet birch (Betula lenta) and other members of the genus Betula.
Oil of wintergreen was a commonly made product that brought extra income to Appalachian families and communities. A long time ago, there used to be stills in these mountains. Okay, there are still stills in the hills around here. What many people don't know is that there were different kinds of stills. There were the ones hidden and protected from lawmen, as they were illegally producing moonshine by distilling corn mash. And then there were stills that didn't have to be hidden and were commonly found in towns and villages.
These operations were distilling oil of wintergreen from sweet birch trees and teaberry plants, gathered as forest products, processed in the distilleries, and sold into the candy and medicine trade to be used as flavorings. Nowadays, that flavoring is synthesized in labs by chemists from petroleum or corn. If you ask me, however, I bet the naturally distilled product tasted better.
I have tried to get the wintergreen plant established at my house, but the two plantings I've made so far have both died. It's all about finding the right conditions for it to grow in. Once those conditions are found, wintergreen will thrive and often spread underground to form colonies. I have a bunch of these plants in pots that I bought the Christmas before last. Seems that their dark green leaves and large red berries make them a good candidate for a holiday theme.
If you come across a low-growing plant while walking in the woods that has glossy green to purple leaves, and single large red berries, it might just be the wintergreen growing. The best way to make sure of your identification is to crush a leaf or fruit and give it a big whiff. If it smells strongly of root beer or gum, or makes you want to pull out a toothbrush, it's probably the wintergreen plant. However, I don't think that you can get it to make a spark by biting down really hard, so be careful if you chew it.
(Adam Bigelow lives in Cullowhee and leads weekly wildflower walks and ecotours through Bigelow's Botanical Excursions. This email address is being protected from spambots. You need JavaScript enabled to view it..)