Archived Reading Room
Resurrected: a review of Mark Twain's 'Is He Dead?'
Wednesday, February 01, 2023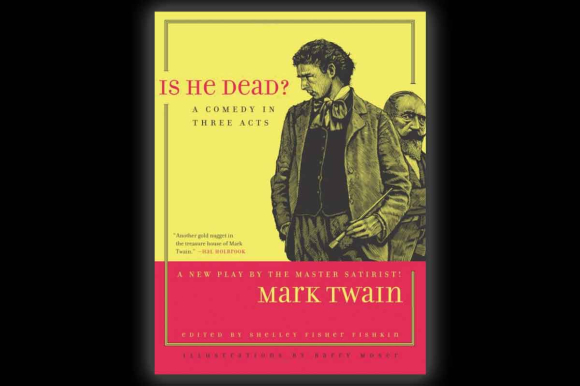 Samuel Clemens, best known by his penname Mark Twain, is arguably the master of American novelists, with his great classic "Huckleberry Finn" along with such stories as "Tom Sawyer," "A Connecticut Yankee in King Arthur's Court,"and "The Gilded Age."
He was a master of the short story, brought the West alive in "Roughing It," and took readers on a tour of Europe and the Holy Land in "Innocents Abroad." Some of his essays and his autobiography also receive the honorific of outstanding.
Yet for most of his life, the theater-loving Twain tried and repeatedly failed to write a play that would attract fame and large audiences. One such attempt, "Colonel Sellers," did earn him some money, but he regarded it, as did the critics, as a paltry thing.
In "Is He Dead? A Comedy in Three Acts" (University of California Press, 2006, 248 pages), we can detect the possible reasons for Twain's failure to become a successful playwright.
Twain wrote this farcical satire in 1898 in Vienna, Austria. Still under a black cloud caused by the death of his 24-year-old daughter Susy in the summer of 1896 and plagued by problems of finance and bankruptcy, he had spent long months in a state of despair, too depressed even to write. As he began putting together "Is He Dead?," however, his spirits lifted tremendously, and Twain convinced himself that his comedy would be performed in the best theaters of London and New York.
Despite his world-wide name recognition, that long-sought acclamation never occurred. Like so many of his other works for the stage, "Is He Dead?" was roundly rejected by producers. For over a century, the play went unpublished and unremarked except by a few specialists until Twain scholar Shelley Fisher Fishkin found the manuscript and deemed it worthy of publication.
The play centers on a group of impoverished artists, headed up by Jean Francois Millet, painter of the famed "Angelus" but otherwise nothing like the real artist. These painters and some others involved with them are threatened with eviction and financial ruin by a wicked art dealer and loan shark, Bastien Andre. One of these artists, the American Agamemnon Buckner, called "Chicago" by his fellow painters, devises a plan to save his friends. He convinces Millet to fake his own death, thereby causing his paintings to explode both in popularity and in price. The plan works to perfection, the wicked Andre's plans come to naught, and Millet's name becomes known throughout the land.
Romance also takes a hand in the play, as both Chicago and Millet are in love with a pair of sisters. In the last part of the play Millet cross-dresses, pretending to be his own non-existent twin sister and confusing the girl who loves him, thereby adding to the chaos and humor.
Yet several of these devices employed by Twain — he used them as well in his fictions — are as old as the theater. The language can be creaky, some of the accents ring false, and so many characters come and go on the stage that the first act found me constantly looking back at the cast list to identify one from another.
And yet ….
Most plays are not meant for paper and print, but for performance. In the winter of 2007, Mark Twain finally made the big lights of the stage when "Is He Dead?" came to Broadway. Directed by Michael Blakemore with the script tweaked by writer David Ives, and performed by a glittering cast, Twain's long-forgotten comedy made a splash in New York and has since been presented by some drama departments around the country.
In her "Afterword" and "Notes" to "Is He Dead?" which run nearly as long as the play itself, Shelley Fishkin explores Twain's life at the time he wrote this comedy, the background of its settings and characters, and the reasons she believed it was worthy of revival. Readers interested in the life of Twain and his work will find much of interest to mull over here. Fishbin concludes her analysis by writing "The result is a champagne cocktail of a play — not too dry, not too sweet, with just the right amount of bubbles and buzz."
Some readers may disagree with that evaluation — regrettably, I'm one of them — but reviving this Rip Van Winkle of a play is nevertheless an occasion. The work is complete, contains many elements common to his other writings, and deserves its place on the shelf alongside his other works.
•••
And now for a complete change of direction:
Having spent both Christmas and New Year's hip-deep in grandchildren, I once again became aware of the importance of reading aloud to the little ones. In large part because the stories and poems shared with him by his parents and his older siblings, the youngest member of this crew, though he cannot yet read himself, has a love affair with books. I've seen him sit for up to an hour on the sofa or sprawled out on the floor of the den in front of a fire, utterly absorbed in some tale of Tin-Tin or the Knights of the Round Table.
If we want to raise a generation of book lovers, let's start them early. No devices or screens are necessary, just colorful illustrations, words, a reader, and the imagination.
It's that simple.
(Jeff Minick reviews books and has written four of his own: two novels, "Amanda Bell" and "Dust On Their Wings," and two works of nonfiction, "Learning As I Go" and "Movies Make the Man." This email address is being protected from spambots. You need JavaScript enabled to view it..)