Archived News
Design alteration may come to Waynesville's South Main Street
Wednesday, January 18, 2023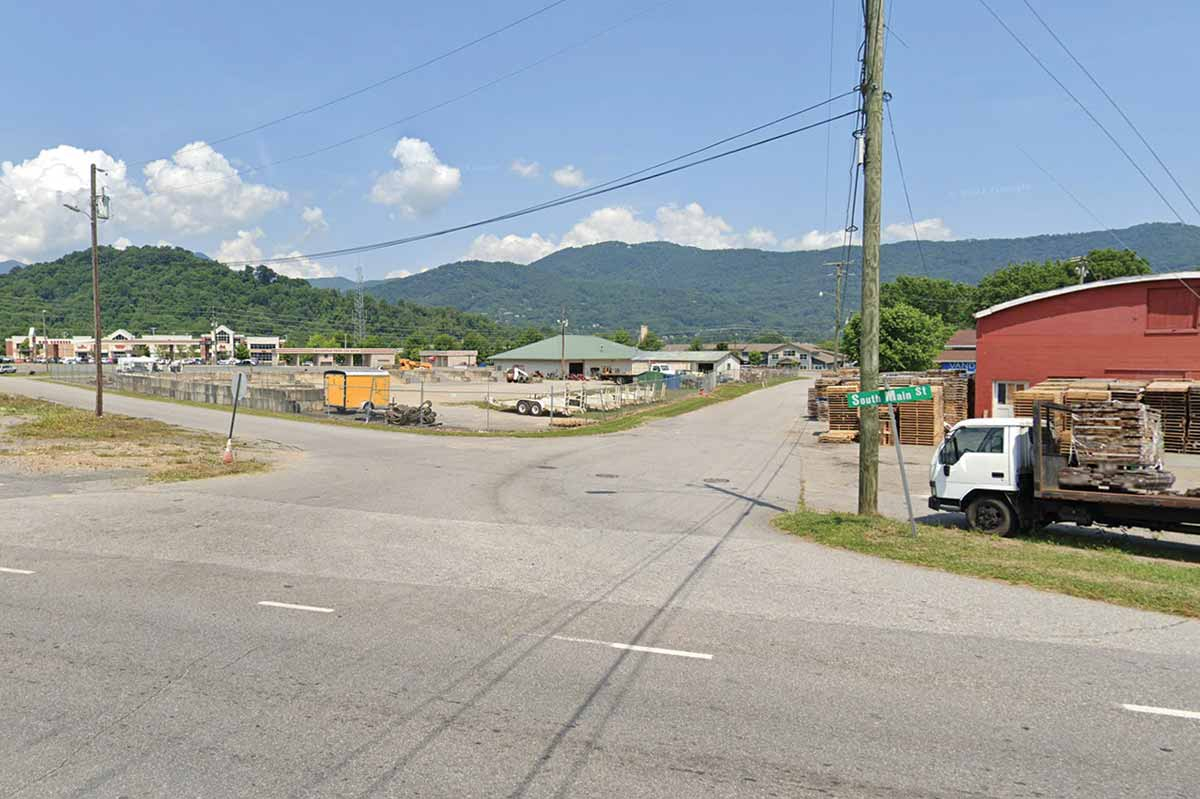 This intersection could be eliminated, if and when the South Main Street improvement project ever happens. Google photo
An awkward Hazelwood intersection could be scrapped ahead of planned North Carolina Department of Transportation improvements to South Main Street, as long as there's no opposition from area business owners.
The possibility comes as the result of a request by NCDOT to eliminate the intersection where Lea Plant Road and Hemlock Road come together and intersect with South Main Street.
"This is just one area where because there is a town right of way involved, they need your permission to move ahead with this design," said Elizabeth Teague, Waynesville's Development Services Director.
In doing so, Lea Plant and Hemlock create a large, open area that isn't clearly marked with turn lanes, white borders or yellow lines.
If the change is approved, the roads will come together as they do now but will no longer provide access to South Main Street.
Teague said the idea was to try to make it safer and to eliminate intersections on to South Main.
"I think this is a great idea to do for safety reasons," said Alderman Anthony Sutton, who added that since he lives in the vicinity, he uses the intersection regularly.
Waynesville Police Chief David Adams said he can't recall any problems with the intersection but said it may indeed help make the area safer. Waynesville's Fire Department said the closure wouldn't cause them any problems.
Aldermen were set to consider approving the request on Jan. 10 but decided to hold off until speaking to the businesses in the area to ensure the closure wouldn't unduly affect their operations.
"It seems to me that the only people who might have an objection to this might be the two businesses there," said Alderman Chuck Dickson.
Aldermen will have plenty of time to make the decision; the project is now slated to begin its first phases in 2029, after DOT mismanagement and inflation threw projects across the state into disarray.
"I think right now DOT is so far behind trying to rectify the amount of projected income and the rising prospective costs of construction that unless a project is under construction or out to bid, it's kind of a case-by-case basis," Teague said.
The first serious discussions about the South Main Street Project took place back in 2002 and were revived in 2009. Formal plans were first announced in August 2018. At that time, the plan was set for a 2024 kickoff.