Archived News
Affordable housing crisis crops up in Waynesville parcel deal
Wednesday, January 18, 2023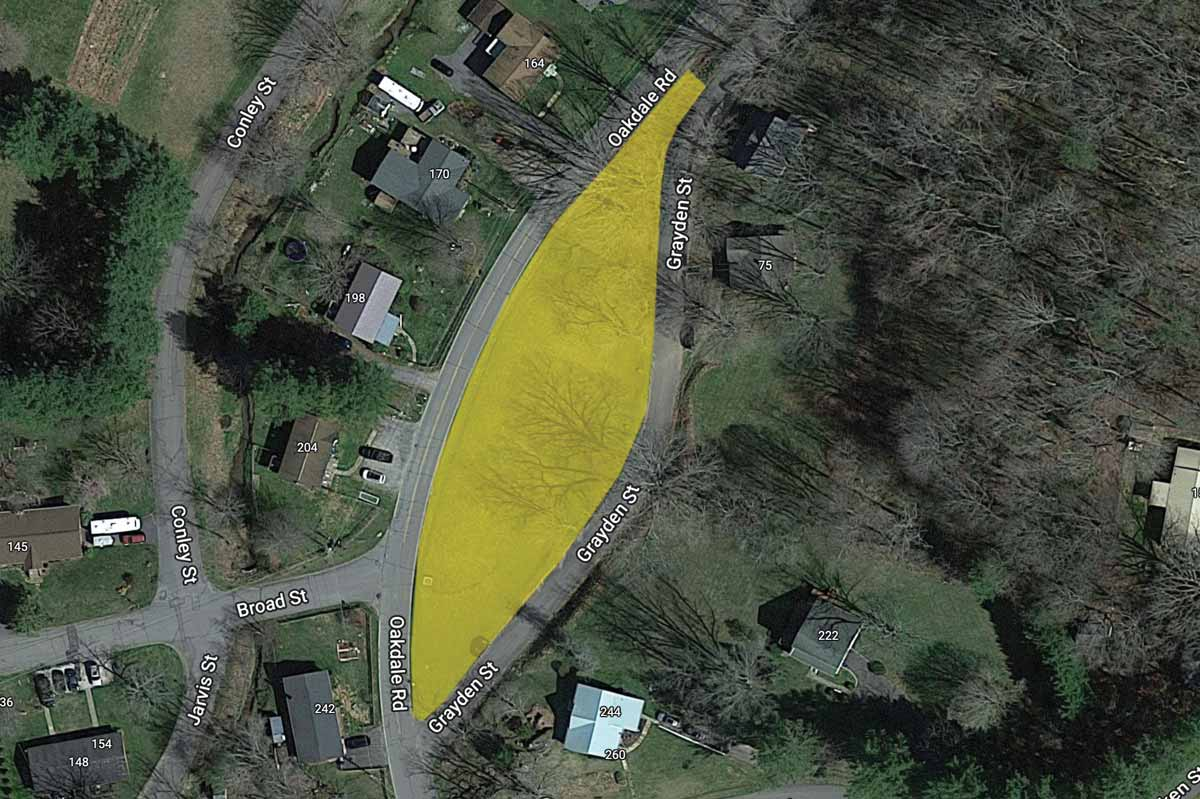 The future of a unique parcel owned by the Town of Waynesville remains up in the air, for now. Google Maps photo
A Waynesville resident who wants to buy a parcel from the town may or may not get their way after alderman approved the sale, but discussion surrounding the deal revealed continuing concerns over the availability of housing in the area.
"We have a tremendous need for workforce housing," said Alderman Chuck Dickson, during a Jan. 10 meeting where Chris Amsler, of Oakdale Road, had made an offer to buy a parcel directly across the street from his house.
Amsler told aldermen his intent was to ensure nothing would be built on the .83-acre lot, which has access to city water and sewer. He offered the assessed value of $31,700 for the teardrop-shaped parcel, which sits like an island between Oakdale Road and Grayden Street.
Dickson raised the possibility of donating the parcel to Mountain Projects or Habitat for Humanity with the idea that a few small homes, perhaps as many as four, could be built on the lot. Property taxes on the developed parcel would be higher, resulting in more revenue for the town.
Alderman Anthony Sutton disagreed with Dickson on the feasibility of putting multiple homes there.
"I don't think it would really suit housing with how narrow the street is on the side, but I think it would be worth going to Habitat for Humanity to see," Sutton said.
Alderman Julia Boyd-Freeman agreed with Dickson on the need for housing of all types, but said she wasn't in favor of donating the parcel, instead suggesting the town talk to Mountain Projects about it first.
Alderman Jon Feichter said he concurred with Dickson and Freeman on the need and also wanted to see if there was interest from Mountain Projects or Habitat first.
Rob Hites, Waynesville's town manager, offered to continue the issue to the next meeting after talking to the groups, and also reminded the board that the sale would still be subject to the upset bid process.
Gary Caldwell, Waynesville's mayor, made a rare motion of his own to accept Amsler's offer and let the upset bid process determine the owner. Sutton seconded, and with the vote of Freeman the motion passed over the opposition of Dickson and Feichter.
The upset bid process means that the sale to Amsler will be advertised and gives prospective bidders 10 days to top the $31,700 deal. New bidders must top the existing price by the greater of $750 or 5% of the price. Such a bid would reset the 10-day clock on the process, allowing other bidders to emerge until there are no more.
Aldermen still have the ability to accept or reject any of the potential upset bids, as well as Amsler's original offer.
Leave a comment
1

comment
I want to add my support for affordable housing.
Every attempt should be made to use available land in close proximity to the town for workforce/affordable residents.

Thursday, 01/19/2023