Archived Arts & Entertainment
Between the heavy and the light: Graham Sharp of Steep Canyon Rangers
Tuesday, January 10, 2023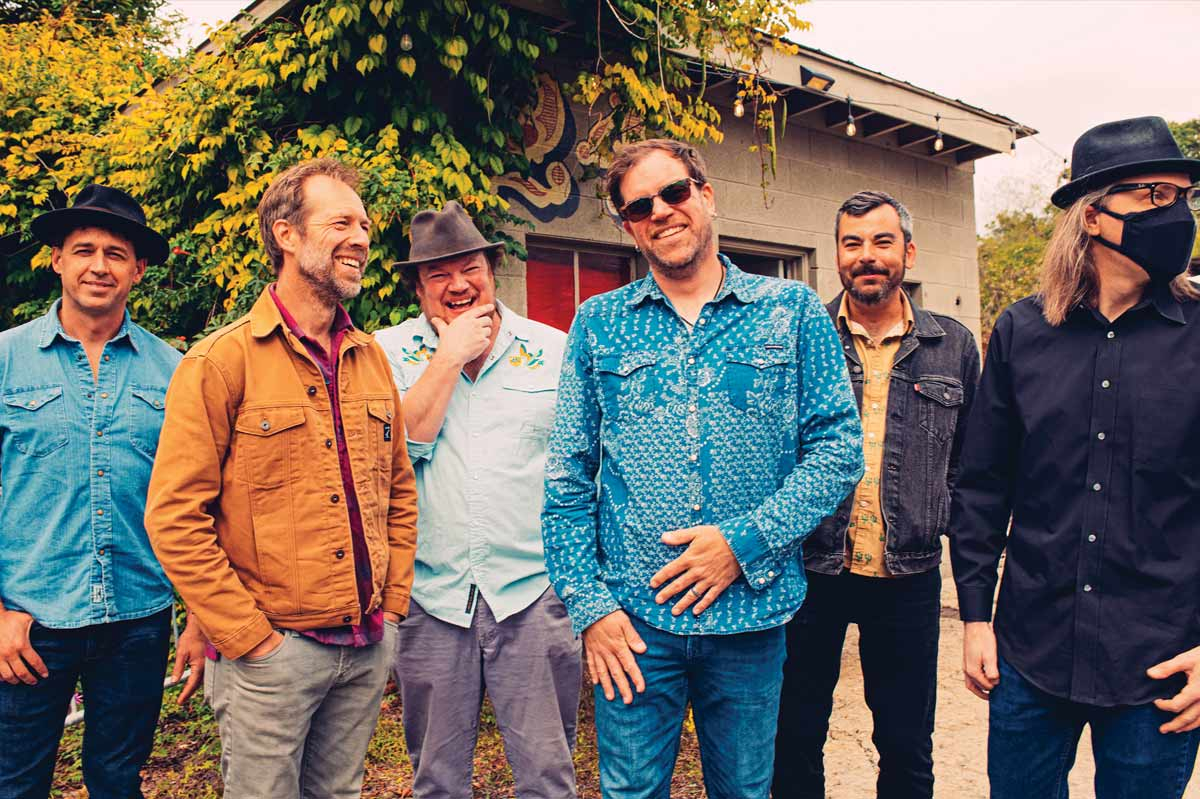 Steep Canyon Rangers. Sandlin Gaither photo
With the recent departure of founding member Woody Platt, the Steep Canyon Rangers found themselves at a crossroads — now what?
Instead of trying to replicate the sound, structure and dynamic of the Grammy-winning Americana/bluegrass act, the Asheville-based group took the opportunity of a new musical chapter to take inventory of what was, what is, and what could be moving forward.
And with that, the group tapped longtime Western North Carolina singer-songwriter Aaron Burdett. Where Platt was the physical and musical anchor of the Rangers onstage, Burdett seamlessly find himself in the fold as part of a renewed team effort to reshape and reenergize one of the most popular acts in the scene today.
Taking in the size and scope of where the Rangers currently stand, singer/banjoist Graham Sharp is not only reflecting with pride on the ensemble's journey from its humble roots as students at UNC-Chapel Hill over two decades ago, he's also keenly focused on the vast unknowns that lie ahead — sonically, but more so spiritually.
Smoky Mountain News: What's the landscape of the Rangers right now?
Graham Sharp: After the upheaval with Woody leaving in the middle of the year, we brought Aaron in. The first thing officially was July 4, when we were out with Steve [Martin] at the Hollywood Bowl with the LA Philharmonic. Things [have] started settling in a little bit, and we just started sort of getting a good feel of what we are doing. There's lots of different things we're discovering that work with this new outfit.
The next step from here is — where do we take it? It's interesting because there's just no way to duplicate what that was with Woody because we learned the whole cannon of music together. We knew all the same songs and where every little piece of it went, exactly how everything fit together. That was really wonderful and impossible to duplicate. But, with Aaron, it's more of, "Well, this is how I thought this was going to work. But, actually, you're doing something altogether different, which I wasn't expecting." And it's really cool.
SMN: There's this fear of the unknown, and also there's intrinsic beauty in that.
GS: Totally. We're going into the studio to record an album right after we get done with Winter Camp [next week]. We've been putting together songs for the album. I'll have a song written and play it, and have it in my head kind of what it's going to be. And it turns out to be something that's just has a little different twist on it. I've been so wonderfully surprised with how things are sounding. It's not the same. And, I think that's how it has to be — I wouldn't want it to be the same.
SMN: How has your role within the band changed or shifted with this new lineup?
GS: It's always been a very democratic thing. The typical sort of creative workflow [before] would be, I'd write a song, kind of work it up to a point, then get together with Woody and show it to him. Then we'd work on it and bring the band in.
And now, the workflow is very different. I bring a song, or even just a part of a song, to anybody [in the band] depending on who I want to bounce something off of.
Woody was a big, gravitational center onstage. And people have commented [that] it just feels different onstage. There's less of a center and more of a synergy between [the band]. Things are just changing a little bit more, where the center is [one person], then it moves to "this" person, then it moves to "that" person. We're not going to bring in somebody to be "the guy," you're going bring in somebody who's going to be one of the guys.
SMN: When you talk about the songwriting and the sonic possibilities of what may be around the corner, it harkens back to one of the things I've always appreciated about the Rangers — you've always been a fearless band, where you've always focused on simply serving the song.
GS: And I really don't know what the [new] record is going to be. We've got 25 to 30 songs that we're just sort of throwing a bunch of stuff against the wall and seeing where it lands. It's a good chance to just trade around some instruments, get some different people kind of taking on different roles and whatnot. Learning how different voices fit together — there's just so much right now,
I mean, how often, after doing something for [over] 20 years, do you really get a chance to refresh it with something that you're genuinely reenergized by, you know? It's a powerful feeling, and I think it's going through the group. When this transition came around, [everybody knew] we needed to step up.
And it's cool to have somebody new. I think when [standup bassist] Barrett [Smith] came [into the band], and now Aaron, just having seen the band from the outside for so long, where it's, "Okay, this is how you see yourselves, but this is kind of how people on the outside see you." It's neat. I feel that's kind of pulled us back into sort of the core of who we've always been — everything is surprising right now.
Want to go?
The annual "Winter Camp" musical celebration presented by the Steep Canyon Rangers will take place Jan. 17-20 at the Oskar Blues Brewery in Brevard.
Featuring an array of special guest opening acts, the four-day event will begin each night at 5:30 p.m. There will also be craft beer, onsite food trucks, bonfires, and more.
Leave a comment
2

comments
The last song played at Mountain Song, they were standing at the edge of the stage grinning and kind of loose and a little goofy. I turned to my friend and said, "Tonight these guys became a band." They all played through the transition and it was gonna be okay.

Thursday, 01/12/2023

The last song played at Mountain Song, they were standing at the edge of the stage grinning and kind of loose and a little goofy. I turned to my friend and said, "Tonight these guys became a band." They all played through the transition and it was gonna be okay.

Thursday, 01/12/2023