Archived Arts & Entertainment
This must be the place: 'You will receive a big compliment from others. Lucky numbers: 15, 18, 30, 32, 40, 42'
Wednesday, December 28, 2022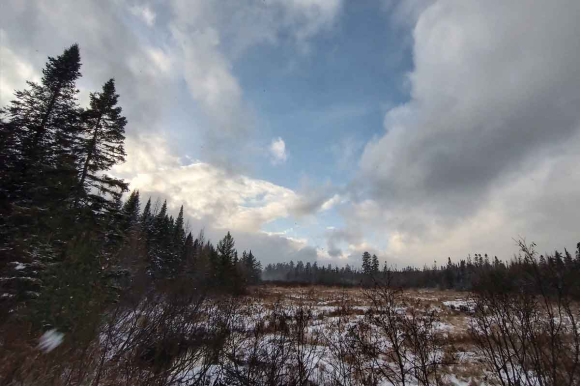 Thoughts of the North Country. (Garret K. Woodward photo)
It was another quiet Sunday morning in the ole humble abode in downtown Waynesville. But, this go-round, it was Christmas morning. Emerge from bed. Grab a glass of water. Check emails. Open the front door and check how much colder today is than yesterday.
Knowing damn well most people, places, and things would either be closed or busy with holiday affairs, I had to figure out what I was going to do with my day. No plans on the books. With most of family situated on the Canadian Border, I would, once again, be flying solo into the New Year and beyond.
Grab the trail running gear and aim for somewhere out west of Waynesville. Maybe Pinnacle? Tsali? Dirt routes behind Western Carolina University? I figured a quick breakfast at Waffle House on Russ Avenue would hold me over for food seeing as the grocery stores would be closed until Monday, and were also closed on Christmas Eve when I rolled into the empty parking lot defeated that evening.
Damn, I couldn't even pull into the Waffle House parking lot due to the amount of hungry folks piling in. Not one open parking spot. Not one open booth. Hell, the entire counter was full, too. Shit. Turn around and head back to my apartment to figure out what's left in my pantry to scrounge on. I think there's a can of chicken noodle soup in there somewhere?
And, in that instance, my best buddy and his girlfriend (who's like a little sister to me) called and said they were swinging by my place to retrieve his present for his father, seeing as he forgot it in my truck due to Christmas Eve shenanigans in downtown Waynesville. "Don't forget about Christmas brunch," his girlfriend rolled down the car window and reminded me.
Ah, the annual Christmas brunch his parents' house tucked away in the mountainous forest just outside of town. The solo plans to disappear into the woods for the afternoon now switched to a three-mile jog on a logging road in Balsam Gap, only to circle back to the brunch.
Up in Balsam Gap, the paved road turned to gravel to dirt and then ice, the mountain ridge covered in a light layer of snow glistening in the midday sunshine. Tighten up the running shoes. Zip up the windbreaker. Exhale a deep sigh, releasing the heaviness of the holidays. Proceed down the trail, the only sound being my breathing and the crunching of ice under my footsteps.
At one point on the trail, the dirt road crosses a small babbling brook. This is my turnaround point, but not before taking off my gloves and checking the temperature of the water, ice chunks all along the edges of the endless flow. Stand up and look up at the sky. Smile in gratitude of the solitude, of being able to be in that moment in the infinite universe, surrounded by ancient beauty and eternal mysteries of time and place.
Motoring back down to the Great Smoky Mountains Expressway, over to my buddy's parents' house tucked away in the mountainous forest. The winding driveway up to the picturesque home, poignant smoke coming from the chimney high above. Enter the cozy home. Walk down the basement stairs to the warm den. Immediately handed a mimosa. Ah, the simple things in life tend to be the most valuable, eh?
Even though it's been a heavy year in my respective world, and even though I've been pretty much avoiding any type of holiday cheer amid the sadness and restless thoughts, it's really hard to be "bah humbug" around my buddy's mother. That woman radiates sincere joy and appreciation for those she hosts, and in everyday interactions.
It always means a lot when they invite me over for the holidays, where now I've found myself at their dinner table for Thanksgiving and Christmas the last few years. I may have been a "holiday orphan" initially, but a feeling of love and friendship washed over me once again when, as I said goodbye later in the evening, my buddy's father goes, "You're always welcome here. You're part of the family."
A couple hours later, after putting together a writing schedule for the rest of the year, and also working on the Foo Fighters' "Everlong" on my Gretsch Electromatic guitar, I was still somewhat hungry. Luckily, a local Asian cuisine restaurant was open around the corner. Grabbing a lone seat at the bar counter, I ordered a plate of dumplings and a chicken dish. Oh, and a Sapporo tallboy to boot.
The rest of the establishment was filled with families and couples. Myself and two other lone wolves at the bar. Sipping beers, most likely all of us taking inventory of the year. I nodded to one of the lone wolves, a good friend of mine. We both had brought books with us, so I figured we'd catch up another time. Consume dumplings, Sapporo and mid-20th century literature in your own time, and at your own pace.
Getting the bill for the completion of my meal, I was also handed the signature fortune cookie. I cracked it open, with the small piece of paper stating, "You will receive a big compliment from others. Lucky numbers: 15, 18, 30, 32, 40, 42." I suppose not "the fortune" I had fingers crossed for, like ones predicting financial affluence or romantic interests.
But, it was a fortune nonetheless. And, what does it matter, right? Fortune, like luck, is of your own manifestation. As they say, "preparation + opportunity = luck." Same goes for fortune, whether material or spiritual (most importantly, spiritual).
What's the real fortune? Friendship, love, and a childlike wonder of curiosity, discovery and adventure that never ceases in your existence on the planet. Leaving the restaurant, I thought of all the things I'm, well, lucky enough to have in my life — people, interactions, moments — and I felt deep appreciation for my fortune along this journey thus far.
Life is beautiful, grasp for it, y'all.